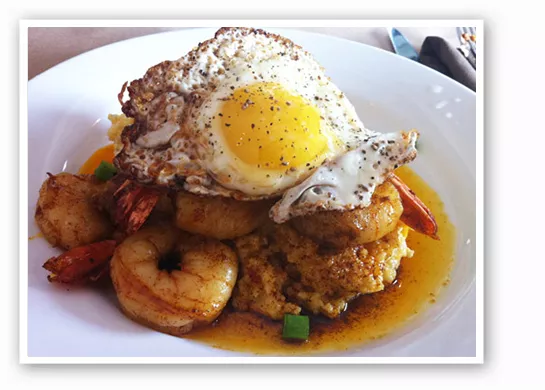 Get a shrimp fix this weekend | Chrissy Wilmes
Get out and eat this weekend! St. Louis Craft Beer week is in full swing, the Saint Louis Art Museum wraps up its free outdoor film series, Broadway Oyster Bar hosts its next food fest, Dishcrawl hits the Delmar Loop and more. Read on for some tasty recommendations.
See also: - 10 Must-Drink Events for St. Louis Craft Beer Week
Friday (Jul. 26):
Friday Night Flights @ Herbie's Vintage 72 Try a wine flight for $12 or a beer flight for $7 with dinner. Call 314-769-9595 for reservations. 4 p.m. to midnight.
Cupcakes and Cocktails @ BlackFinn American Grille BlackFinn hosts a cupcakes and cocktails pairing to help celebrate the end of the work week. Snack on complimentary appetizers and cupcakes, partake in a photo booth and giveaways and indulge in drink specials including $4 champagne, $5 house wines and $6 cosmos. For more info and reservations, contact Andrea Thielemann at athielemann@blackfinnstlouis.com. 7 p.m.
Outdoor Film Series: Roman Holiday @ Art Hill Saint Louis Art Museum's summer film series wraps up with a showing of Roman Holiday by moonlight. Pack your own picnic or let someone else do the cooking. The museum's new cafe and Panorama restaurant serve food till 8 p.m. and 9 p.m., respectively, and food trucks including Lulu's Local Eatery, Seoul Taco and Zia's show up on the scene ready to dish out eats at 7 p.m. Admission is free. The movie begins at 9 p.m.
Shrimp Festival @ Broadway Oyster Bar In addition to its full regular menu, BOB offers a dozen special shrimp dishes including coconut fried shrimp, a shrimp voodoo po'boy and shrimp stuffed grouper. Come for the shrimp and stay for the live music. Friday, July 26 and Saturday, July 27.
Saturday (Jul. 27):
Savor Saint Louis Food Tour @ participating Central West End restaurants and retailers Get to know sights, sounds, history and tastes of the Central West End during a small-group guided tour. Sample a dish at each stop during the three-hour walking tour and learn all about the neighborhood. $44 per person. Get tickets online via the official Savor Saint Louis website. 11 a.m.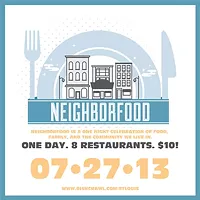 Neighborfood @ participating Delmar Loop restaurants Check in at Three Kings Public House and congregate with other food enthusiasts for an afternoon of drinking and dining for a good cause. For $10, gain admission to the event and one food/drink ticket to cash in at one of eight participating venues including Mission Taco Joint, Nico and Seoul Taco. Proceeds benefit your charity of choice from a list of options. 2 to 6 p.m.
Scoops of Fun @ The Magic House Explore all the wonders of the Magic House with the added attraction of an elaborate ice cream sundae bar from vendors including Ben and Jerry's, Mr. C's, Serendipity and Andy's Frozen Custard. Additional attractions include a photo booth and balloon artist. Tickets cost $8 for children (ages 2-12) and $20 for adults. Proceeds to benefit SSM Cardinal Glennon Children's Medical Center. 6 to 9 p.m.
Sunday (Jul. 28):
Meat Me at the Smoker @ Kitchen Conservatory This hands-on class covers many elements of slow-cooked barbecue including how to cure, season and smoke beef brisket for from-scratch pastrami and Texas-style barbecued brisket. Learn how to marinate and dry rub a pork shoulder for pulled pork and whip up plenty of homemade condiments. The class costs $85 per person. Register online via the Kitchen Conservatory website. 11 a.m. to 4 p.m.
Charity Bake Sale and Rescue Adoption Event @ Smartypaws in Belleville, Illinois Pick up some homemade cookies, cakes, pies and more to benefit Spencer Pet Rescue, and consider bringing home a sweet little pup, too! 11 a.m. to 3 p.m.
Craft Beer Symposium @ Tap Room As part of St. Louis Craft Beer Week, the Tap Room hosts a St. Louis Craft Beer Symposium. The topic? How to start a brewery! So if you've ever dreamt about a little beer baby of your own, here's a chance to get some advice or simply hear some interesting homebrew stories from the experts. The panel of speakers includes Steve Crider of 2nd Shift Brewing Company, Jake Hafner of the Civil Life Brewing Company and more. For many more events as part of the greater picture, check out our Craft Beer Week guide. The event is free and open to the public. 6 to 8 p.m.