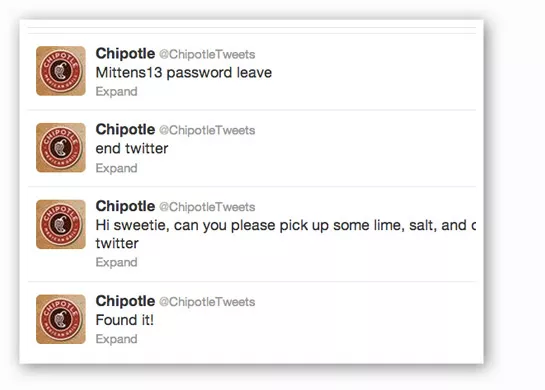 Twitter fail. Except not really. | Nancy Stiles
Last Sunday Chipotle's Twitter account, @ChipotleTweets, seemed to be going haywire. It looked like a hack: In February, a jokester got into Burger King's account and transformed it into McDonald's. Embarrassing, sure, but Burger King gained more than 30,000 followers because of it. So, a hack isn't necessarily a bad thing for a brand (but probably). Chipotle's social-media meltdown was bizarre and funny -- and fake.
See also: -Win Free Burritos For a Year (Then Share With Us) -Chipotle "Hidden Menu" Is an Urban Legend -Chipotle Adds Patrón Margaritas to Menus Today
Chipotle was in the middle of a big twentieth-anniversary celebration (it involved free burritos) when things started to get weird.
Please Twitter.
We really wanted this to be real, and like to think that some old man who works at Chipotle tried to use Twitter and failed miserably. Alas, that's not the case. Chipotle's Wayne Prichard tells Gut Check it wasn't a veiled attempt to gain followers, but rather clues for the anniversary promotion at Adventurrito.com, where you could play games and puzzles for a chance to win free food.
"Just a little bit of fun. Nothing malicious or something to try and gain followers. We've had feedback on both sides of the fence," Prichard says. "Some people think it was really funny and lighthearted; some people think it wasn't the right thing to do. And for the people who had fun along with us, mission accomplished."
Guys, we all got fooled by Chipotle, and we didn't even win any free burritos. Our heads are hung in shame.
Gut Check is always hungry for tips and feedback. Email the author at nancy.stiles@riverfronttimes.com or follow her on Twitter.
---