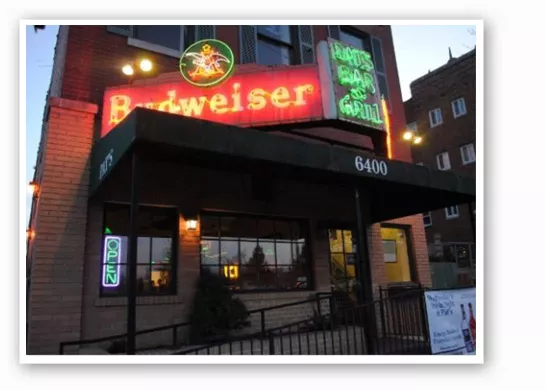 Pat's has been around since 1942. | RFT Photo
Dogtown evokes thoughts of leprechauns, shamrocks and the St. Patrick's Day parade for many St. Louisans, but there's a lot more to the area, which was first settled in 1785. The Missouri History Museum's (Lindell Boulevard & DeBaliviere Avenue; 314-746-4599) History on Tap tours explore the early neighborhoods of St. Louis and how beer helped shape the city -- the first stop was Soulard, so of course Dogtown must now be explored.
See also: -Join the Missouri History Museum for a Beer and History Tour of Soulard -What It's Like to Bartend in Dogtown on St. Patrick's Day -Downtown vs. Dogtown Neighborhood Restaurant Guide and St. Patrick's Day Poll
The night starts tonight out at the museum, where everyone will meet up and get a little info on Dogtown. Then you'll head to Seamus McDaniel's, where the tour will be joined by guide Bob Corbett, head of the Dogtown Historical Society, retired Webster University professor and apparently quite a character. "He dissects it in an interesting way and also it has a lot of funny stories," says Nellie LaVigne, the event's organizer.
Seamus McDaniel's is the oldest tavern on the tour, though it has had many different names throught the years. Original proprietor Jack O'Shea founded the place in 1907 and was the first to put out green sawdust for St. Patrick's Day. Today, it's run by two Dogtown natives. Next up is Felix's Pizza Pub, a spot that's pretty young in Dogtown years. "It is very attractive to young folks and draws a significant non-Dogtown crowd," Corbett tells Gut Check in an e-mail.
The last stop is Pat's Bar & Grill, another Irish bar which Patrick Conolly founded in 1942 shortly after he emigrated from County Galway, Ireland. LaVigne says they picked locations that not only had history but have become staples of the community.
Tickets are $45 ($35 for museum members) and include a pint at each location, appetizers and pizza. They're available by e-mailing reserve@mohistory.org or calling 314-361-9017.
The next History on Tap tour will explore the Bevo neighborhood on October 16.
Gut Check is always hungry for tips and feedback. Email the author at nancy.stiles@riverfronttimes.com or follow her on Twitter.
---