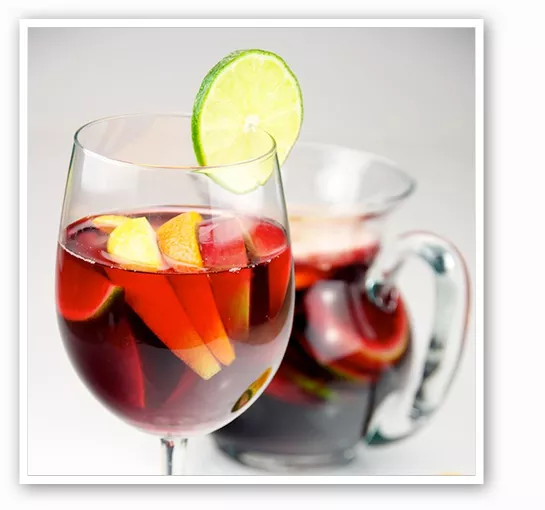 Sip some sangria at the Third Friday Party | Wikimedia Commons
It's hot! Find some ways to cool off this weekend with event recommendations that revolve around food and drink. Sip some sangria at the Third Degree Glass Factory's monthly open house, or celebrate Belgian Independence Day with a cold brew. ITAP has plenty on draft, and Schlafly ups the ante by flying in some fresh mussels to accompany pint pours. Get info on these events and more after the jump.
See also: - Serendipity Ice Cream's 10th Anniversary All This Week - Pick-Your-Own Peaches Ripe at Eckert's - Schlafly Musselfest 2013
Friday (Jul. 19):
Belgian Beer and Musselfest @ Schlafly Tap Room Nosh on coldwater mussels served in classic styles, and wash it down with Schlafly's Belgian Witbier, Belgian Golden Ale and bottle-conditioned Belgian series. Admission is free. The events runs from 5 p.m. to midnight on Friday, July 19 and 11 a.m. to midnight on Saturday, July 20.
Third Friday Party @ Third Degree Glass Factory This month's open house event features molten glass, a mini performance by Union Avenue Opera, Latin dance lessons, sangrias, and a tapas-style menu including grilled chicken burritos. Admission is free. 6 p.m.
Around the World Wine Dinner @ Missouri Botanical Garden Can't get out of town this summer? Experience the next best thing by getting a taste of worldly travels via an internationally-themed food event. MoBot's monthly dinners feature a multi-course meal with accompanying regional wine pairings. This month's theme highlights Barcelona's Catalonian cuisine and the wines of Spain. $58 per guest. Call 314-577-0200 for reservations. 6:30 p.m.
Outdoor Film Series: The Princess Bride @ Art Hill Saint Louis Art Museum's summer film series continues with a showing of The Princess Bride by moonlight. Pack your own picnic or let someone else do the cooking. The museum's new cafe and Panorama restaurant serve food till 8 p.m. and 9 p.m., respectively, and food trucks including Lulu's Local Eatery, Seoul Taco and Zia's show up on the scene ready to dish out eats at 7 p.m. Admission is free. The movie begins at 9 p.m.
Saturday (Jul. 20):
Pesto Festo @ Ferguson Farmers' Market Pesto Festo celebrates local "FARMS," or food, art, relationships, music and sustainability. In addition to the regular market offerings, look for a pesto cooking contest, pesto cooking demonstrations with Operation Food Search and more. See the full schedule of offering via the EarthDance Farms website. Admission is free. 8 a.m. to 12 p.m.
Uber Asphalt @ Lift for Life Academy This bicycle-driven obstacle hunt requires teams to complete the task at hand and collect bottle caps. At the end of the line, turn in bottle caps for New Belgium beers (or Fitz's sodas). Registration costs about $60 per rider. More info on that available via the Lift for Life Academy website. 9:30 a.m.
10-Year Anniversary Celebration @ Serendipity Ice Cream "Saturday night from 7-10 p.m. there will be live music, trivia and more. Sunday is National Ice Cream Day, so Serendipity will have hourly specials all day, games in the back parking lot and even Silly Jilly the clown from 6-8 p.m."
Sunday (Jul. 21):
Second Annual Belgian Beer Extravaganza @ International Tap House - Chesterfield Celebrate Belgian Independence Day the ITAP way with a tap takeover featuring Gulden Draak, Abt 12, Piraat, Wittekerke, Art of Darkness, Goose Island Paradisi and more. Order one of the above and you get to keep the glass! 1 p.m.
The Crossing of Fish and Ships @ Kitchen Conservatory Chefs Michael Craig and Thu Rein Oo of the Crossing demonstrate expert fish preparation, from filleting to sautéeing. Watch as they prepare skatewing with caper brown butter served with wilted spinach and buttered pomme purée, as well as Atlantic tripletail with a ramp-green onion wine sauce, local sautéed asparagus and smoked poblano peppers on bulgur wheat. $50 per person. Register online via the Kitchen Conservatory website. 1 to 3:30 p.m.
Pick Your Own Peaches @ Eckert's Peach season is here! Grab some ripe Garnet Beauty variety peaches and fill up on other fruits through the summer at Eckert's Belleville and Grafton farms. Get the schedule on picking season via Eckert's website.