Entering North City Market | Pat Kohm
Farmers' markets across St. Louis are in full swing, and as new crops are harvested, Gut Check will be there every step of the way to make sure you never miss out on the latest fresh veggies. This week, we visited the North City Farmers' Market (2700 North 14th Street; 314-241-5031). The market runs every Saturday morning, 10:00 a.m. - 1:00 p.m. Below is a quick guide to what you can find on your next trip.
The North City Farmers' Market is, without a doubt, the little engine that could, operated by the Old North St. Louis Restoration Group, whose overarching goal is to bring vivacity and excitement (and fresh veggies!) to a neighborhood looking to make a comeback. We're guessing most St. Louisans have yet to visit Old North (unless making a stop at Crown Candy), so let us entice into making a trip in the near future.
When we arrived on the scene, DJ Needles was spinning sweet jams and the corner of 14th and St. Louis Avenue was abuzz. Claire Wolff, Community Engagement Specialist, handed us a very cool sticker (SWAG), and explained how the market brings local, fresh and healthy foods to the neighborhood.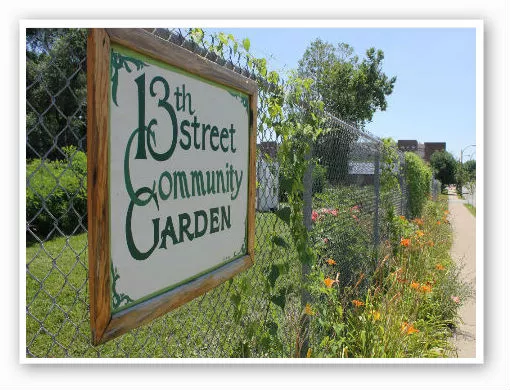 Community garden, only one block away | Pat Kohm
Such an endeavor includes collaborating with nearby community gardens, like the very impressive 13th Street Garden (2718 North 13th Street), a mere one block away -- the epitome of local. Featuring bees, chickens and massive tomatoes, this garden is basically a farm dropped down in the middle of a city, and provides more than enough produce to supply the farmers' market.
Garlic from 13th Street Garden | Pat Kohm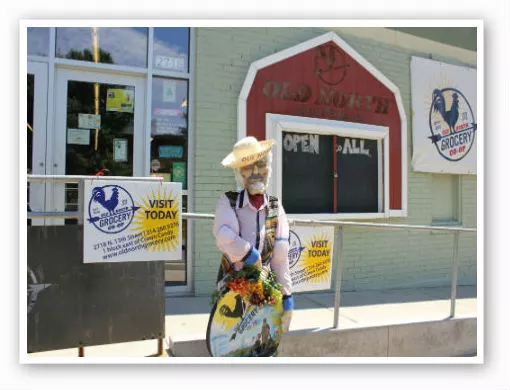 Old North Grocery| Pat Kohm
Another terrific feature of Old North, is the North City Grocery (2718 North 13th Street), which is also operated by the Old North Restoration Group, and works in conjunction with the market and community garden. Inside you'll find a small but excellent selection of local products and healthy options. Just another reason to visit Old North.
More fresh veggies from New Roots | Pat Kohm
Back at the market itself, there are several other vendors, such as New Roots Urban Farm, where you can find greens, beets and cucumbers. Also present is Operation Food Search, where program coordinator Kari Hartel hands out free samples of easy-to-make salsa along with a recipe -- part of the organization's goal of offering access to and knowledge of healthy food options. Plus, the salsa was pretty delicious.
Salsa samples from Operation Food Search | Pat Kohm
All told, the North City Farmers' Market by itself is a great place to find fresh food and interact with amazing people, but the larger goal of the Old North St. Louis Restoration Group is truly inspiring. The dedication to enriching a shamefully neglected neighborhood is praiseworthy and deserves support. We encourage anyone who has not visited to stop being lazy, grab your grocery bags, and head on down. Plus, it's literally right across the street from Crown Candy -- buy some veggies and pickup some ice cream as a reward.
There's a reason the line runs around the corner | Pat Kohm
See also: - Crown Candy Kitchen's "Heart-Stopping BLT" Competes on Travel Channel Tonight - 8 Best Ice Cream Spots in St. Louis
Gut Check is always hungry for tips. Email us!
---