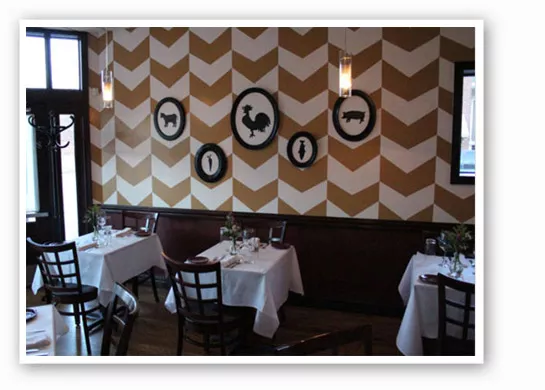 Five Bistro is pairing with Falcor Napa Valley for tonight's dinner. | Evan C. Jones
Five Bistro (5100 Daggett Avenue, 314-773-5553) is celebrating chef Anthony Devoti's birthday Thursday night with one of their acclaimed wine dinners. Hosted by Falcor Napa Valley's Ryan Bee, the dinner pairs five wines with a five-course dinner handpicked by Devoti.
See also: -Don't Pass Over Five Bistro's Upcoming Wine Dinners -Chef's Choice: Anthony Devoti, Five and Newstead Tower Public House -Five Bistro's Lock, Stock & 2 Smoking Barrels: Gut Check's Hump Day Cocktail Suggestion
Bee, Falcor's winemaker, is in St. Louis from California and will be on hand to explain the wines and how they are made. "He's a pretty interesting dude," Devoti tells Gut Check. "Our wine dinners are usually pretty awesome. Of course, I'm biased." One of his favorite pairings of the night is a 2012 Trousseau Gris from the Russian River Valley -- "an awesome dry white wine, pretty rare grape" -- with a house-cured Neah Bay ivory salmon.
"The tomatoes are going to be from our garden that we have out back, so we'll probably be doing some garden tours as well," Devoti says. The dinner, at 7 p.m., is $85 per person and reservations are required. Call 314-773-5553 to nab a spot.
Continue for tonight's wine dinner menu.
2008 Chardonnay Henry Ranch from Carneros Crispy confit chicken leg with polenta Braised bushroom with focaccia toast Pork sausage with green bean chutney
2012 Trousseau Gris from Russian River Valley Housecured Neah Bay ivory salmon with pate a choux, tomato and black pepper
2009 Sangiovese from Napa Valley Beaufort, North Caroline yellowfin tuna with roasted summer vegetables
2007 Bilanca from Napa Valley Fitchner Farm beef ribeye with Rissi Farm potato hash, leek and hickory smoked bacon
2006 Syrah from Napa Valley Baetje Farm goat cheese cake with mixed berry compote and a sable cookie
Gut Check is always hungry for food and restaurant-related tips and feedback. Email the author at nancy.stiles@riverfronttimes.com or follow her on Twitter.
---