How about a "flight" of ice cream? | Pat Kohm
As we enter the dog days of summer, Gut Check feels it's important -- our duty, even -- to point out our local ice cream purveyors, those oases of frozen treats spread throughout the city, waiting to provide temporary relief.
One of the best, and definitely the most unique, is I Scream Cakes (2641 Cherokee Street, 314-932-5758). Located in the Cherokee neighborhood, I Scream has grown up alongside the evolving and diverse south-city community, dishing out crazy flavors and combinations that completely overhaul the traditional scoop of ice cream. See also: - 8 Best Ice Cream Spots in St. Louis
Welcome to I Scream Cakes. | Pat Kohm
I Scream Cakes opened up shop two years ago, and as owner/artist Kerry Soraci explains, a lot can change in two years. "Getting used to having a business has been the biggest thing," she says. "We got rid of the bouncy balls and have tables and chairs now," a symbolic moment when Soraci transitioned from impromptu seating to real furniture. And in many ways, I Scream's story of growth illustrates Cherokee's own recent history of grassroots development and improvement. It's a transformation evidenced by the opening of news bars, sandwich shops, bakeries and restaurants, all of which leads Soraci to predict: "It's pretty exciting what is going to happen here in the next five years."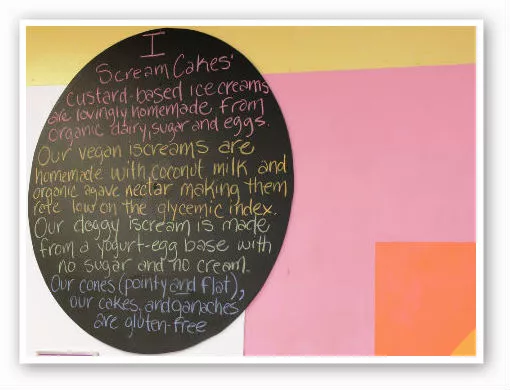 Besides stools and tables, though, the biggest improvement at I Scream -- and what Soraci is most proud of -- is undoubtedly the ice cream itself. "There's been more of a focus on flavors...I've dialed in the recipes," Soraci says before scooping up small dollops and placing them on a painter's palette -- an ingenious way of presenting a "flight" of flavors.
See also: - Cherokee Antique Row
When Soraci says she "dialed in the recipes," what she really means is that she has, like a mad scientist, created some of the most bizarrely wonderful concoctions we've ever seen. Exhibit A: The cinnamon honey roasted garlic. Yes, roasted garlic ice cream. And it's good. It just happens to be so good, in fact, that it won best dessert and the garlic ice cream drumstick won best in show at Garlic Fest.
And then there's the orange habanero chocolate -- spicy ice cream that leaves a hint of zesty orange which mixes perfectly with the sweet chocolate base. Our flight also included a "Black and Tan," blueberry cheesecake (which tasted exactly like blueberry cheesecake), a vegan (!) chocolate peanut banana, and organic peach. Besides being organic, the peach is made with the sweet and local product found at Murray's Orchards, an example of Soraci's attempt to employ local ingredients as often as possible.
Growlers from 4 Hands | Pat Kohm
And local ingredients includes beer. That's right, beer. In fact, our favorite I Scream ice cream was the Pyrus Saison, made with local craft brewery 4 Hands' Pyrus Saison seasonal beer -- a collaboration made in heaven. Future ice cream and beer combinations are in the works, which makes us very, very happy.
See also: -Best Craft Brewery - 2012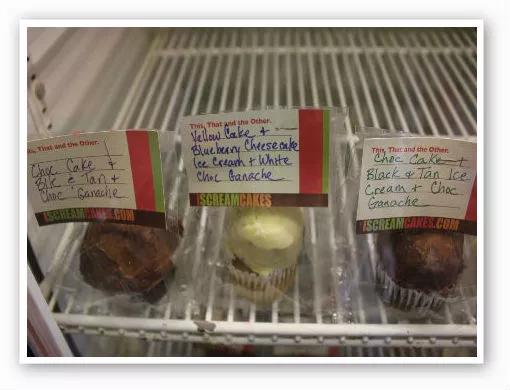 In addition to ice cream, Soraci also makes cakes using gluten-free cake base with ice scream sculpted on top, plus white chocolate ganache to hold the form. And because ganache is delicious.
After purchasing and renovating an ice cream truck, I Scream will now be able to attend farmers' markets and other crowded events throughout St. Louis more easily. Soraci also hopes to even stroll around neighborhood streets, blasting remixed ice cream truck music.
For now, though, you can order cake, ice cream or cupcakes in whatever custom design you can think of (Soraci enjoys zombie themes), for weddings, birthday parties or even Thanksgiving.
A whole tub of Pyrus Saison | Pat Kohm
Oh, and by the way, keep your eyes peeled for the newest flavor currently in the works: jalapeno pineapple.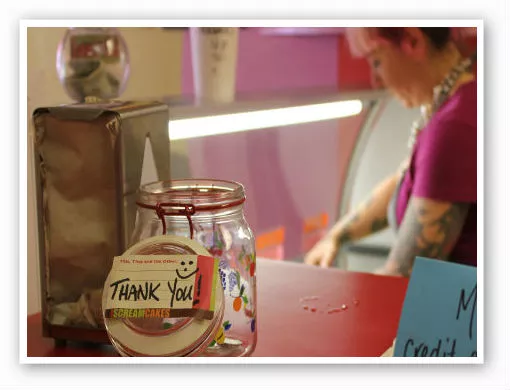 Kerry Soraci scoops in the background | Pat Kohm
Gut Check is always hungry for tips. Email us!
---