Bogart's mouth-watering ribs! | Jennifer Silverberg
St. Louis' neighborhoods are gems in their own right: full of history, great people and, as far as Gut Check is concerned, fantastic food. Each week we'll take you into a specific neighborhood and point you in the direction of the best places to grab some bites.
One of St. Louis' most iconic neighborhoods, Soulard, is known for historic architecture, Mardi Gras, and the ever-present smell of hops wafting over from the Anheuser-Busch brewery. The nightlife is bolstered by a wonderful collection of bars, music venues and restaurants that draw crowds and give the walkable streets an electric buzz. With menus reflecting French Creole flavors, specialty beer bars offering huge selections, and some of the best BBQ you're likely to ever find, Soulard encapsulates the best of St. Louis.
Bogart's Smokehouse (1627 South Ninth Street; 314-621-3107)
Skip Steele grew up in Memphis and has been barbecuing as a hobby and a profession for most of his life. His pedigree includes Super Smokers BBQ, the Memphis in May World Barbecue Championship and local barbecue godhead Pappy's Smokehouse, but Bogart's is his masterpiece. The baby-back ribs are excellent, but you can also go with something a bit different -- try the pastrami or the smoked prime rib. The pit-baked beans will probably be the best you've ever had, and they get even better when you employ Billy Goat Chips as a delicious scooping device. With lines stretching out the door and around the block, Bogart's is becoming legendary in its own right. Our advice: Go. Now.
See also: - St. Louis Scores Three Winners on Daily Meal's "America's Best Ribs" List - The Seven Best Barbecue Joints in St. Louis
Epic's epic oven | Jennifer Silverberg
Epic Pizza & Subs (1711 South Ninth Street; 314-644-4430)
With the menu-less International Tap House right next door and the booming late-night scene in Soulard, there's always need for after-hours snacks. Enter Epic Pizza & Subs, open until 10:30 p.m. on weeknights and until 1:30 a.m. on Friday and Saturday. You can procure your Epic by the pie or the slice, and the supple, salty crust supports traditional offerings as well as more enterprising ones, such as Buffalo chicken and bacon, spinach and tomato -- the pizzeria's twist on the BLT. Besides pizza, choose from meaty sub sandwiches, hearty appetizers (they go particularly well with beer), meatball sliders or a fat cheeseburger. Make no mistake, this eatery is worth a visit during waking hours as well, but when you're looking to banish those after-bar cravings with topnotch grub, Epic is your go-to.
See also: - Jackpot! With Epic Pizza & Subs - Epic Pizza & Subs: Review + Slideshow
iTap's amazing beer selection | RFT Photo
International Tap House (1711 South Ninth Street; 314-621-4333)
International Tap House offers the most extensive beer selection in St. Louis, with 500 beers representing twenty countries. The 40 taps consistently feature some of the best local and national breweries, and the massive bottle list includes international heavy hitters and obscure collectors' items. The beer garden provides one of the best beer-drinking atmospheres in town, and on summer nights it's usually filled to capacity. iTap is all about the beer, so there's no food on-site, but feel free to bring your dinner with you. Keeping track of every drink consumed has never been easier than it is with the iTap Passport: Work your way through the categories (like drinking one beer from each of the twenty countries) in order to win prizes and personal beer prestige.
See also: - The Eight Bars With the Best Beer Selections in St. Louis: 2013
Soulard goes French at Franco | RFT Photo
Franco (1535 South Eighth Street; 314-436-2500)
Staying true to St. Louis' French roots, Tom Schmidt opened Franco with the notion that hearty, affordable French bistro fare smack in the middle of Soulard would take off. He was right. You'll find Gallic favorites like braised lamb, cassoulet and pommes frites, as well as escargot, frog legs and sweetbreads. Beyond delicious food, Franco also sports an elegant bar fashioned from reclaimed barn wood. Franco's signature drink, "The Silver and Sand," features Lillet Rouge, lemon juice, the Danish liqueur Cherry Heering, lemon-ginger scotch, lemon bitters and an egg white. Vive la Franco!
See also: - Smoked Veal Sweetbreads Barigoule and Rabbit-Prosciutto Terrine at Franco - Franco Names Jon Dreja Executive Chef
Welcome to Chava's | Laura Miller
Chava's (925 Geyer Avenue; 314-241-5503)
Fresh salsa and tortilla chips in abundance get things started, and ten different margarita flavors get it finished. Chava's menu keeps things short and to the point: tacos, a fajita platter, a burrito, an enchilada, a tostada and the like. The fajita platter and its close appetizer cousins (fajita quesadilla and fajita nachos) are sizzling-steak standouts, as are tacos de Guadalajara, a pair of flash-fried flour tortillas clamped around seasoned ground beef, lettuce, tomato, onion and a clever blend of grated Monterey and Parmesan cheeses. One of our favorite dishes here, though, is the vegetable quesadilla. Literally bursting with veggies, this baby packs flavor. You'll find carrots, zucchini, green beans, onions, baby corn and red, yellow and green peppers.
See also: - Vegetable Quesadilla at Chava's - Best Specialty Margarita - 2011
The pizza mascot at Feraro's | Laura Miller
Feraro's Jersey Style Pizza (1862 South Tenth Street; 314-588-8345)
What's the difference between New York and New Jersey style pizza? Feraro's owner Jon Feraro explains that Jersey means the crust is a notch thicker and the sauce slightly sweeter -- all we know is it's delicious. The Jersey pride is evident the moment you walk in: The soundtrack plays a perpetual loop of Springsteen, Bon Jovi and Sinatra, and the walls are covered with Atlantic City postcards. Perhaps the best way to enjoy Feraro's is by the big, greasy slice -- grab one either before or after you hit the bars, and you should be good to go.
See also: - Gut Check's Survival Guide for 4/20 - Worth the Weight at Feraro's Jersey-Style Pizza
A Soulard institution | RFT Photo
McGurk's (1200 Russell Boulevard; 314-776-8309)
Back in 1978, McGurk's opened as a one-room pub house. Today it stands as one of St. Louis' most popular Irish pubs and has expanded to nearly 20,000 feet, sprawling out into cozy corners and massive patios. It was named one of the "Best Bars in America" by Esquire last year (the only one in St. Louis!), and it lives up to the hype. On any given night you can listen to Irish musicians leading traditional songs while you drink traditional Irish beer. The pub fare includes a mean Irish stew and a solid burger. There are also a few fancier dishes, like the pesto tortellini and Baileys cheesecake. More important, McGurk's has an impressive bar, stocked with plenty of Guinness but also a number of local craft brews as well.
See also: - The 10 Best Irish Pubs in St. Louis - Ten Best Irish Dishes in St. Louis
Singing along at Carson's | RFT Photo
Carson's (1712 South Ninth Street; 314-436-2707)
There is no pretense at Carson's: Drunkenly slurred karaoke and cheap beer is the name of the game. This is a place where unabashedly poor singers are encouraged to take the stage and wizened old veterans are crowd favorites. It's where your worst karaoke performances take place, get recorded by a friend's cell phone and make you a YouTube star. But the best part about Carson's is the laid-back crowd and the nonchalant, who-gives-a-damn atmosphere. Oh, and the unbelievably low prices on cold brews and mystery shots all week long is pretty great, too. See also: - The Seven Best Places for Karaoke in St. Louis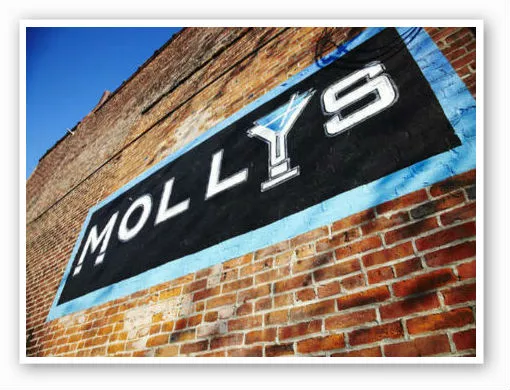 Molly's (816 Geyer Avenue; 314-241-3200)
After absorbing the space next door (adios, Norton's), Molly's has fashioned itself into a bistro with a Creole-influenced menu, illustrated by the etouffée lasagna with crawfish and andouille, and seared scallops with red beans and rice. Other favorites include the duck breast covered in sweet apricot bourbon sauce and the Berkshire pork chop. During Mardi Gras, Molly's really hits its stride with VIP tents, cabanas, tables, shuttle-bus packages, a food buffet, restroom access and an open bar.
See also: - Happy Hour on the Patio at Molly's in Soulard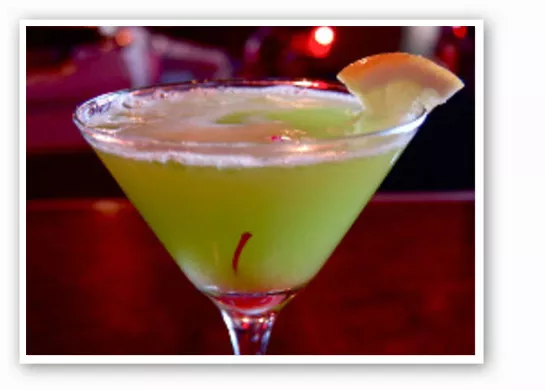 Happy hour is from 10 a.m. to 7 p.m. | Ettie Berneking
Clementine's (2001 Menard Street; 314-664-7869)
Clem's is the oldest gay bar in St. Louis and also the most relaxed and comfortable. On weekdays, the place feels like a neighborhood bar filled with Soulard locals, and on weekend nights the atmosphere transitions to something a bit more wild and party-like. Sunday afternoons are best spent on the patio, where an eclectic crowd of all ages and types gathers. The barroom is classic. Its focal point is a large circular bar in the center that's just perfect for making eyes or posturing around the edges. Or you can just play pool and throw some darts. Of course, on Mardi Gras you can expect Clementine's to be the life of the party, hosting the wonderful and beloved High Heel Drag Race, where drag queens, dressed to impress, race down the street in heels. See also: - The Eight Best Gay Bars in St. Louis: 2013
---