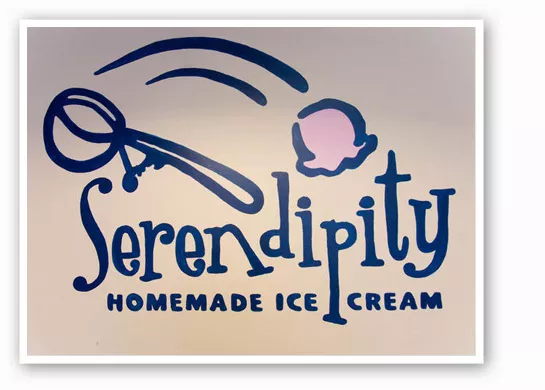 Serendipity celebrates ten years in Webster Groves. | Sarah Rusnak
Serendipity Homemade Ice Cream (8130 Big Bend Boulevard, Webster Groves, 314-692-2700) is throwing a week-long celebration of their 10th anniversary beginning today. We recently named it one of the eight best ice cream spots in St. Louis, and trust us, there's a reason it's been around for ten years.
See also: -Beckie Jacobs of Serendipity Homemade Ice Cream -8 Best Ice Cream Spots in St. Louis -Beckie Jacobs' Dipstik Sundae and Homemade Peach Ice Cream
July 15 is Serendipity's customer appreciation kick-off; "Caramel Decade-dance," the 10th anniversary ice cream is available for the first time today. Serendipity held a Facebook contest to name the new flavor, a salty caramel ice cream with chocolate-covered caramel cups. Customers can also get a free waffle cone upgrade.
The next three days are all charity give-back days. 10 percent of all purchases will go to Operation Food Search on Tuesday, Food Outreach on Wednesday and Gateway to Hope on Thursday. On Friday you can get free hot fudge, caramel or marshmallow topping.
Owner Beckie Jacobs opened Serendipity in 2003 and uses local ingredients to make homemade ice cream. Jacobs also provides desserts for over 100 restaurants in St. Louis, including Villa Farotto (17417 Chesterfield Airport Road, Chesterfield, 636-519-0048), Nadoz Café (3701 Lindell Avenue, 314-446-6800) and Schlafly Bottleworks (7260 Southwest Avenue, Maplewood, 314-241-2337).
"I wanted to be the place that, when kids started going away to college and they came back their first Christmas or first summer, the first thing they wanted to do is go to Serendipity. And it's starting to happen. I've had it for seven years," Jacobs told Gut Check in 2010. "We have kids who first came in when they were toddlers, and now they come in by themselves because they're old enough to wander around Webster by themselves."
Serendipity's real party starts this weekend, though. Saturday night from 7-10 p.m. there will be live music, trivia and more. Sunday is National Ice Cream Day, so Serendipity will have hourly specials all day, games in the back parking lot and even Silly Jilly the clown from 6-8 p.m.
---