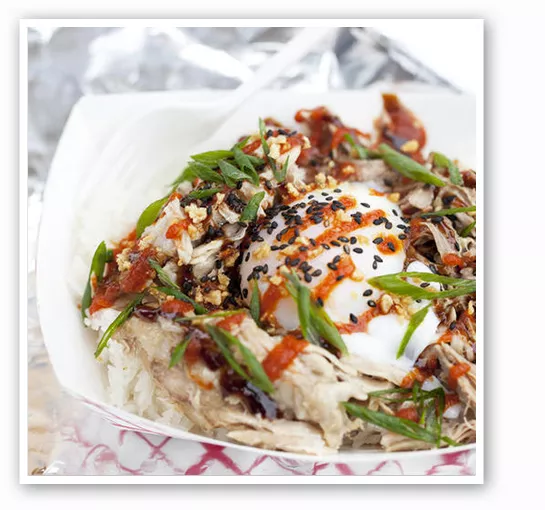 Get some Guerilla Street Food at Food Truck Friday! | Jennifer Silverberg
This weekend, check out Let Them Eat Art in Maplewood, Food Truck Friday in Tower Grove Park, Tour de Donut at Fireman's Park, an opening at Vino Gallery and much more. Work up an appetite and start planning ahead!
Friday (Jul. 12):
Local Social @ Central West End This second Friday event through September highlights the Central West End neighborhood with a showcase of local owners, chefs, artists and more. Along with live street entertainment, enjoy retail discounts - get the full list here. Admission is free. 5 to 9 p.m.
Let Them Eat Art @ downtown Maplewood "Maplewood's Bastille Day celebration, takes Marie Antoinette's "let them eat cake" dictum to heart with this year's Night of Thousand Cupcakes theme. One thousand little cakes will be given away tonight in the heart of Maplewood. The city incorporates the best of France and a little bit of Mardi Gras with tarot card readings, live demonstrations by more than 50 artists, music by Gumbohead and the Gene Dobbs Bradford Blues Experience, and belly dancing with Exotic Rhythms. There's even a little ooh la-la courtesy of a late-night performance by Lola Van Ella. And just like those cupcakes, admission is free." 6 and 11 p.m.
Outdoor Film Series: West Side Story @ Art Hill Saint Louis Art Museum's summer film series continues with a showing of West Side Story by moonlight. Pack your own picnic or let someone else do the cooking. The museum's new cafe and Panorama restaurant serve food till 8 p.m. and 9 p.m., respectively, and food trucks including Lulu's Local Eatery, Seoul Taco and Zia's show up on the scene ready to dish out eats at 7 p.m. Admission is free. The movie begins at 9 p.m.
Food Truck Friday @ Tower Grove Park For the third year in a row, Food Truck Friday invades Tower Grove Park with eats from Guerilla Street Food, Hot Aztec, Holy Crepe and much more. Get the full list of vendors via Sauce Magazine, arrive early to avoid lines and come with a big appetite. Admission is free. 4:30 to 8 p.m.
Saturday (Jul. 13):
Tour de Donut @ Fireman's Park; Staunton, IL "As it happens, there's also a "u" in "donut"; you can see that Staunton and donuts were meant to be together. Every July for 25 years now that bond is reaffirmed with the Tour de Donut...Your sweet payoff for all that pedaling is fresh donuts along the route, but you must register in advance through the website if you wanna ride and munch. Fees are $35 to $50. And just so you know, the city's Annual Rib Cook-Off takes place today as well, so come hungry." 9 a.m. to 5 p.m.
McKitrrick & Hermann Heritage Hoedown @ McKittrick Farmers Mercantile Slow Food Katy Trail shows off McKittrick and Hermann with lunch on a sustainable farm, an afternoon wine tasting, a tour of a 19th century home, and a tasting of New Haven food and drink. $85 for non-members - tickets available through Brown Paper Tickets. 11 a.m.
Homemade Food Swap #11 @ Our Lady of Guadalupe STL Food Swap, a group committed to sharing homemade and homegrown local, organic food, hosts its eleventh community building event. Bring an item you made or produced yourself - be sure to provide ingredient or recipes lists - to swap, and meet other food lovers in the process. Admission is free. 5 p.m.
Gallery Opening @ Vino Gallery Check out new work by artists John Goessmann, Andy Leight, Chris Cassimatis and Jeff Fuelling over complimentary wine tasting, appetizers and live music. Admission is free. 6 to 9 p.m.
Indie Rock Ice Cream Social @ the Firebird "Ice cream on a summer evening is blissful, but ice cream plus entertainment is downright exquisite. St. Louis bands and RFT Music Awards nominees Elsinore, Via Dove, Tanager and Bear Hive each bend the definition of "indie rock" a bit, but they all pack heat when it comes to their sound, precision and creativity. Local comedians Kelsey McClure, Kenny Kinds, Emily Hickner and RFT's 2013 Standup Comedy Throwdown winner Jon Venegoni will perform between sets, and Serendipity will dish out ice cream all night long. With a night like this, there's no need for a cherry on top." $10. 8:30 p.m.
Sunday (Jul. 14):
Foodology - Savor Your Summer Spicy Sundays @ Missouri Botanical Garden Look for special stations with snacks utilizing all kinds of spices as part of MOBOT's summer-long Foodology series. Entry price included with Garden admission. 1 to 3 p.m.