The Seasonal and Simple app. | MU Extension
Mizzou faculty and students have developed a smartphone app to help Missourians find local, in-season fruits and vegetables. The app, called Seasonal and Simple, is based off the print version already put out by MU Extension. A digital version will obviously help when you're actually out looking for that fresh produce.
See also: -Metro Partners with Local Farmers Market to Deliver Produce -'Tis the Season for Rhubarb Popsicles and Tomatoes at Schlafly Farmers' Market -What's Ripe Now at Tower Grove Farmers' Market
"It's info about selecting, preparing, storing different fruits and vegetables commonly grown in Missouri," says Cindy DeBlauw, a dietitian and MU Extension associate, who spearheaded the project. "But we also wanted people to be able to take it into farmers' markets and a grocery and use that information right there. As you're looking at a tomato, how do you know that tomato is good?"
Enter Seasonal and Simple. It started as a student project and turned into a collaboration between computer science and engineering students, who programmed the app, and journalism students, who promoted it. Computer science professor Dale Musser and journalism professor Mike McKean got their classes to help DeBrauw develop Seasonal and Simple.
Next: local produce at the touch of a button.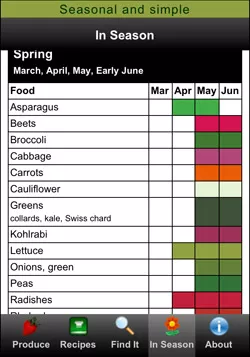 The app tells you which items are in-season in Missouri. | MU Extension
It has a database of all the farmers' markets in Missouri, which you can search by county. Seasonal and Simple also tells users which fruits and vegetables are in season, how to choose, and even has recipes featuring seasonal Missouri produce.
DeBlauw says they'd like to expand the data to include surrounding states in the future -- after a presentation in Washington D.C., Seasonal and Simple got downloads from all over the world. Missouri's growing zone is actually the same as D.C., so it's useful up there, too.
"The thing we would like to see people do is download the app to give them ideas to increase their fruit and vegetable intake. Americans do not eat enough fresh fruit and vegetables," DeBlauw says. "If they can get any kind of prompt at all, they might make something different to increase their intake and eat healthy." Click to download the free app for iPhone, iPad, and Android devices.