Mission Taco Joint's "Piscojito." Bar manager Joel Clark is a big fan of the Peruvian liquor
pisco. | Evan C. Jones
Click here for past Hump-Day Cocktail Suggestions
When Mission Taco Joint (6235 Delmar Blvd; 314-932-5430) opened earlier this year, bar manager Joel Clark originally wanted to go extremely heavy on mezcals and pisco drinks and came up with a number of cocktails for the list.
"The 'Piscojito' was a natural one because everyone knows what a mojito is, but no one knows what pisco is," he says.
Widely known as the national spirit of Peru, pisco is very similar to a brandy, except they just distill the grapes instead of brandy's "kitchen sink" approach.
"With brandies you can take the grapes, skins, stems and everything and distill that or make it a liquor," Clark says. "With pisco, its a pure expression of the grapes of Peru. It developed because when the Spaniards came and brought the art of distillation to Peru and Chile and that part of the world, the locals took their fermented wine and put the distillation practice into effect, and pisco was born."
Pisco has three categories: aromatic, non-aromatic and acholado, a blend of the two other styles. This blend is the type of pisco used in the "Piscojito."
Next: The allure of pisco.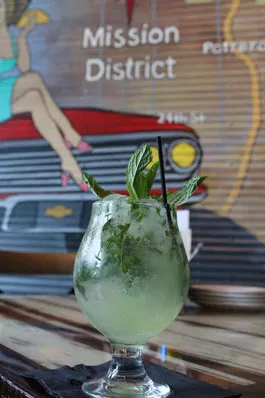 The "Piscojito" hangs out, waiting for tacos. | Evan C. Jones
"Aromatic ones are very floral and put it in a snifter," he says. "Non-aromatic are a little harsher, more like a vodka or neutral grain spirit. Acholado, for cocktails especially, is real workhouse-ready."
The drink isn't as sweet as a tradiational mojito but another dimension of flavor is added with the pisco. The bright mint and slight tart of lemon juice helped give the drink fantastic balance.
Clark is admits he's a huge fan of pisco, and says he probably had the largest acholado pisco account in the state based off of this one drink. He also tabbed the spirit to become the next big thing since it is so distinctive.
"For so many years, it was just lumped in the brandy category where it doesn't belong," Clark says. "Now it's its own category of spirit. Pisco is actually an FDA-recognized spirit category. Delivering it in this fashion allows -- from a bartender's perspective, not so much a server at a table -- that dialogue to open up about spirits and geek out over things. That's what keeps us coming to work."
Continue on for the recipe.
Piscojito 1.5 oz acholado pisco 0.75 oz lemon juice 0.75 oz simple syrup 6-10 mint leaves 2 oz club soda
Combine first four ingredients in shaker. Shake with ice. Pour into glass. Top with club soda and garnish with mint.
Wednesday. Hump Day. Congrats, you've made it halfway through the work week! Unfortunately, you still have two days to go.
Dunno about you, but in order to survive the midweek blues, we're going to need a drink. Which brings us to our Wednesday Gut Check feature:
"Gut Check's Hump-Day Cocktail Suggestion"
Each week we take you to one of our favorite St. Louis bars (and, oh, the list is long) for a drink (or two) we -- in consultation with the bartender -- highly recommend.