You can always get a cup of Joe at The Coffee Cartel | RFT Photo
St. Louis' neighborhoods are gems in their own right: full of history, great people and, as far as Gut Check is concerned, fantastic food. Each week we'll take you into a specific neighborhood and point you in the direction of the best places to grab some bites.
The tony Central West End offers one of the city's best collections of restaurants and bars (so many, in fact, that we had to leave several worthy names off the list -- maybe we can come up with a part two!), most of which are concentrated along Euclid Avenue. The gated private streets create a parking nightmare, but once you find a spot, you should be set for a good night on the town. Choose from sports bars filled with karaoke all-stars, fine French cuisine or high-end cocktails. You'll feel awfully trendy (and considerably poorer).
Coffee Cartel (2 Maryland Plaza; 314-454-0000) Show up at Coffee Cartel on a Tuesday night at 2:00 a.m. and you're likely to find college students cramming for finals, insomniacs drinking their fifth cup of coffee, and late-night partiers sobering up. The Cartel is blessedly open 24/7, and is therefore one of the CWE's premier people-watching sites. Though known for coffee, you can also buy sandwiches, smoothies, frappes, milkshakes, doughnuts, gourmet chocolate bars, truffles, bottled juices and waters, ice cream by the scoop (Edy's) or prepackaged pint (Häagen-Dazs), nachos...lots of stuff. Topping that list, though, are the spiked liqueurs to warm you up on a cold night.
See also: - Coffee Cartel's Julia Mager: Featured Barista of the Week - Best Staff - 2011
Tom's Bar and Grill (20 S. Euclid Avenue; 314-367-4900) Tom's is a classic American tavern: sports, beer, and karaoke. The food, a full lunch-and-dinner menu, is pretty much everything you'd expect -- wings, fried mushrooms, chef's salads, chili mac, roast beef sandwiches, chicken clubs. But predictable isn't always a bad thing, especially when you're craving the familiar to soak up the pitchers of beer that you gulped down before belting out Journey. Balancing out the CWE with an unpretentious and welcoming atmosphere, Tom's attracts diverse and sometimes raucous crowds that keep the party going late into the night. It ain't fancy, but it more than gets the job done.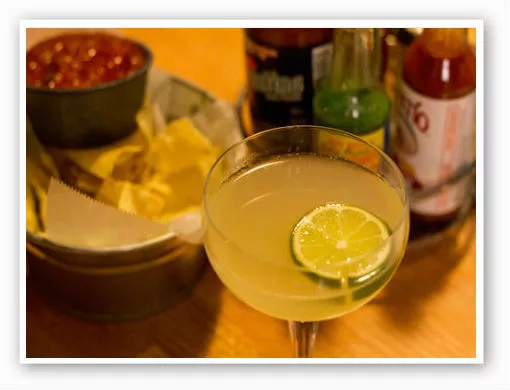 A Fiesta at Gringo | Mabel Suen
Gringo (398 N. Euclid Avenue; 314-449-1212) After conquering the pizza world, the minds behind Pi Pizzeria have introduced a new concept: Gringo. Described by co-owner Chris Sommers as "a mid-century Baja beach party," the brightly lit 3,300-square-foot dining room complete with a hanging swordfish fits the bill. The menu features a unique collection of tacos, such as the al pastor, grilled octopus and the especially tasty pescado, with grilled or fried snapper, Napa cabbage slaw, chipotle crema and toasted pepitas. And there's the chapulines made with sauteed grasshoppers, guajillo pepper and avocado. Yes, you read it correctly -- grasshoppers. Be adventurous, give it a shot. To wash it all down, choose from an excellent list of margaritas or one of the craft beers made just for the new restaurant.
See also: - First Look: Gringo
Taste (4584 Laclede Avenue; 314-361-1200) A cocktail at Taste is not just some drink you have to take the edge off; it's a transformative experience. Drinks like Hell's Bells and Ab-Duck-tion offer a glimpse into the genius of the Mixologists at Taste. The former is a spiced gin wonder made with Hayman's Old Tom Gin, Pimm's, a touch of sugar, absinthe and a sizable garnish of smoked red bell pepper. Ab-Duck-tion is a heady melange of mascarpone, pepper, lemon, lavender bitters and duck fat infused Grand Marnier. The awe-inspiring cocktail menu can be intimidating, and there's often newly created drinks that you've never heard of. Thus, for the true Taste experience, we recommend that you ask whoever is behind the bar, and then order that. See also: - Seven Great Summer Cocktails - Taste's "Barbacoa": One of the 100 St. Louis Dishes You Must Eat Right Now
Fine Dining at Herbie's | RFT Photo
Herbie's Vintage 72 (405 N. Euclid Avenue; 314-769-9595) Herbie's was created as an homage to Café Balaban (its predecessor) and late founder, Herbie Balaban -- continuing the tradition of fine cuisine in the CWE. The menu features classic dishes like cucumber bisque, beef Wellington and, for dessert, the fabulous chocolate fritters, along with as more contemporary bistro fare. Standouts include beef short ribs braised with Schlafly APA, and yellowfin tuna crusted with black pepper and coriander. The décor is refined and swanky with the smooth rhythms of a jazz troupe floating out the windows. The wine list and cocktail menu is superb. You can't help but feel fancy the minute you walk through the front door.
See also: - Herbie's Vintage 72's Blood Diamond - Happy Hour of the Day: Herbie's Vintage 72
Brasserie (4580 Laclede Avenue; 314-454-0600) The prices are reasonable, the dishes are unpretentious, and the food, well, it's pretty much excellent. The emphasis here is on good ingredients prepared with skill and care rather than showy technique. Try the meltingly tender beef short ribs or a simple piece of salmon paired with braised leeks and lentils. The beer list, much like the food, is spot on. For dessert, Brasserie serves the sweet fare that is expected from a casual French restaurant, namely profiteroles and crème brûlée, but of course, each is served with a flair that transcends the typical. There might not be a better place for a first date.
See also: - Gerard Craft To Be Featured in Art Culinaire Magazine - Best Desserts - 2011
Walk on up to the deli dounter | Laura Miller
Kopperman's Delicatessen (386 N. Euclid Avenue; 314-361-0100) Kopperman's is the quintessential New York delicatessen that just so happens to be a St. Louis institution. This place is serious about sandwiches: they're towering stacks of meats and cheeses, including one of the city's standout roast beef sandwiches ("Love at First Bite"). Oversized antique circus posters have decorated the walls for ages, and the outdoor seating area is maybe the best spot to take in the comings and goings of Euclid. The breakfast/brunch has to be one of the best in St. Louis (including the do-it-yourself Bloody Mary bar). One tip: Kopperman's is open late into the night on weekends, which means potato pancakes and slingers are waiting after you're kicked out of the bars.
See also: - Where to Break the Yom Kippur Fast
Dressel's (419 North Euclid Avenue; 314-361-1060) Though located at the far northern end of Euclid, Dressel's is the heart of the CWE. The Welsh-pub-inspired atmosphere is one of the very best spots in town for a pint of good beer and cultured conversation. But what's more, the food is creative and delicious. The dishes are simple but elegant and deeply flavored -- not traditional pub fare. The pretzels are perhaps the pub's best-known menu item, having been named the Best in St. Louis by the RFT, which should be all you need to hear. But if that's not enough, the food is locally sourced whenever possible, which makes specific recommendations difficult because the menu changes with the seasons. But we can pretty much guarantee that no matter when you go, Dressel's will bring its A game.
See also: - Dressel's Porchetta "Louie": One of 100 St. Louis Dishes You Must Eat Right Now - Dressel's Was on Diners, Drive-Ins and Dives Last Night
Sub Zero Vodka Bar (308 N. Euclid Avenue; 314-367-1200) It's a pretty safe bet that when you show up at a bar that prides itself on offering the the "largest selection of vodka in the world," you're going to have a good time. With a vast assortment of infused vodka, including four-pepper sun-dried tomato, Stoli with ginger and Stoli with cucumber, it's nearly impossible to not find your favorite flavor. Furthermore, Sub Zero offers both sushi and more variations on the burger than most diners could eat in a lifetime. You can build your own by mixing and matching different meats (Black Angus, American Kobe beef as well as turkey, vegetarian and other options) with cheeses, vegetables and other toppings. So line up those vodka shots and prepare yourself.
See also: - Salute American Vodka "Battle of the Bartenders" - Sub Zero's Eric Weis: Featured Bartender of the Week
Green Bean (232 N. Euclid Avenue; 314-361-4444) Though the Central West End is known for high prices and decadent meals, Green Bean focuses on quick, affordable and healthy options. Salads are the prime objective, each featuring a protein (beef, chicken, duck or tofu) and big enough to be a stand-alone meal. The "Seoul Train" salad has grilled beef with greens, scallions and radishes in a spicy red chile-sesame sauce, or try the "Pueblito" -- beef and romaine lettuce comprise the bulk of the salad, but the key is the combination of chile-dusted pineapple and a tangy tomatillo-lime dressing. Of course, you can create your own concoction by adding whatever veggies, crunches, cheeses...it's easy to get carried away. Bottom line, you'll walk away satisfied.
See also: - Green Bean's "Pueblito" Salad: One of 100 St. Louis Dishes You Must Eat Right Now