The bar at 4 Hands Brewery. | Pat Kohm
How many times have you, while imbibing at one of the many local breweries, wished there was some way to visit another brewery and then another and another, all in the same day, without having to worry about getting arrested for driving under the influence of copious amounts of craft beer? Quite often, you say?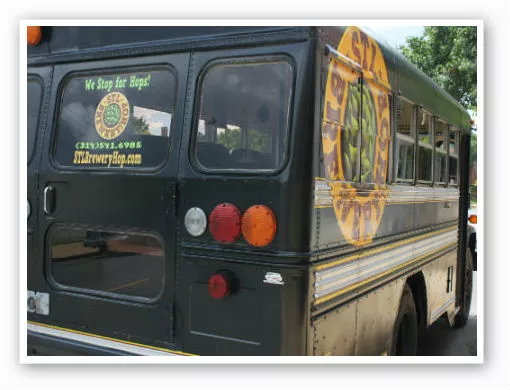 Get on the bus! | Pat Kohm
Well, Gut Check has discovered a solution: STL Brewery Hop. With a van and a plan, STL Brewery Hop operates on a simple, yet powerful premise -- they will drive you and your friends around town on a tour of local breweries. Having just kicked off their inaugural tour, the Brewery Hop operates each weekend: a three-brewery, four-hour tour on Saturday ($40.00), and a two-brewery, three-hour tour on Sunday ($30.00). Both days include a tasting glass, 5-7 oz. sample at each brewery, a behind-the-scenes look at each stop, and a free food buffet upon return.
Upon learning of this new service, Gut Check jumped at the chance to grab a spot on the bus, a twenty-seat beast that owner and mastermind behind the Brewery Hop, Lindsey Schaefer, bought on Craigslist. Schaefer explains that she'd been toying with the idea of starting up some kind of brewery tour since moving back to St. Louis three years ago. "After talking about it so much," she says, "I finally said, 'All right, let's do this.'" After experiencing the beer culture of New Orleans and Denver, Schaefer believes that St. Louis is poised for a craft beer boom and wants to be a part of it. "The community is so supportive, it's been awesome."
First stop: Maplewood.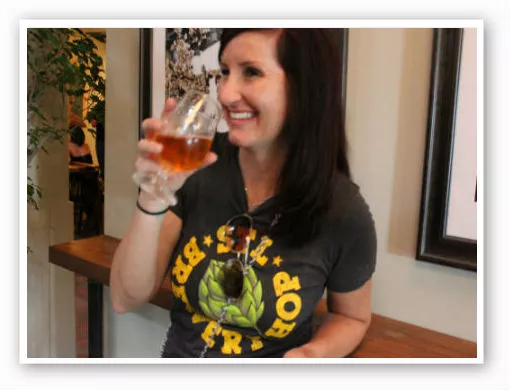 Lindsey Schaefer, founder of STL Brewery Hop | Pat Kohm
After arriving at the designated meeting spot at The Wood (2733 Sutton Boulevard, 314-781-4146) in Maplewood, we joined our fellow passengers and awkwardly took our seats (the awkwardness would fade after each stop). Our first brewery was Urban Chestnut (3229 Washington Avenue, 314-222-0143) in Midtown. We were promptly poured a sample of Zwickel and allowed a glimpse at the bones of the operation, including a look at the newly purchased Buffalo Trace barrels intended for future aging purposes. Afterward, we were all free to move about and buy more beer.
Next: Gut Check gets a lesson on brewing.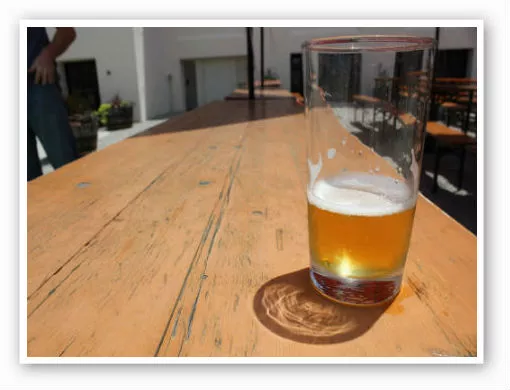 Enjoying Urban Chestnut's beer garden | Pat Kohm
Moving on: 4 Hands (1220 South 8th Street, 314-436-1559) was next on the list. After trying a few small samples, we were herded back amongst the fermenters and tanks and pipes and given an excellent explanation of the brewing process, as well as brief account of the brewery's history and expansion plans. We then went back to drinking, and particularly enjoyed the Cast Iron Oatmeal Brown.
Next: Beer brewed with mint leaves? Yes please.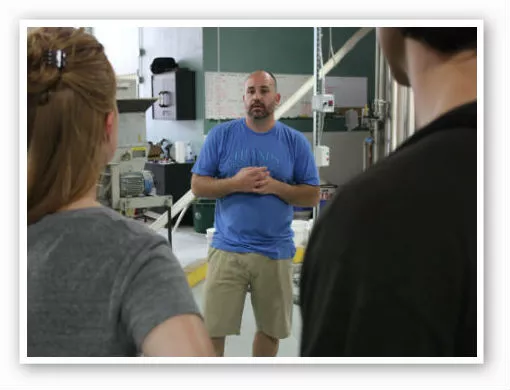 Enjoying the tour at 4 Hands | Pat Kohm
Our final stop took us down south to Perennial (8125 Michigan Avenue, 314-631-7300). This time there was no tour, but we did get to try some excellent and unique beer. We went with Recital (Belgian IPA collaboration with Deschutes Brewery), and 17 (10% ABV imperial stout brewed with mint leaves and cacao nibs).
Continue for our verdict.
Perennial's Top-Notch Beers | Pat Kohm
By the time the bus began our return journey, each and every passenger seemed to have enjoyed themselves thoroughly. A general congeniality reigned and we all became drinking buddies.
In the future, new breweries will be added to the tour (including more distant locales, such as 2nd Shift in New Haven, Missouri), which is an incentive for go back for round two. The Brewery Hop is also available for private parties (a minimum of eight riders is required) seven days a week and allows you to mix and match your favorite breweries.
After we stumbled back to The Wood, our point of origin, and devoured a small buffet of (free) snack food, we concluded that the STL Brewery Hop is an excellent way to experience St. Louis' growing beer culture. Lindsey Schaefer hopes it will serve as a way to continue to grow the city's beer-centric reputation and "educate St. Louisians on how great St. Louis beer is." Educate away.