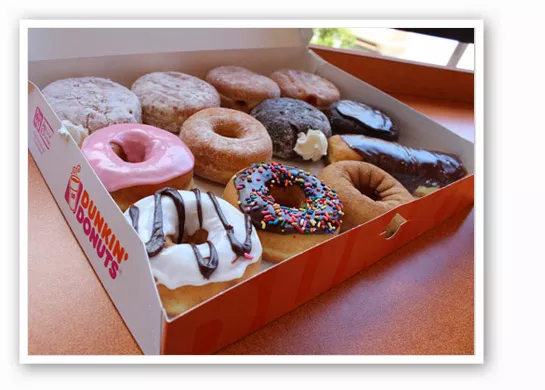 Get free Dunkin' Donuts this month with a donation to Goodwill. | Mabel Suen
In case you needed another reason to donate to Goodwill, they're giving you one -- free doughnuts. Anyone who donates to St. Louis metropolitan Goodwill stores on Tuesdays in July will get a coupon for six free doughnuts from Dunkin' Donuts. See also: -Drunken Dunkin' Donuts! -Dunkin' Donuts Begins Building in Florissant -Strange Donuts Coming to Maplewood This Spring
Instead of throwing away your stuff, take clothing, electronics, tools, books and furniture to one of the several St. Louis Goodwill locations and ask for the Dunkin Donuts coupon. "Goodwill is a great asset to the St. Louis community and we're happy to do our part in supporting their cause," Dunkin Donuts' Vicky DeSalvo said in a press release. "People donate to Goodwill all the time, so why not give them a reward once in a while?"
MERS/Goodwill helps more than 50,000 people who are struggling for employment because of a disability or economic disadvantage every year in St. Louis. 42 of the 61 bi-state locations give aid to job training and employment services.
It's pretty hard to pass up free doughnuts, and there are only four Tuesdays left in July. So get at it!