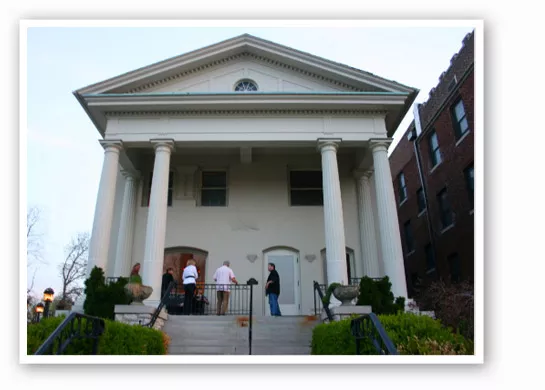 Salt is closed after two years. | Chrissy Wilmes
It's finally the end of the road for Salt (4356 Lindell Boulevard; 314-932-5787). The acclaimed Central West End restaurant closed last weekend after a rocky two years.
Salt opened to much fanfare in April 2011 and chef and co-owner Wes Johnson, formerly of the Shaved Duck and Eclipse, was the toast of the town. His love of duck fat won Salt Best New Restaurant in the Riverfront Times' 2011 Best of awards and made it a semifinalist for Best New Restaurant in the James Beard Foundation's 2012 awards.
Despite appearances on the Today show and rave reviews, Johnson left Salt in May 2012 for Café Pintxos (3407 Olive Street, 314-338-2500). He was replaced by sous chef Josh Roland, who also left Salt after months of legal troubles for the restaurant. Two weeks before Johnson's departure, Salt was hit with a $47,552 tax lien, but co-owner Armando Siliceo-Roman told Gut Check that the restaurant worked out an agreement with the IRS to pay the overdue taxes.
Later that year, Ta Daa LLC, which owns Salt's building in the Central West End, filed an unlawful detainer complaint against American Larder, LLC, Salt's corporate entity. It alleged that Salt owed $51,025.97 in rent and late fees, according to court documents. The money was eventually paid, but Ta Daa was still seeking "an unequivocal legal right to possession of the premises."
The case went to trial in October, and appeared be settled. Salt filed for bankruptcy in November and chef Josh Roland left in December. Roland told St. Louis Magazine that the "overwhelming financial burden" was one of the reasons he resigned. He was replaced by sous chef Brad Hoffman.
Salt continued to operate as normal and hosted events as recently as May 24; its last day of business was June 29. In a statement released this afternoon, Salt confirmed it has folded due to "the economic downturn, litigation with its landlord and pending litigation with a former partner, and tax liability." Feast magazine first reported the closure, as did Ian Froeb over at the St. Louis Post-Dispatch.
"Salt wishes to thank their loyal supporters, distinguished press, friends and family for their continued commitment," the statement says. "Most importantly, they are sincerely grateful to the entire dedicated staff that is solely responsible for Salt being nominated as one of the best restaurants in the US."
Salt has not returned requests for additional comment.