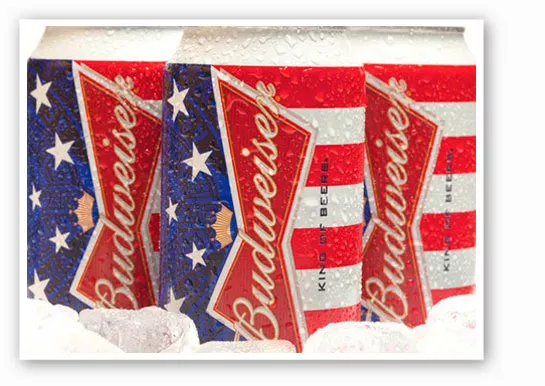 St. Louis may be a little biased, but beer doesn't get much more American than Budweiser. The patriotism's built right into the Anheuser-Busch logo with its bald eagle and all. Yet, Budweiser is somehow a less patriotic brand than New Balance?!
See also: -Anheuser-Busch to Roll Out Margarita-Flavored Beer -Released Today: New Budweiser Can Shaped Like a Bow Tie -Taste Test: A-B's New Budweiser Black Crown
It's true, at least according to a"statistical drill-down" of patriotism (whatever the hell that is) by the research firm Brand Keys.
New Balance, the tennis shoe choice for liberals and grass-mowing old men, tied with Harley-Davidson for No. 9 on the list of "Most Patriotic Brands." Budweiser and Marlboro -- as if there is anything more American than a chain-smoking cowboy? -- tied for No. 10.
Budweiser even has a "Made In America Festival"!
Most of the companies that topped the list (Jeep, Hershey's, Coca-Cola, Levi Strauss and Disney ranked highest among the 197 brands surveyed) were something of a given, but a few left us scratching our heads. Colgate, No. 4? Really? And what's up with Chevrolet, a company that almost goes overboard in its good ol' boy advertising, not cracking the top 25?
As for Budweiser, perhaps patriotically proficient consumers are still miffed that technically Anheuser-Busch has been a Belgian company since InBev acquired it in 2008. And the Boston-based New Balance is one of the few shoe manufacturers that still has domestic factories (five in New England). But at least 75 percent of its shoes are made overseas. San Antonio Spurs forward Matt Bonner was even booed by fans for wearing New Balance shoes last year. However, New Balance is also vying for a military contract, which would definitely up its patriot factor.
On the other hand, all twelve Anheuser-Busch breweries are located in the United States, and our beloved St. Louis headquarters -- a national historic landmark -- opened in 1852. But most importantly, those American flag cans are a must for the Fourth of July.
Continue on for a list of the 25 most patriotic brands.
1. Jeep (98%) 2. Hershey's/Coca-Cola (97%) 3. Levi Strauss/Disney (95%) 4. Colgate (94%) 5. Zippo (93%) 6. Wrigley's (92%) 7. Ralph Lauren (91%) 8. Kodak/Gillette (90%) 9. New Balance/Harley-Davidson (89%) 10. Budweiser/Marlboro (88%) 11. Ford (86%) 12. Louisville Slugger/Smith & Wesson (85%) 13. GE (84%) 14. John Deere/L.L. Bean (82%) 15. Walmart (81%) 16. Craftsman Tools/ Wilson Sporting Goods/Wrangler (80%)