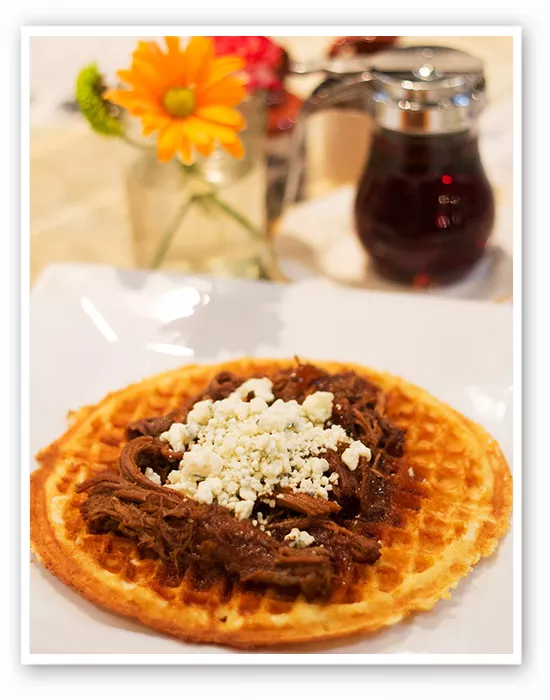 A "Blue Ox" cornmeal waffle with caramelized onions, slow cooked brisket,
bourbon lime sauce and blue cheese. | Mabel Suen
Exactly one year after opening its doors in the south Carondelet neighborhood, Melt (2712 Cherokee Street; 314-771-6358) officially made its move to bigger digs on Cherokee Street. The 2000-square-foot space supersizes just about every aspect of the original Melt from the kitchen and bar to the dining room, menu and hours. The new space comes ready to entertain, with more room for gaming, a stage for live music and a 14-foot drop down viewing screen for movies.
See also: - First Look: Melt in South Carondelet - First Look: The Libertine in Clayton - First Look: Tree House on South Grand
"The advancement of opportunity was overwhelming and too hard to pass up," says co-owner Britt Bauer, regarding her decision to move. "We elaborated on the menu a lot. It was mostly just sweets, but we extended the savory options. The Wake 'N' Bake was the most popular item. Everything kind of took off from there."
Co-owner Britt Bauer | Mabel Suen
On a late Saturday night, a pig-tailed Bauer dons an apron, dishing waffle batter into the grooves of the piping hot industrial waffle irons in the kitchen -- they're the same ones that Waffle House uses, she tells us, and they bake up golden frisbee-sized discs of hot, waffle goodness in mere minutes.
She then tops the confection with a selection of specialty toppings, either sweet or savory. The aforementioned "Wake 'N' Bake" ($6-$8) has little pockets of bacon and/or sausage cooked right into the waffle itself and gets topped with an egg cooked any way you like and a mess of orange cheddar cheese. Since it's after 12 a.m., she rolls each waffle up into a street-style cone concealed with aluminum foil -- everything except Melt's "Slinger" option, for obvious reasons.
The "Violet Beauregarde" with bleuberry coulis, blueberries | Mabel Suen
While we wait for our waffles, we watch as the friendly barista prepares a wheatgrass shot ($3) -- new to the menu -- to-order behind the bar, trimming long stalks of the green stuff with a pair of scissors and feeding sections little-by-little into a counter-top juicer. The entire process looks kind of daunting as it's repeated five or six times just to produce enough liquid to pour carefully into a narrow little shot glass.
"Namaste," says the ponytailed dude who ordered it before throwing it back, undoubtedly seeking a boost of energy and some grub after a long night of partying next door at 2720 Cherokee. It's as thick as cough syrup, so he shoots it again in an attempt to catch the residual.
A quick Google search shows that the gluten-free wheatgrass has claims for innumerable health benefits. And it tastes, well, just like grass ("You know when you mow the lawn, yeah that smell is the taste, but more intense"). Now, we understand why the barista prefaced his order with "in a smoothie, or by itself?" We probably would've gone for the former in something like Bauer's personal favorite, the "Piasa Bird," ($5) made with vanilla yogurt, spinach, a choice of two kinds of fresh berries and OJ.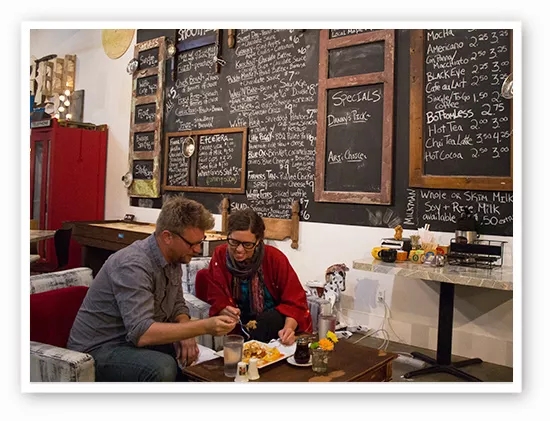 Additions to Melt's new menu include an entire new pile of savory waffle options including the "Blue Ox" waffle ($9) made with cornmeal batter and topped with caramelized onions, slow cooked brisket, Bourbon lime sauce and blue cheese; a Melt house salad ($6) with walnuts, Mandarin oranges and citrus vinaigrette; and "top shelf syrups" ($1-$2) like organic maple and agave.
Its regular menu features ice cream, including options via a partnership with I Scream Cakes across the street, served by the scoop or in a sundae, float, milkshake or banana split. A standard menu of hot coffee and tea drinks like Café au lait and chai tea lattes come in regular and large sizes. Look for a full menu of bar offerings soon!
Melt's hours are currently Wednesday through Thursday from 11 a.m. to 11 p.m., Friday from 8 a.m. to 7 p.m., Saturday from 8 a.m. to 7 p.m. and 12 a.m. to 3 p.m., and Sunday from 8 a.m. to 3 p.m. and 12 a.m. to 3 a.m. Follow Melt via its Facebook page.
Click through for more photos.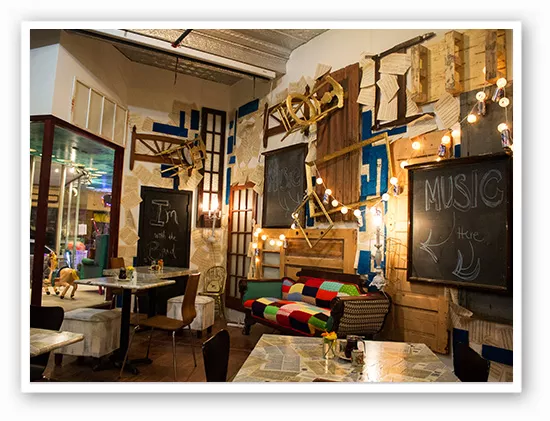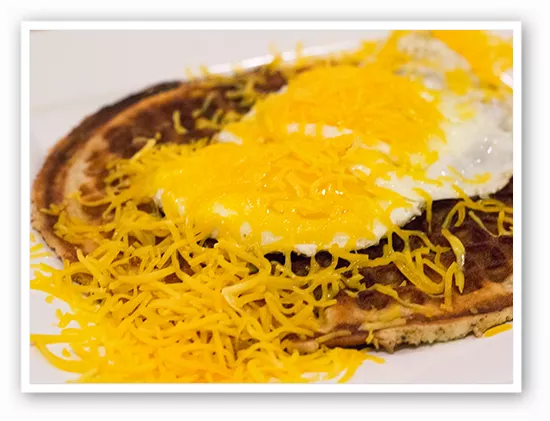 The "Wake 'N' Bake" with bacon or sausage with eggs and cheese | Mabel Suen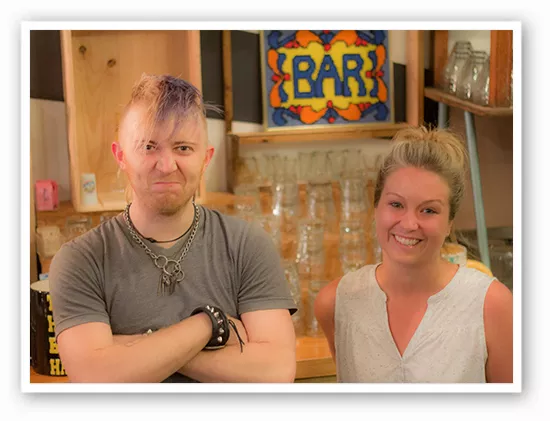 Employee Landon Brooks and Co-owner Kelly Pickett | Mabel Suen