A large illuminated sign anchors the dining room at The Libertine. | Evan C. Jones
After Monarch closed in early 2012, the restaurant's erstwhile executive chef, Josh Galliano, remained visible on the St. Louis culinary landscape, orchestrating pop-up restaurants through which he could continue dispensing Southern staples.
Now you can find his cooking at a permanent location.
The Libertine (7927 Forsyth Boulevard, Clayton; 314-862-2999) features Galliano and executive sous chef Josh Poletti in the kitchen, management/beverage team Nate Weber and fiancée Victoria Mitchell, and proprietors Nick and Audra Luedde at the helm.
See also: - Monarch to Close - The Future of Monarch: Suggestions and Speculations
One element that immediately stands out is the Libertine's menu, which breaks down into three sections: vegetable, meat and seafood. Galliano's inspiration for the structure comes from Restaurant Eugene in Atlanta, and from the French restaurant Roussillon in London, at which Galliano once worked and which closed last year.
"Basically that, combined with what I wanted to do with showcasing more vegetables," the chef explains. "Not necessarily saying that we'd be strictly vegetarian, but just saying that I think vegetables need to be at the forefront instead of in the background, on the side of a steak or chicken.
"The other part of it was the goals," he continues. "I felt like having those sections divided up would allow me to have more fun and put some dishes on there that were more interesting, that might not necessarily fit into your straightforward appetizer-entrée-type format. Not saying that's just for sharing, but it's: 'Hey, look at this.' This is the size it needs to be without defining it in that starter-main format."
The drink menu adapts a similar mentality, with beers and wines curated by Mitchell. The cocktail list features libations with classic roots tweaked by different takes. The "Tom Waits For No Man," for instance, is a manhattan with an edge courtesy of the digestif Fernet-Branca and a sweet vermouth that's on the bitter side.
"They're visually striking and they taste good -- that's the key," Weber says.
Team Libertine also intends to take ample advantage of local assets. Weber, a native of Kansas City, moved to St. Louis a year and a half ago and has witnessed the local beer scene explode in that time.
"It's awesome -- they have a great wealth," he says of the city's local breweries. "We have Civil Life and Perennial on draft and [we are] carrying Schlafly as well, and the larger format of 4 Hands. There's a lot of great balanced beers out there, and they can work well with food and just as well on their own."
Behind the Libertine's bar. | Evan C. Jones
When asked about seasonality with respect to his food menu, Galliano responds, "Pretty aggressive.
"When it comes down to it, some things luckily are never out of season: ground beef," he says with a laugh. "Our chicken dish is kind of neat, in that it's not just chicken, but what accompanies that poultry changes. Just trying to keep it going as far as the seasons but without changing the inherent dish itself. Just making it be more reflective [of the season]. So yes, but not as much in your face. You'll see that asparagus dish get pulled off and replaced with a beet and potato dish, which are coming up now. At the same time, the chicken will still say chicken -- it'll just reflect more of what's happening now."
Currently only open only for dinner, the Libertine will debut lunch service in August.
Will the chef's famed fried chicken be far behind? Galliano dodges that scalding-hot question.
"Everyone is asking about fried chicken," he says. "Not that I'm committing to it, but I understand. When? I don't know. When the mood hits me, or someone hits me over the head to fry chicken."
Click through for more photos of the Libertine...
House-made terrine board: (counterclockwise from upper left) pickled beets; chicken-liver pâté with pickled cherries; peach butter; ciccioli; goat and harissa; pickled shiitake mushrooms. | Evan C. Jones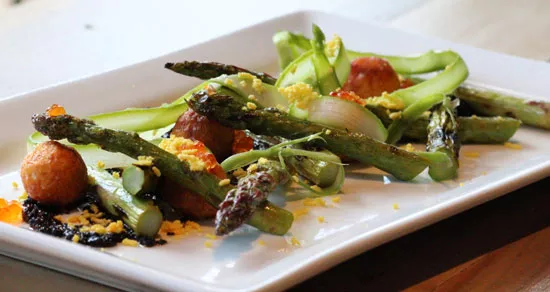 Illinois asparagus with black garlic romesco, Midwest caviar, fried potato balls and boiled farm egg. | Evan C. Jones
Crisp octopus with broccoli-stem kimchi, piquillo pepper broth, Japanese sweet potato purée and charred lemon: one of the Libertine's seafood offerings. | Evan C. Jones