View Kirkwood in a larger map
St. Louis' neighborhoods are gems in their own right: full of history, great people and, as far as Gut Check is concerned, fantastic food. Each week we'll take you into a specific neighborhood and point you in the direction of the best places to grab some bites.
Kirkwood boasts of being the first planned suburb west of the Mississippi River, and the town (established in 1853) takes its name from the man who made it all possible. James Pugh Kirkwood was a railroad worker whose surveying and engineering feats allowed residents to commute to downtown St. Louis from the leafy expanses outside of the city. Today Kirkwood's historic train station remains a local landmark, and the town's robust restaurant and bar scene has St. Louisans of all stripes commuting to Kirkwood for great food, drinks and entertainment. So, hop on board as we preview a few of the best destinations Kirkwood has to offer.
Welcome to One 19 North | Jennifer Silverberg
One 19 North (119 N. Kirkwood Road, Kirkwood; 314-821-4119) The name of the game here is small plates and wine. Tapas run the gamut from bona fide Iberian cuisine (fried Manchego cheese) to improvisational offerings such as fried chili-rubbed chicken wings and smoked Gouda grits. While not the most expansive wine list, One 19 North's selection stresses quality over quantity. And the restaurant's rustic interior provides a tranquil atmosphere where diners can easily sit back, relax, sip wine and completely gorge themselves on delicious tapas. See also: - The Nine Best Tapas/Small Plates Restaurants in St. Louis
Kirkwood Station Brewing Company (105 East Jefferson, Kirkwood; 314-966-2739) The little brewery that could, Kirkwood Station brews up a pretty tasty Blackberry Wheat, a low ABV beer that's light and crisp, perfect for summer nights. For the hop heads among us, the Double Engine IPA has a nice bite and packs a punch. The menu features a huge list of appetizers, pizzas and burgers, like the Cattle Car (a full pound of Black Angus, which should fill you up). There's a long list of sandwiches and wraps plus entrees. Live music and ladies night every Thursday make for a lively atmosphere...the beer helps, too.
See also: - The Five Best Wings in St. Louis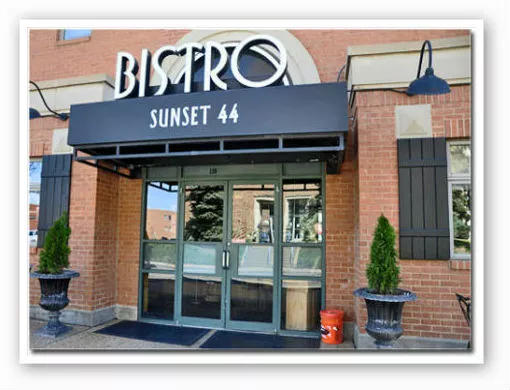 Sunset 44 Bistro (118 West Adams Avenue, Kirkwood; 314-965-6644) With a menu described as "regional American" you know you can pretty much count on a wide selection, with everything from German, French and Asian-inspired foods. Avocado tacos, for example -- three pieces of tempura-fried avocado sit inside both corn and flour tortillas, garnished with cabbage. And it's vegan friendly! Then there's Avila stew with scallops, salmon, lobster and an Angus beef tenderloin medallion served with a red-wine reduction sauce. Desserts include crème brûlée, bananas Foster pound cake and a rich, layered chocolate mousse napoleon. A taste of fine dining across an eclectic menu, sounds good to us.
See also: - Fresh, Bright Vegetarian Fare Shines at Sunset 44 Bistro in Kirkwood
Kirkwood Ice and Fuel (215 North Kirkwood Road, Kirkwood; 314-822-0494) Though no longer supplying ice or fuel, at least not in the traditional sense, Kirkwood Ice & Fuel offers pub grub and a boatload of TVs for all your sports-watching needs. The food is solid bar fare -- wings, T-ravs and nachos along with salads, burgers, hot dogs, wraps, sandwiches, pizza and steak. A special dish is the delicious fish tacos meant to be enjoyed with Sol beer. On the weekends, this is one of the more popular spots for the younger crowd -- especially St. Peter's and Kirkwood High alumni -- who reunite on weekend nights and during football games.
See also: - Best Neighborhood Bar (West County) - 2012
Saddle up to the bar at PJ's
PJ's Tavern (123 W. Jefferson Avenue, Kirkwood; 314-966-2001) PJ's Tavern is more of a family-oriented bar and grill, and has been a Kirkwood favorite since 1996. The walls here are decorated with brightly colored lettermen jackets from St. Louis high schools and other local sports memorabilia. If you're looking to watch a game, PJ's offers no fewer than six high-definition flat screens to peek at while going to town on a half-pound burger and fries.
Amigos Cantina (120 W. Jefferson Street, Kirkwood; 314-821-0877) Beginning with its colorful storefront, Amigos Cantina offers a taste of authentic Mexican cuisine, as well as a few gringo favorites. Entrées include that Tex-Mex staple, fajitas. Tacos, burritos and quesadillas manage to bridge the gap between Americanized Mexican food and the real deal, and for a taste of taqueria cuisine, consider a torta, the traditional Mexican sandwich. The cheese dip, made from Monterey jack, is a thick, guilty pleasure. Beyond tasty food, Amigos has also gained the reputation for its mixed- and shaken-to-order margaritas. The blend of Hornitos Plata tequila, Cointreau, freshly squeeze lime juice and agave nectar is a dangerously delicious combination.
See also: - Gut Check's Guide to Drinko Cinco de Mayo in St. Louis: 26 Food and Drink Specials - The Five Best Margaritas in St. Louis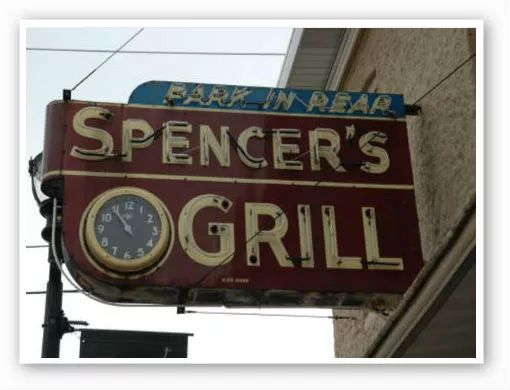 A classic sign for a classic place | RFT Photo
Spencer's Grill (223 S. Kirkwood Road, Kirkwood; 314-821-2601) Spencer's Grill has been serving the hungry masses from the same spot since 1947. A quintessential diner, Spencer's make a heck of a breakfast, pancakes and omelets along with other traditional breakfast favorites. But moving into the day, you can find a variety of sandwiches as well as burgers. This is a no-frills establishment; it comes with no surprises -- the patty melt you had last week will be the same patty melt you'll have next week. The five wooden booths and a dozen seats at the counter means you'll need to make friends and maybe become a regular yourself. And why not? Bacon and eggs are $4.75, a double cheeseburger $4.50. A buck buys a side of applesauce. Come and get it!
See also: - Best Lunch Counter - 2007
Cornucopia (107 N. Kirkwood Road, Kirkwood; 314-822-2440) Cornucopia is a charming little boutique that appears to contain every kitchen utensil ever created. But we are focusing on the teapots -- glass, steel, ceramic...all kinds. Why, you ask? Because Cornucopia is for tea lovers. Nestled in the back corner of the tightly packed shop is a wall of apothecary jars filled with loose teas from around the world: black, green, oolong; Darjeeling, gunpowder, Assam. For the tea drinker who doesn't know his tea ball from a hole in the ground, Cornucopia also has a wide variety of pre-packaged teas -- Bigelow, Twinings, Marks & Spencer.