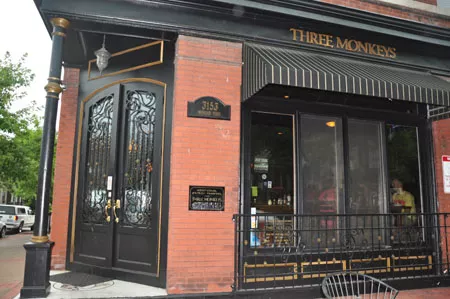 Three Monkeys | Tara Mahadevan
Destination: Three Monkeys (3153 Morganford Road; 314-772-9800)
Neighborhood: South City
Cuisine: American
Overview:John Hoogstraat opened Three Monkeys in 2007 after rehabilitating the building from its former days as a beauty salon and auto repair shop. The restaurant takes its name from John and his buddies, Jim and Dave. The threesome hung around each other so much that fellow friends began calling them the "three monkeys." The Tower Grove restaurant has been a neighborhood favorite since its debut and -- in addition to the two dishes highlighted below -- offers a number of vegetarian options, including salads, pizzas, hummus and a black bean burger.
See also: - Flying Saucer Leaves Veggie Critic Beaming - Vegetarian Options Abound at Remy's Kitchen & Wine Bar in Clayton - Yes, Vegetarians: You, Too, Can Queue for 'Cue at Vernon's
Inside Three Monkeys | Tara Mahadevan
Highlights: Three Monkeys' guacamole bites are an interesting take on crab rangoon. Six wontons are stuffed with a blend of cheeses and guacamole, using the spiciness of green chilies to give your taste buds a good kick in the rear. Served with a side of sweet chili sauce to solidify a real Asian feel, this appetizer runs for $8.99.
Spicy guacamole bites at Three Monkeys | Tara Mahadevan
Three Monkeys' garden pasta ($9.99) is a crowd favorite: a heaping of penne pasta is first flavored with olive oil and pesto sauce, then mixed with a slew of veggies, including broccoli, carrot, mushroom, zucchini and squash. The restaurant finishes off this delectable dish with two pieces of their homemade garlic bread.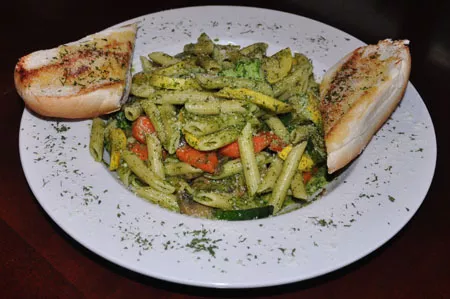 Garden pasta at Three Monkeys | Tara Mahadevan
The Veggielante has had it up to here with people bitching that St. Louis restaurants are vegetarian unfriendly. Sure, we'd like to see more restaurants offering more meatless dishes, but there are excellent choices out there if you take the trouble to look for them. We're not here to proselytize about greening up your diet. Our only motive is to spread the word about places where you can order good grub that ain't got no meat. To enhance your reading experience, we've settled on a handful of criteria we'll use to suss out a restaurant's vegetarian friendliness.