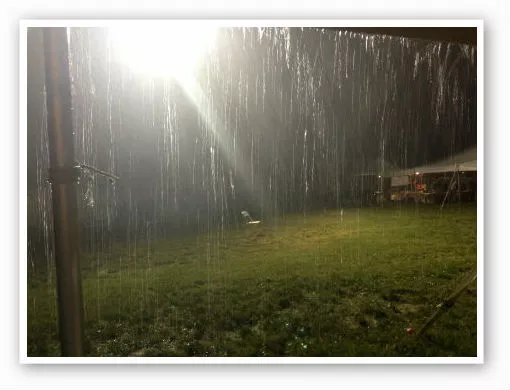 &nbspThe peak of the storm Saturday at Forest Park. | Zach Garrison
The premature ending of Saturday evening's St. Louis Brewers Heritage Festival has turned into a public-relations nightmare for organizers of the annual beer celebration in Forest Park.
The festival that features beer samples from some twenty breweries was in full swing around 9 p.m. on June 15 when a powerful thunderstorm moved through the region. The rain and winds forced the hundreds of festivalgoers in attendance to seek shelter under three massive tents in the park's Central Fields. There the crowd continued to drink even after organizers quit pouring fresh beers.
See also: - Gut Check's Favorite Beers from 2013 Brewers Heritage Festival - Preview: What's On Tap at the 2013 Brewers Heritage Festival - Slideshow: Rain Doesn't Stop Fun at 2011 Beer Fest
According to Gut Check's man on the scene, attendees soon began shouting "We want beer!" and then, "Rain or shine!" in reference to the event's policy that refunds would not be issued due to precipitation. The thunderstorm quickly moved on, and the beer began to flow once more. It wouldn't last long. After a few minutes organizers turned off the taps for good and told everyone to leave around 9:30 p.m. -- 90 minutes before the four-hour event was scheduled to end.
That's when things really turned ugly.
Some people began shouting their disapproval and throwing their souvenir beer glasses. Police wrestled one attendee to the ground after he refused to leave the scene. (St. Louis police confirm to Gut Check that the individual was arrested for resisting an officer and failure to obey the reasonable order of an officer.) But those complaints pale in comparison to the outpouring of criticism left the next day on the Facebook page of the St. Louis Brewers Guild that put on the event.
As one commenter wrote on Facebook, she was allowed to purchase a ticket for $40 just moments before the event was shut down.

Others complained that the storm no longer presented a danger when organizers closed down the festival.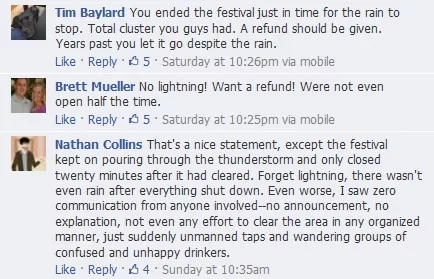 Patrick Hughes, director of the Brewers Guild, tells Gut Check that he understands the frustration but says that there was still lightning in the area and a threat of more severe weather.
"Safety was our number-one concern," says Hughes, who notes that the festival's tents have a metal framework that could prove deadly if struck by lightning.
The Brewers Heritage Festival ran for its first six years under the operation of Fusion Marketing. This year's event was the first time that the newly formed St. Louis Brewers Guild operated the festival, and Hughes acknowledges that it wasn't a great debut for the organization.
"We are a nonprofit whose mission is to promote beer tourism in St. Louis and beer education," says Hughes. "The festival was about kickstarting our fundraising."
Still, Hughes and the guild hope that they can appease those who left Saturday's event angry. Today the Brewers Guild announced that it would offer half-price tickets to next year's festival for those impacted by Saturday's cancellation. In addition, the guild has teamed with its member breweries to offer two free beer vouchers at places like 4 Hands Brewery, Urban Chestnut and Schlafly.
"Hopefully, this shows good faith on our part," says Hughes.
Continue on for a press release from the guild with information about the rebate offered to Saturday's festivalgoers. FOR IMMEDIATE RELEASE: ST. LOUIS BREWERS GUILD RESPONSE TO SATURDAY NIGHT'S CLOSURE OF THE ST. LOUIS BREWERS HERITAGE FESTIVAL. On Saturday Night, June 15th, 2013 the St. Louis Brewers Heritage Festival ended at approximately 9:30pm due to constant lightning in the area, and the threat of more severe weather. The St. Louis Brewers Guild, along with security personnel monitored the situation closely, and ultimately had peoples' safety in mind when closing the festival.
In any outdoor event, whether it is a concert, sporting event, or festival, safety of the patrons is the number one priority. One strike of lightning or a strong gust of wind could have had a catastrophic impact on those attending the festival. The St. Louis Brewers Guild was disappointed that the decision to close had to be made, but made it with patron's safety in mind.
The St. Louis Brewers Guild would like to show its support to those who attended the St. Louis Brewers Heritage Festival and were negatively affected by the early termination of the event.
The St. Louis Brewers Guild in itself, is a 501(c)3 non-profit organization, whose mission is to increase Beer Tourism in the City of St. Louis and surrounding areas. The St. Louis Brewers Heritage Festival was aimed to be a kick-start event to showcase and further build the Saint Louis area as a world-class destination for great beers, educating residents, visitors and the world on the passion, dedication and great beer Saint Louis has to offer.
In order to show our good faith, the St. Louis Brewers Guild is offering those who were affected by Saturday night's weather a special "Thank You for Coming to the St. Louis Brewers Heritage Festival". The St. Louis Brewers Guild will send customers who purchased tickets to and attended the festival on Saturday night a voucher good for two draft beers at the following locations listed below, along with a discount code good for 50% off a ticket to next year's St. Louis Brewers Heritage Festival.
An email is going out to those who purchased tickets in advance through the online ticketing system. Those who purchased tickets on-site are asked to send an email to voucher@stlbrewfest.com for further instructions.
We are disappointed that the Heritage Festival ended early due to poor weather, but are happy to have you as a consumer of St. Louis Beer. We thank you for continued support, and look forward to seeing you at future events.
For continued updates visit www.stlbrewfest.com twitter.com/stlbrewfest and www.facebook.com/brewersfestival
Participating Breweries*: 2nd Shift Brewing, 4 Hands Brewing Co., Alpha Brewing Co., Crown Valley Brewery and Distillery, Kirkwood Station, Morgan Street Brewery, Perennial Artisan Ales, Six Row Brewing Company, Square One Brewery and Distillery, Schlafly Bottleworks or Schlafly Tap Room, The Civil Life Brewery, Urban Chestnut Brewering Company.
*This list is subject to change and the final participation list will be included on the ticket voucher.