Steve and Veronica Baetje began selling their goat cheese commercially in 2007. Today Baetje Farms (8932 Jackson School Road, Bloomsdale; 573-483-9021), off Interstate 55 about 50 miles south of St. Louis, produces several varieties of aged and fresh goat- and sheep-milk cheeses in the French and European style.
The Baetjes handcraft their goat cheeses using milk obtained from their very own herd of registered Saanen dairy goats.
You can find Baetje Farms cheeses locally at Whole Foods Market and Local Harvest Grocery, among other places. The Baetjes also operate stands at farmers' markets including Soulard and Schlafly. (The Baetjes ask you not to drop in on them and their goats in their native habitat, however; the farmers aren't set up to entertain visitors.)
The barn dates back to 1912; the Baetjes added the cheese plant in 2006.
The Baetjes' herd of Saanen goats enjoy their morning meal while being milked. The largest breed of dairy goat, the Saanen originated in Switzerland.
Each able goat on the farm is milked every twelve hours and will produce one-half to one gallon a day, depending on her age.
Filled canisters are filtered, then the milk is poured into a vat to chill down to 40 degrees Fahrenheit.
The Bloomsdale is a mold-ripened cheese that's rolled in a mixture of ash and salt. As the cheese ages, the textures becomes softer and creamier. This batch has been aging for only about a week.
The Bloomsdale, nearly ready to wrap. Bloomsdale took a Super Gold and was one of the top sixteen finalists for "Best in the World" at the World Cheese Awards in Birmingham, England, in 2011.
A new variety of Coeur du Clos cheese, made with a Port wine brine, will soon be available for sale.
Tracey Wehner and Carol Smith, Baetje Farms packaging engineers.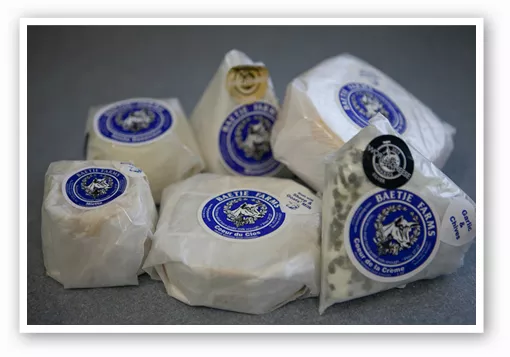 The Bloomsdale, a Coeur de la Crème with garlic and chives, the Coeur du Clos, Miette, Fleur de la Vallée and Sainte Genevieve.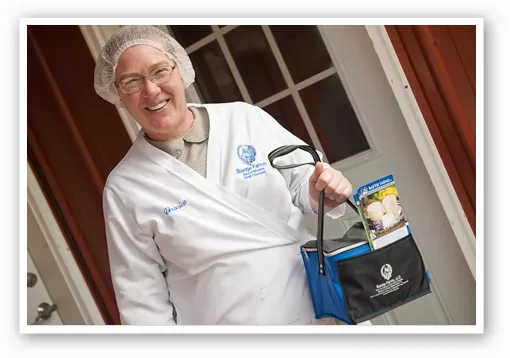 Veronica Baetje married Steve in 1991 and had dreamed of becoming a shepherd.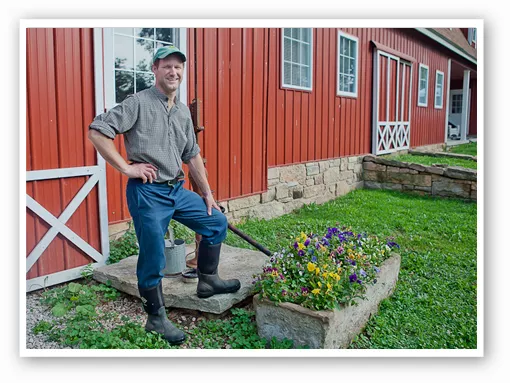 Steve Baetje relied heavily on his background in construction when designing the dairy. The Baetjes and their team begin their day at about 3 a.m. and don't rest till the sun sets.
The yearling barn. Goats and kids are allowed free access to the barn and a large pasture.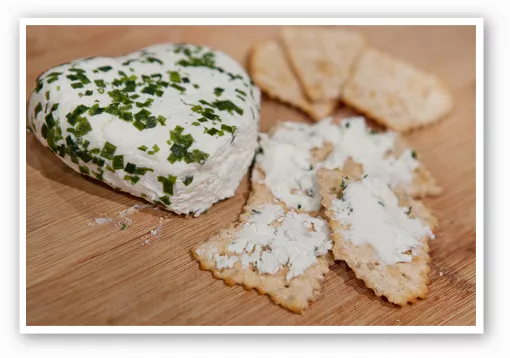 The heart-shaped Coeur de la Créme with garlic and chives is perfect on crackers or grilled steak.
Editor's note: Sometimes food renders Gut Check speechless. That's why God invented the DSLR. In our continuing effort to cause your mouth to water onto your keyboard, we bring you our weekly Food Photo Essay.
More Food Porn! - Sump Coffee in South St. Louis - Tower Grove Farmers' Market: Opening Day - I Scream Cakes Is Ready for Its Close-Up - EarthDance Farms: A Model of Sustainability in Ferguson - Billy Goat Chip Company