Flying Saucer Draught Emporium | Tara Mahadevan
Destination: Flying Saucer (900 Spruce Street; 314-932-1456)
Neighborhood: Downtown
Cuisine: "American Food with a Southern Flare"
Overview: With sixteen other locations across the U.S. -- the St. Louis location being one of the newest -- the Flying Saucer Draught Emporium is truly an emporium. Conveniently positioned down the street from Busch Stadium, the Flying Saucer is a Cardinals fan favorite, and boasts over 70 beers on tap, and a fairly vegetarian-friendly menu.
See also: - Vegetarian Options Abound at Remy's Kitchen & Wine Bar in Clayton - Yes, Vegetarians: You, Too, Can Queue for 'Cue at Vernon's - Zpizza Brings Tasty, Organic Vegetarian and Gluten-Free Pizza to Clayton
Inside Flying Saucer | Tara Mahadevan
Highlights: Though the Hippie Hollow ($7.99) looks like a bunch of greenery, what you can't see won't hurt you (and will be delicious). The Hippie Hollow features two pitas slathered in spicy homemade hummus, and topped with field greens, cucumber, tomatoes, avocado and your choice of ranch or jalapeno vinaigrette dressing. You also get to choose a side of french fries, hot German potato salad or a side salad.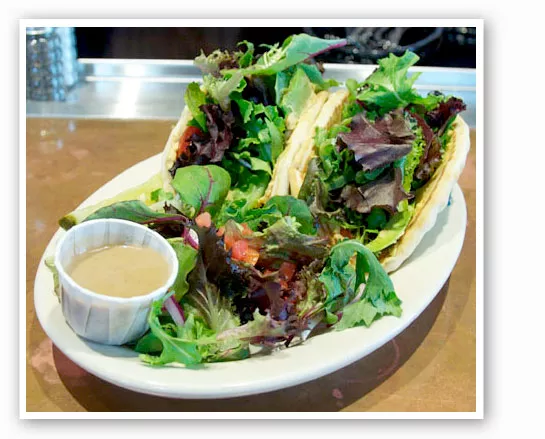 Hippie Hollow at Flying Saucer | Tara Mahadevan
The Flying Saucer also offers other veggie options such as the Hippie Burger ($7.99) -- a vegetarian patty layered with cucumber, onion, tomato, lettuce and avocado, and doused in jalapeno-pesto mayo sauce. Another vegetarian favorite is Flying Saucer's big soft pretzels (2 for $7.29) that come buttered, salted and toasted with a choice of dipping sauces. And, of course, there is also Flying Saucer's dozens and dozens of different brews. 'Cause, you know, beer is vegetarian.
The Veggielante has had it up to here with people bitching that St. Louis restaurants are vegetarian unfriendly. Sure, we'd like to see more restaurants offering more meatless dishes, but there are excellent choices out there if you take the trouble to look for them. We're not here to proselytize about greening up your diet. Our only motive is to spread the word about places where you can order good grub that ain't got no meat. To enhance your reading experience, we've settled on a handful of criteria we'll use to suss out a restaurant's vegetarian friendliness.