Pastry chef Victoria Lopez's raw, vegan and gluten-free banana torte. | Mabel Suen
Sound Grand just got a lot greener, and we're not just talking about the lime-colored accents painted on the refurbished building at the corner of Grand Boulevard and Connecticut Street. Tree House (3177 South Grand Boulevard; 314-696-2100), a modern vegetarian and vegan bistro, opened its doors recently in the space previously occupied by Petra Café & Hookah Lounge, serving up a menu of sustainable plant-based foods prepared in a contemporary style and setting.
See also: - Vegetarian Options at Remy's Kitchen and Wine Bar - First Look: Annie Moons Bakery and Café in Tower Grove South - Sneak Peek: Panorama at the St. Louis Art Museum
During Sunday evening dinner service, owner Bay Tran multitasks. She cheerfully seats guests, fills water glasses and stops to chat at each table. Meanwhile, bar manager Billy Holley shakes up an almond-milk cocktail at the adjacent bar, and waitstaff expeditiously take dishes of fragrant fried beets and tamales out to hungry herbivores. With the small dining room's tables in such close quarters to each other, it's easy to sneak a peek and see what other people have ordered.
Executive chef John Intrieri and sous chef Tanya Brown, in matching brown chef coats, prepare these plates from an open kitchen in the back of the room, and pastry chef Victoria Lopez pokes her head in every now from the back of the kitchen to present an artfully plated slice of cake or to lend a hand.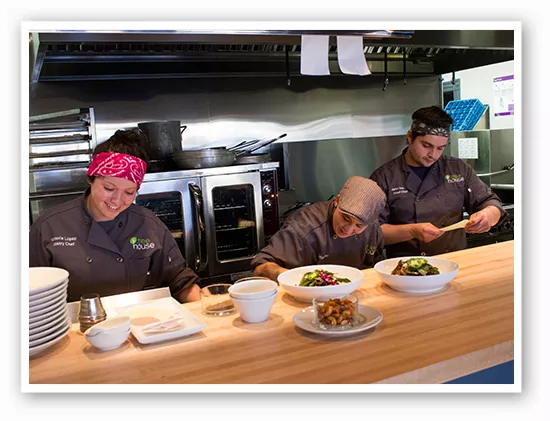 Victoria Lopez, Tanya Brown and John Intrieri | Mabel Suen
The close-knit culinary team developed the menu with Tran, a third generation restaurateur from a family that got its start cooking professionally in Vietnam and to this day continues to offer traditional Asian dishes a few doors over at Mekong (3131 South Grand Boulevard; 314-773-3100).
Diners will see some of that Far-East influence on the menu -- take, for instance, banh mi ($12) with mushroom pate, carrot-daikon slaw, jalapenos and a choice of side -- but Tran strives to not lean one way or another as far as the overall ethnic theme of the restaurant goes. Intrieri and Lopez have Latin American roots and introduced menu items like roasted plantains and yucca fries as well as "Pan de Queso" ($6), a South American cheese bread with malagueta sauce and chimichurri.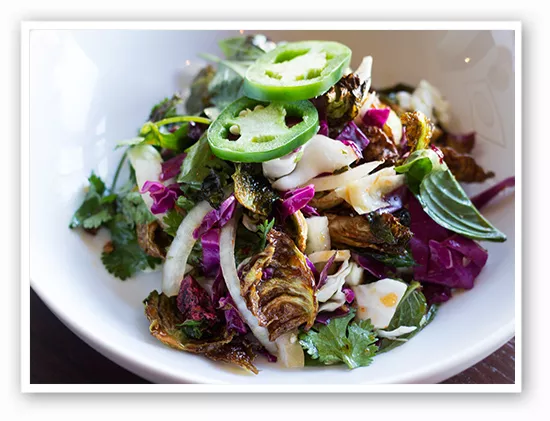 Brussells sprouts salad | Mabel Suen
Tran, a vegetarian who hopes to go vegan, says she decided on a plant-based concept because, "It's exciting food and there are always a lot of fresh textures and flavors to discover. I like finding a balance of nutrients and flavors... It's just a positive way to approach food all around."
Menu items will rotate seasonally and include as many local ingredients as available and -- when possible -- vegan, raw and gluten-free dishes.
Small plates currently include fried beets ($8) served with togarashi and house aioli as well as a Brussels sprouts salad ($9) with cabbage, herbs and sweet chili vinaigrette. Large plates include a "Tree House Burger" ($13) and a raw noodle bowl ($13) with mung bean noodles, raw vegetables, herbs and a choice of coconut red curry, Kaffir lime-peanut or sweet chili sauce.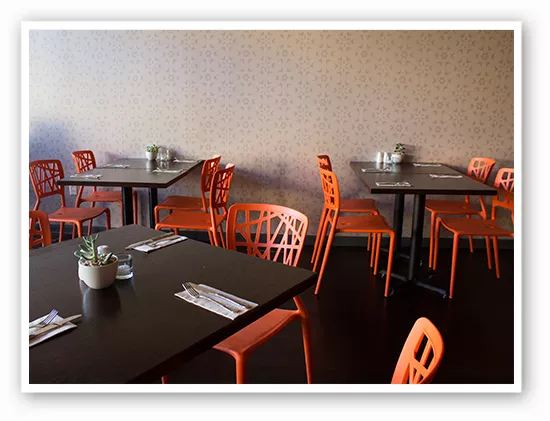 The dining room | Mabel Suen
Desserts include a raw banana torte ($8) with banana cashew cream, date and cashew nut crust and bitter chocolate ganache and a lemon rhubarb parfait ($6.75) with lemon curd, rhubarb compote, Thai basil simple syrup, candied lemon peel and toasted and salted walnuts.
The alcohol menu includes local beers and a small selection of white and red wine. Holley, along with mixologist Mandi Kowalski, stir up a menu of cocktails that includes "Tree House Almond Milk Punch" ($7) with white rum, almond milk, cardamom passion fruit and maraschino rinse and a "Rhubarb Rickey" ($7) with gin, lemon, grapefruit, ginger beer, rhubarb bitters and candied ginger.
Tree House is currently open for lunch and dinner every day of the week except for Wednesday. Look for menu updates and more via the Tree House Facebook page.
Click through for more photos.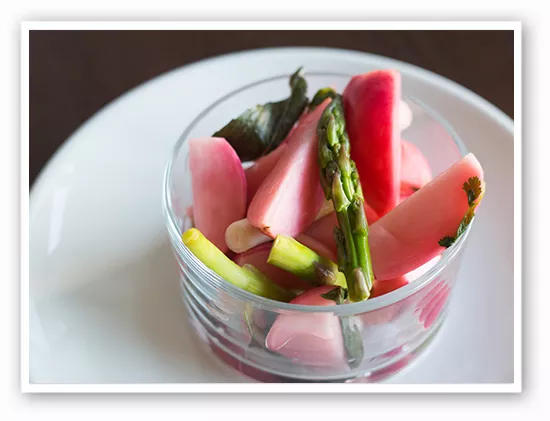 House pickled vegetables | Mabel Suen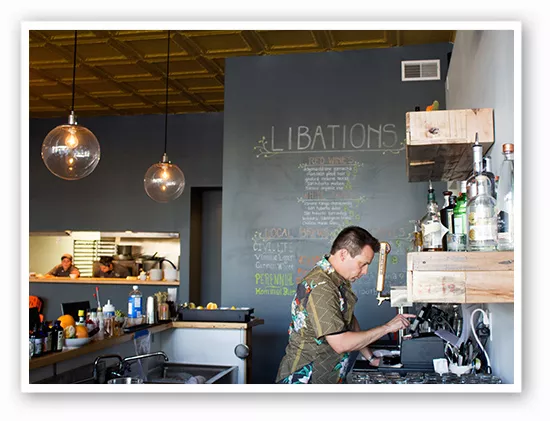 Billy Holley behind the bar | Mabel Suen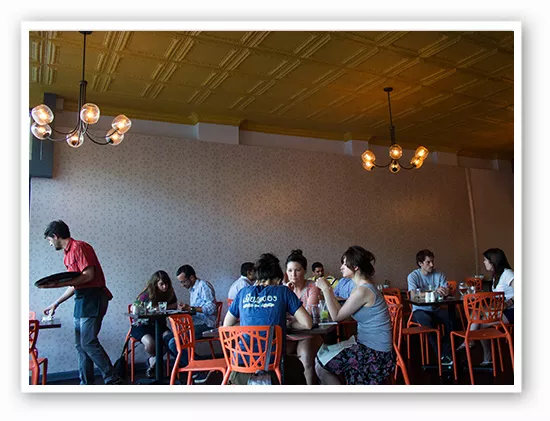 The dining room | Mabel Suen
The entrance | Mabel Suen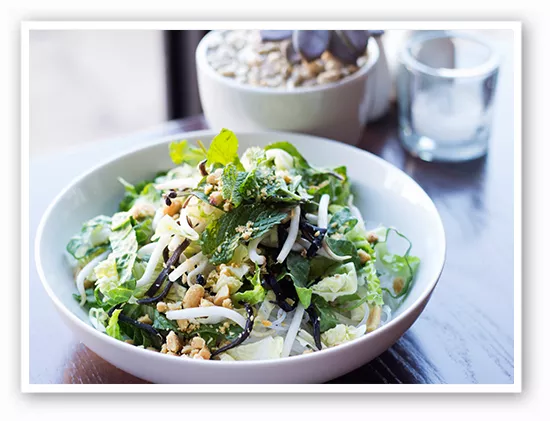 Raw noodle bowl | Mabel Suen
Kaffir lime-peanut sauce | Mabel Suen