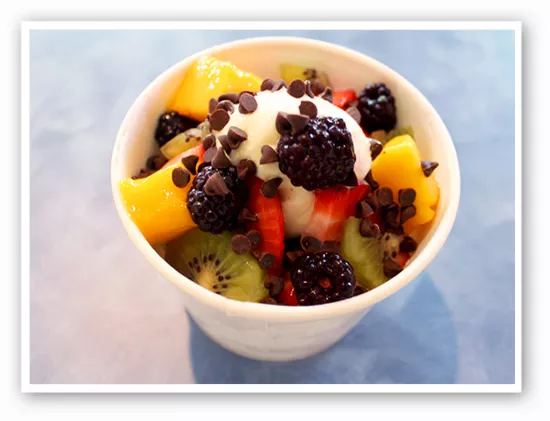 Get some free frozen yogurt this weekend! | Mabel Suen
This weekend, score some free frozen yogurt at Tutti Frutti's one year anniversary celebration, drink up at the St. Louis Brewers Heritage Festival, peruse the fourth annual St. Louis Garlic Fest, treat Dad to some barbecue and more. Our recommendations await after the jump.
See also: - What's On Tap at St. Louis Brewers Heritage Festival - 8 Best Ice Cream Spots in St. Louis - An Updated Guide to the Grove
Friday (Jun. 14):
One Year Anniversary @ Tutti Frutti Tutti Frutti celebrates its first birthday with live music, a bounce house and activities for the kids. Giveaways include smoothies and fresh Belgian waffles, free frozen yogurt for the first 200 customers and $1 frozen yogurt cups. Admission is free. 5 to 9 p.m.
Food Truck Friday @ Tower Grove Park For the third year in a row, Food Truck Friday invades Tower Grove Park with eats from Guerilla Street Food, Hot Aztec, Sarah's Cake Stop and much more. Arrive early to avoid lines, and come with a big appetite. Admission is free. 5 to 8 p.m.
St. Louis Brewers Heritage Festival @ Forest Park "The collective strength of the St. Louis brewing community will be on full display this weekend at Forest Park. The celebration brings together more than twenty local breweries, from the more familiar Anheuser-Busch and Schlafly, to less well known but very delicious 2nd Shift and Charleville. It kicks off Friday evening from 6 to 10 p.m., with two more sessions running on Saturday from 1 to 5 p.m. and 7 to 11 p.m. Tickets can only be purchased at the festival's website for $40, or at the gate on the day of the event for $40."
Pack a picnic @ Shakespeare Festival Bring a picnic basket full of your own wine and snacks for the show, or leave the cooking to festival attendants. Choose from concession-stand eats like sandwiches and funnel cakes. General admission for the show, Twelfth Night, is free. The festival runs from now through June 16, with showings every night at 8 p.m. except for Tuesdays.
ArtD Tour @ Saint Louis Art Museum Start the evening off at SLAM with food and drink samples from local businesses including Vom Fass and Hamburger Mary's. Then, shuttle around between multiple art galleries and museums including stops at the St. Louis Artists' Guild and the Sheldon to drink in the local art scene. Tickets cost between $20 to $40. Call 314-607-7693 for details or head to the Art Dimensions website. 5:30 p.m.
Saturday (Jun. 15):
Grilling Class and Shock Top Beer Tasting @ Rendezvous Cafe and Wine Bar in O'Fallon Homemade corn-and-black-bean salsa, grilled peaches and chipotle burgers with avocado mayonnaise, caramelized red onions and roasted veggies make up the menu and pairs quite nicely with a bunch of Shock Top beers. $40 per person. Call 636-281-2233 for reservations. 1 to 3 p.m.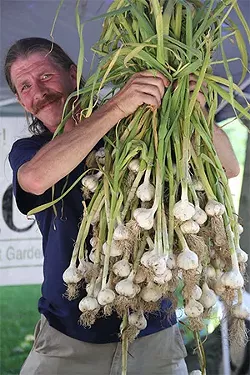 Fourth Annual St. Louis Garlic Fest @ Carondelet Park Leave the breath mints at home and wear that garlic mouth proud with the Carondelet Garden Urban Farms. Check out a best garlic dish competition, a farmers' market with plenty of local and organic garlic, live music, a kids' corner and more. Admission is free. 9 a.m. to 7 p.m.
12 Bars of Clayton Pub Crawl @ participating area watering holes Get to know Barrister's, BARcelona Tapas Restaurant and more. At each bar, get Bud products for $2.50, Stella Artois for $3.50 and Pearl Vodka cocktails for $4.50. Tickets cost $25 per person (including a T-shirt and koozie), with a portion of sales to benefit four charities: Autism Speaks to Young Professionals, Havenhouse, Hope for Young Adults with Cancer and the OK Strong Disaster Relief Fund. 7:30 p.m.
Sunday (Jun. 16):
Father's Day Barbecue @ Mount Pleasant Estates - Augusta Treat Dad to a meal of barbecue chicken or pulled pork with two sides and a baked good for dessert over live music from Ralph Butler Trio. Drinks, including wine, of course, are available for purchase. The meal costs $13 per person -- no reservations necessary. Noon to 5 p.m. (Music starts at 2 p.m.)
The Day Party: Salute to Fine Gentlemen on Father's Day @ Takaya New Asian This daytime lounge event with an enforced style code salutes dads with complimentary Bud Light Lime and Herradura Tequila cocktails. Live music spin from DJ B. Moody. Admission is free with RSVP via The Day Party's website. 4 to 8 p.m.