After previewing the opening of the Ferguson Farmers' Market (Spot Drive and Florissant Road; 314-324-4298), we decided to make our official visit. It was a good thing we did.
OK, so it's not the most impressive and doesn't have the largest selection, but the Ferguson Farmers' Market, with one exception, might just be the friendliest, most energetic farmers' market around.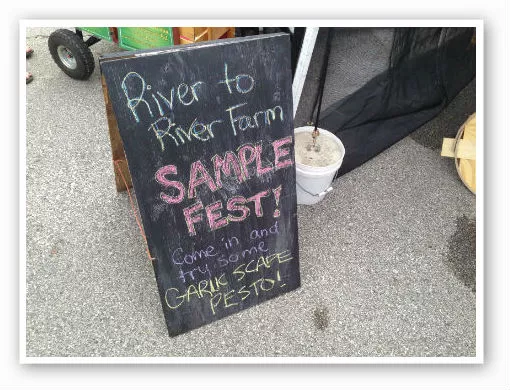 River to River | Zach Garrison
Nestled tightly but comfortably in a back parking lot off Florissant Road in downtown Ferguson, the small collection of tents and tables was bustling this past Saturday morning from 8 a.m. till noon. Like any good farmers' market, there are several local farmers, all offering up a green bounty. Market manager Kathy Noelker praised River to River Farms for its unique varieties, made evident by the four types of kale sitting next to a whole slew of leafy items for sale. It also lets you try a sample or two, which we took advantage of, and then promptly bought two different versions of the touted kale. While in the tent, we heard several fellow shoppers ask about the garlic. Turns out River to River churns out a great yield of garlic, but you'll have to wait until August. (Let's hope the vampires can be held at bay in the interim.)
Healthy greens from River to River | Zach Garrison
Other friendly farmers, like Thies Farms and Greenhouse, also have great selections, featuring potted flowers, planters and herbs. Mustache Academy Farms sold us a small ziplock bag of cilantro for $1 dollar. Not bad. Mustache Academy's slogan reads: "Where we grow great food...and mustaches," along with: "Still hating hipsters since before it was cool," so fair warning.
Hipsters beware | Zach Garrison
Besides farmers, there are several arts and crafts booths peddling jewelry, sculptures, and various olive based products from Olea Estates Olives. There's also a great sampling of local restaurants. Just Omelets serves up, you guessed it, omelets and only omelets, but of all varieties -- sticking to the old adage, "if you only do one thing, do it well" (might have just made that up). The Florissant Valley Kiwanis are also represented, cooking up cheap eats like biscuits and gravy for $2.50.
Hot Tamales | Zach Garrison
We settled on a couple tamales from La Fuentes Mexican Food. The nice and enthusiastic man working the stand implored us to go "Tex-Mex," which means adding a ladle of chili. It was awesome.
With people gathered around picnic tables chatting it up and comparing purchases, the crowd sitting in the shade politely listening to a man, his guitar, and an unusual amount of recorded backtracks, the market felt intimate -- a small-town, know-everyone-there kind of vibe. We walked away sated, with a full bag of fresh produce and a promise to come back for some of that much-heralded garlic.