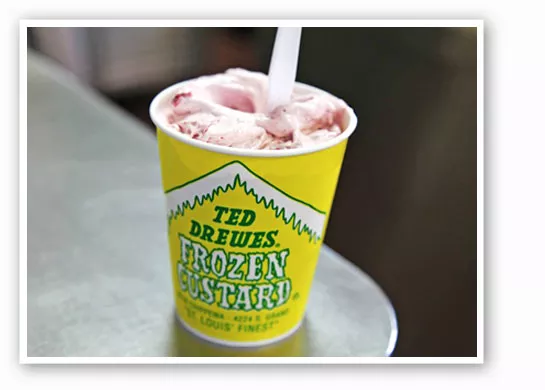 The dreaded St. Louis summer is upon us, and one of the only effective strategies to combat the soul-crushing humidity is to search out the nearest ice-cream parlor. Luckily, St. Louis has its share of unique and even iconic spots to enjoy frozen treats. (Note: We aren't counting frozen yogurt; it's too healthy.) Gut Check has assembled a list of some of the best places to grab a scoop of sweet relief, but it's up to you to choose your toppings.
Ted Drewes Frozen Custard (6726 Chippewa Street; 314-481-2652) At the first hint of an oncoming heat wave, Ted Drewes becomes a genuine mecca for St. Louisans craving those famous concretes. Guests order at the window (even though the line moves quickly, it feels like you wait for an eternity), and their creation is prepared on the spot. Flavors range from the standards (strawberry, chocolate) to more exotic offerings (pomegranate, lime). Besides famous concretes, you can also order classic malts, shakes, sundaes, floats and ice-cream sodas. Ted Drewes has been serving up frozen goodness since the 1940s, so ordering your first frozen custard is a bona fide rite of passage.
See also: - The Five Best Frozen Custard Shops in St. Louis - The Ten Best Dessert Spots in St. Louis
Baileys' Range (920 Olive Street; 314-241-8121) Yes, Baileys' Range is known for its wonderfully juicy burgers and excellent beer selection. But it would be a tragedy to forget the ice cream, especially when the ice cream in question is homemade and includes such inventive flavors as the "Three-Chili Chocolate," a pistachio that's both nutty and minty or the "Baileys" (as in Baileys Irish Cream) and salted caramel. In total, there are fifteen unique flavors to try, plus a weekly "Battle of the Ice Creams," in which customers can vote on their favorite of two new experimental flavors. A recent battle pitted "Banana Nutella" against "Watermelon Sorbet." So sure, go for the burger, but we're pretty certain you'll find it impossible to pass on the ice cream. Baileys' boozy shakes are also not to be missed.
See also: Best Ice Cream Parlor - 2012
Fountain on Locust (3037 Locust Street; 314-535-7800) Now this is an ice cream parlor, with high ceilings, artsy paint job and decor plus old-fashioned soda fountain, and, most importantly, pretty darn good ice cream. The hot fudge and whipped cream are made in-house; in fact, all toppings are chemical free -- no preservatives, extenders, high fructose corn syrup...or corn syrup at all, for that matter. The ice cream comes from a family dairy in Wisconsin -- the only dairy in the country that employs an aging process. We're, uh, not sure what that means, but we do approve of the results. Kick it up a notch with a "Wicked Martini": vodka, dark crème de cacao and chocolate ice cream. Or an "Orange Dreamsicle" martini: vanilla vodka, triple sec, orange sherbet and vanilla ice cream.
See also: - Burlesque, Birthday-Cake Martinis and More: The Fountain on Locust's Fifth Birthday Party
I Scream Cakes | Crystal Rolfe
I Scream Cakes (2641 Cherokee Street; 314-932-5758) I Scream Cakes' owner Kerry Soraci saw the potential of Cherokee Street -- but the eclectic neighborhood was missing something: ice cream. And not just any generic ol' ice cream. Here you can find dairy-free, gluten-free and even doggy-friendly selections. The parlor is vibrantly painted and equipped with big rubber bouncy balls you can sit on while you scarf down scoops of made-from-scratch frozen treats. But not only is there ice cream, Soraci also makes cakes and cupcakes, which means the blueberry-cheesecake ice cream contains cheesecake that's made in-house with organic blueberries and a homemade custard base. It's one of the greatest dessert combos of all time.
See also: - Best Ice Cream (Dog Division) - 2012 - Best Ice Cream Parlor - 2011
Serendipity Homemade Ice Cream (8130 Big Bend Boulevard, Webster Groves; 314-962-2700) Serendipity's slogan is, "Life is uncertain...Eat dessert first." We couldn't agree more. Especially when we're talking about this homemade deliciousness, including the shop's take on classic cookie dough is "Cookie Monster," which combines cookie dough with cookies 'n' cream, all swirled through vanilla ice cream in a lovely shade of Muppet blue. Perhaps the most popular flavor, one that all St. Louisans can agree on, is the "Gooey Butter Cake" ice cream -- ignore your slowly clogging arteries. Ignorance, as they say, is bliss.
The parlor at Crown Candy | Laura Miller
Crown Candy Kitchen (1401 St. Louis Avenue; 314-621-9650) This nearly century-old north-side landmark serves up a mean BLT and makes some of the sweetest candy in the city, but now that summer is here, it's the ice cream we're interested in. The scoops of rich (14 percent butterfat!) ice cream can be ordered in malt, sundae, newport (a sundae with whipped cream and nuts) and banana split form, or just go with a single scoop. Favorite flavors include Ozark black walnut and black cherry. There's also the legendary milkshake -- if you can drink five in half an hour, they're all free. But more than the treats, it's the retro atmosphere and old-timey feel that will put a smile on your face.
See also: - The Ten Best Places to Eat Out With Grandpa in St. Louis - The Ten Best Dessert Spots in St. Louis
Mr. Wizard's (2101 South Big Bend Boulevard, Maplewood; 314-781-7566) In our opinion, it's impossible to have too many frozen-custard shops. Mr. Wizard's has been serving up cool treats from its Maplewood location for more than twenty years. The menu features all the favorites, including, of course, concretes, which seem to be the treat of choice for the masses. But you can also order sundaes, cones, malts and shakes. The first step is easy: Choose between vanilla, chocolate or twist and then select from a variety of fruits, nuts and other goodies to top it all off. Specialties include the "Hawaiian" -- that's bananas, pecans, pineapple and coconut -- and the namesake Wizard, with strawberries, hot fudge and brownies. So they're next you're driving down Big Bend Boulevard, look for the packed parking lot and the classic Mr. Wizard's signage -- you've stumbled upon a frozen oasis.
See also: - Best Frozen Custard - 2012
Gelateria Del Leone (3197 South Grand Boulevard; 314-776-3500) The burgeoning restaurant scene on South Grand benefits greatly from the rich, creamy frozen Italian treats at the Gelateria del Leone. Classics include strawberry and pistachio, or spice things up with more exotic flavors such as tiramisu and bacio, which combines chocolate and hazelnut -- each made with ingredients straight from Italy. Guests can wash their gelato down with a selection from Gelateria's hot and cold beverage selections including espressos, smoothies and frappes.
See also: - An Updated Guide to Restaurants on South Grand Boulevard in St. Louis