Remy's Kitchen & Wine Bar | Tara Mahadevan
Destination: Remy's Kitchen & Wine Bar (222 South Bemiston Avenue, Clayton; 314-726-5757)
Neighborhood: Clayton
Cuisine: "Mediterranean/Cross-Cultural"
Overview: In business for eighteen years, Remy's Kitchen & Wine Bar is a long-loved Clayton establishment -- and for good reason. Executive chef Lisa Slay and executive sous chef Rachel Moeller are inventive cooks who know how to put together excellent cuisine, including vegetarian options. Both the lunch and dinner menus at Remy's offer a plethora of meatless dishes. An excellent lunch option can be found on the "Mediterranean Grazing" section of the menu that allows diners to combine three small plates into one. Slay and Moeller also have some additional vegetarian dishes brewing for the new seasonal menu, so be on the lookout.
See also: - Yes, Vegetarians: You, Too, Can Queue for 'Cue at Vernon's - Zpizza Brings Tasty, Organic Vegetarian and Gluten-Free Pizza to Clayton - Cini Celebrates Italian Street Food Packed With Veggies
Inside Remy's | Tara Mahadevan
Highlights: Remy's watermelon and jicama salad ($7.95), a new addition to the restaurant's summer menu, is a standout. A generous serving of fresh watermelon and jicama sit atop a bed of spinach, doused in chile-ginger vinaigrette -- this dish is sure to get your vegetarian taste buds a-buzzin'.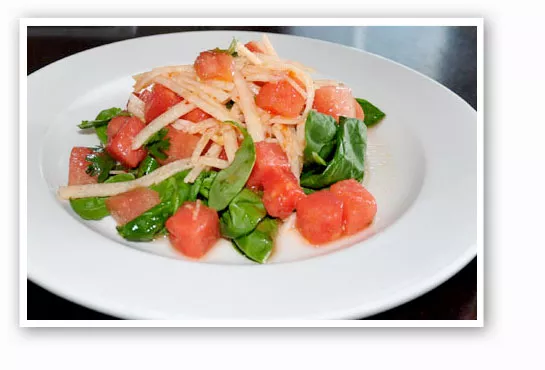 Watermelon and jicama salad at Remy's. | Tara Mahadevan
The Moroccan vegetable stew ($16.50) is another vegetarian favorite at Remy's, featuring pistachio couscous and adorned with carrots, onions, cauliflower, sweet potato, zucchini, pistachios, raisins and chickpeas. This stew is an absolutely healthy and hearty vegetarian option.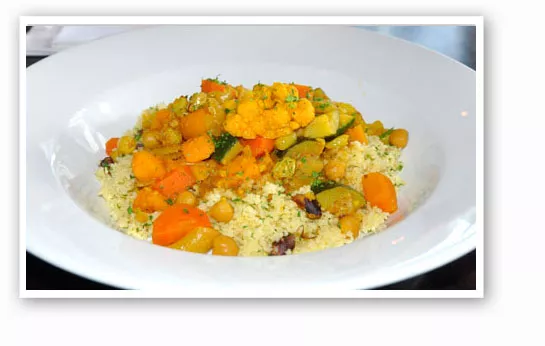 Moroccan vegetable stew at Remy's | Tara Mahadevan
The Veggielante has had it up to here with people bitching that St. Louis restaurants are vegetarian unfriendly. Sure, we'd like to see more restaurants offering more meatless dishes, but there are excellent choices out there if you take the trouble to look for them. We're not here to proselytize about greening up your diet. Our only motive is to spread the word about places where you can order good grub that ain't got no meat. To enhance your reading experience, we've settled on a handful of criteria we'll use to suss out a restaurant's vegetarian friendliness.