For this week's cocktail quest, we headed far, far away from Gut Check International HQ, west to Chesterfield's steak and seafood mecca Annie Gunn's (16806 Chesterfield Airport Road; 636-532-7684).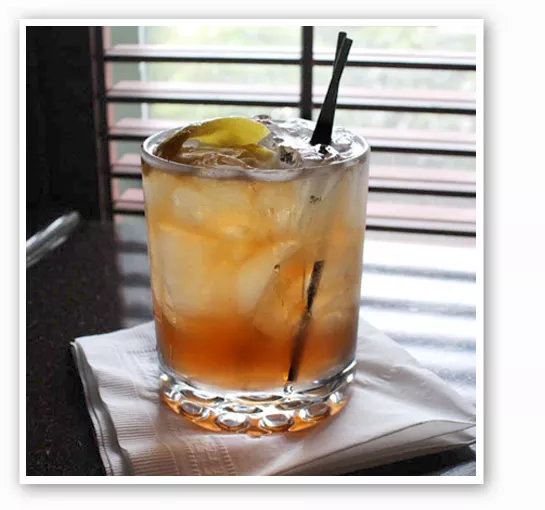 The "Just Around the Corner" at Annie Gunn's. | Evan C. Jones
Click here for past Hump-Day Cocktail Suggestions
Primarily known for its award-winning 700-plus-bottle wine list, the restaurant has been beefing up its beer and cocktail selection. Manager Mark Hinkle guided us to the "Just Around the Corner," which features a local gin (Pinckney Bend) and a local beer (Civil Life).
"It was actually for a local cocktail festival they did in Lafayette Square last fall," he says about the cocktail's origins. "Ralph from Pinckney Bend asked us to create a cocktail for their booth down there to feature the gin. It got added to the menu after that since it turned out great."
Pinckney Bend is a distillery in New Haven, located 64 miles west of St. Louis in between Hermann and Washington. It also distills vodka and an unaged corn whiskey.
"I just think it's very balanced," Hinkle says in regards to Pinckney Bend's gin. "It drinks very easy, it's not hot. So many times with gin, you can just get that burn, and it has so little. I just think they did a tremendous job. Being local or not, I'd love that gin. It's very well made."
The Civil Life English pale ale might seem like the odd man out in this cocktail, but Hinkle likes what the beer brings to the table.
"I think it just brings a little bit of depth to [the cocktail]," he says. "It gives it effervesce. You see sparkling wine or Champagne added all the time, and it plays the same role as the bubbles, just a different character."
We enjoyed taking a break from a 90-plus degree day to relax with the Just Around the Corner. The gin's botanicals came through and really set the casual tone for the drink. The beer kept the cocktail light. The supporting cast of cherry herring, fresh lemon juice and simple syrup hinted at a cherry lemonade.
Enjoy drinks and dinner in a snug at Annie Gunn's, but make sure to RSVP in advance. | Evan C. Jones
While enjoying our drink, the room we were in came up. Annie Gunn's has several private rooms right off of the bustling dining room called snugs.
"They're certainly one of the more popular areas here," Hinkle says. "Obviously, the privacy and the fact that there are only a handful of them, so there's an exclusivity to getting them. We're a loud, busy restaurant every night that we're open, so it gives you that separation from the bar, which you can see at 1 in the afternoon," Hinkle says. "It gives you a different feel in the restaurant."
If a snug is in your weekend dining plans, Hinkle recommends making a reservation at least three to four weeks out because they fill up fast.
Click through for recipe...
Just Around the Corner
1.5 oz Pinckney Bend gin 0.5 oz cherry herring liquor 0.5 oz fresh lemon juice 0.5 oz simple syrup 0.5 oz Civil Life English Pale Ale
Combine first four ingredients together in shaker with ice and shake. Pour into glass with ice. Top with beer and stir. Garnish with lemon and serve.
Wednesday. Hump Day. Congrats, you've made it halfway through the work week! Unfortunately, you still have two days to go.
Dunno about you, but in order to survive the midweek blues, we're going to need a drink. Which brings us to our Wednesday Gut Check feature: "Gut Check's Hump-Day Cocktail Suggestion"
Each week we take you to one of our favorite St. Louis bars (and, oh, the list is long) for a drink (or two) we -- in consultation with the bartender -- highly recommend.
Click here for past Hump-Day Cocktail Suggestions