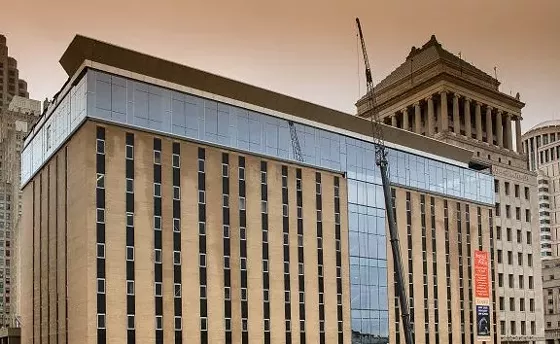 www.slu.edu
The new law school and the Docket open later this summer at 100 N. Tucker.
The business-lunch crowd will soon have a new dining spot in downtown St. Louis. Yesterday the California-based restaurant management firm Bon Appétit announced it would open a café and bar inside Saint Louis University's new law school.
The restaurant, to be called the Docket, is tentatively scheduled to open in late summer, just ahead of the law school's first classes at its new downtown location.
"We envision the Docket as place for the legal and civic community to gather alongside SLU law students, faculty and staff," said law school dean Michael Wolff in a statement. "The concept Bon Appétit has put together perfectly embodies the idea of our integration into the downtown community."
So, what's on the Docket? The menu will feature small plates, pastas, wood-fired pizzas and "rustic entrees" with locally sourced and seasonal ingredients. And perhaps more importantly (for the students, at least) the Docket will also have a fully stocked bar with craft brews and cocktails.
See also: - Wash. U. Dining Halls Ranked Third-Best in Nation - SLU Student Takes Tofu Local
Laura Braley, a spokeswoman for Bon Appétit, tells Gut Check that the restaurant could open to the public as soon as late July. Hours of operation have not been finalized yet, but the restaurant plans to serve breakfast, lunch and dinner Monday through Friday with dinner service on Saturday.
Bon Appétit is no stranger to St. Louis. The company operates catering services for Washington University and will also operate the new Panorama Restaurant that is slated to open July 1 at the Saint Louis Art Museum.
Despite getting new digs, it has been a rough year for the SLU law school. Last August the dean of the law school resigned in a fury after alleging that SLU president Lawrence Biondi failed to notify her and others of his decision to move the law school from the university's main campus in midtown. The law school then lost another dean this past spring when the colorful Thomas Keefe admitted to making politically incorrect remarks to students and staff.
Did we mention that the Docket will offer a full bar?