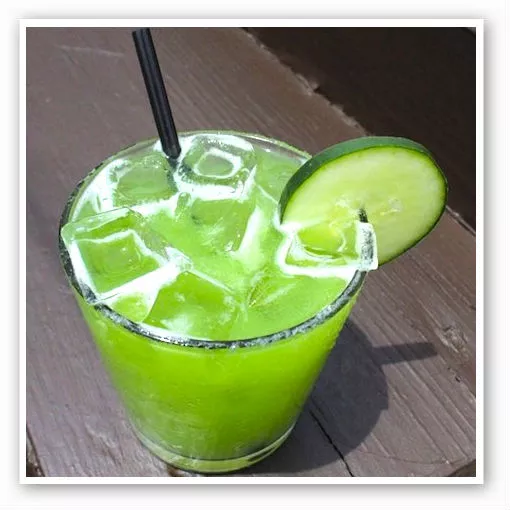 The "Subcontinental" from the Royale | Evan C. Jones
Prepare yourselves. It might not feel like summer in St. Louis yet, but pretty soon that sticky one-two punch of high temperatures and humidity will have you desperate for a beverage to quench your thirst.
Don't fret. The Royale (3132 South Kingshighway Boulevard; 314-772-3600) has the perfect libation: the Subcontinental.
Composed of gin and Cointreau with fresh lime and cucumber juices, the "Subcontinental" was one of the original cocktails that debuted at the restaurant when it opened nine years ago. Owner Steven Fitzpatrick Smith and his friend Timothy O'Connell were working on drinks that had a fresh juice component when O'Connell had the idea for the "Subcontinental." They realized the final version in pre-opening cocktail sessions.
"Discerning drinkers really like it because the gin complements the cucumber, but it has a wide palate too for people who like fresh-tasting things," says Smith. "The fresh cucumber juice really brings everything out in it."
The Subcontinental is a labor of love for the Royale staff.
"I have an industrial juicer in the basement, and we juice everything fresh every day," Smith explains. "It's an expensive but necessary thing to do to ensure our quality of everything is strong."
The fresh cucumber juice is definitely the star of the show. The botanical notes in the gin work in unison with the cucumber for a refreshing and light drink that pairs well with a patio. We could sip on these all night.
Click through for recipe...
The Subcontinental
1.5 oz Bombay Sapphire Gin ¾ oz Cointreau Splash lime juice 3 oz cucumber juice
Add ingredients to glass with ice. Stir. Garnish with cucumber slice.
Wednesday. Hump Day. Congrats, you've made it halfway through the work week! Unfortunately, you still have two days to go.
Dunno about you, but in order to survive the midweek blues, we're going to need a drink. Which brings us to our Wednesday Gut Check feature: "Gut Check's Hump-Day Cocktail Suggestion."
Each week we take you to one of our favorite St. Louis bars (and, oh, the list is long) for a drink (or two) we -- in consultation with the bartender -- highly recommend.
Click here for past Hump-Day Cocktail Suggestions