The local farmers' market scene continues to grow with this week's opening of the much-celebrated Ferguson Farmers' Market (in Victorian Plaza, 20 South Florissant Road).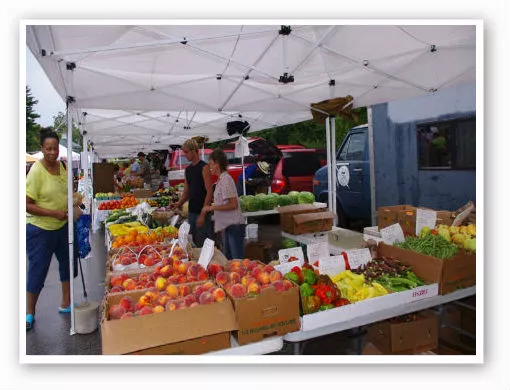 Saturday, June 1, kicks off the eleventh year for the market with the slogan: "Come for the farmers. Stay for the fun!"
To which Gut Check replies, "We're there!"
See also: - Belly-Filling Thrills at the Ferguson Farmers' Market
Besides its enthusiasm for local farmers, the market touts a pretty impressive résumé, including an entry for its 2007 "Best Farmers' Market" nod from RFT and, nearly as impressive, recognition by the American Farmland Trust in 2010 as the No. 1 market in Missouri and No. 17 in the nation.
Of course, it's easy to measure the market's success by the number of vendors and shoppers who show up. Kathy Noelker, market manager, says that somewhere between 45 and 50 tents go up each and every week to supply what she calls "a growing demand to know who grows your food and where it comes from."
Noelker says popular vendors include River to River Farms, a small family farm specializing in unique varieties of popular vegetables, and EarthDance Farms located right in Ferguson. Food for noshing on-site comes from Las Fuentes Mexican Restaurant, Christie's Jamaican food and Becker Brothers BBQ. Besides stuff you can eat, there are crafts and handmade products for sale.
In addition to the lineup of vendors, opening-day festivities include the Stawberry-Licious contest: Contestants should bring their favorite strawberry-themed dish, along with the recipe. Judging begins at 10 a.m. There's also live music by Not Wired Right from 9 till 11 a.m. So you can gorge on strawberry (fill in the blank) and rock out simultaneously.
The Ferguson Farmers' Market is open from 8 a.m. to noon every Saturday until October. In the upcoming weeks you can look forward to food samplings, chef demonstrations and even an appearance by Fredbird.
See also: - RFT pick for "Best Farmers' Market" (2007) - EarthDance Farms: A Model of Sustainability in Ferguson