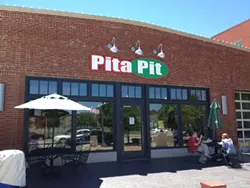 Ian Froeb
The Pita Pit on the east side of the Delmar Loop.
Here is an opening that slipped just under Gut Check's radar, which is embarrassing considering that it happened a very short walk from International Headquarters.
Pita Pit has opened its third area location at 6120 Delmar Boulevard on the east side of the Delmar Loop, right next to Tavolo V.
The Loop Pita Pit is open 10:30 a.m.-10 p.m. Sunday through Thursday and 10:30 a.m.-2 a.m. Friday and Saturday. The phone number is 314-261-4884.
Pita Pit also has locations downtown (200 North Ninth Street; 314-436-1840) and in Edwardsville (215 Harvard Drive, Edwardsville, Illinois; 618-655-9915).
Gut Check is always hungry for more restaurant news. Feed us your tips.