On Saturdays the Brown Shoe parking lot (on Maryland Avenue just west of Straub's) in tony Clayton is transformed. Folding lawn chairs are assembled into an ad hoc seating area, crates of vegetables are hauled out of vans and pick-up trucks and white canopies begin popping up in rows.
Must be a farmers' market!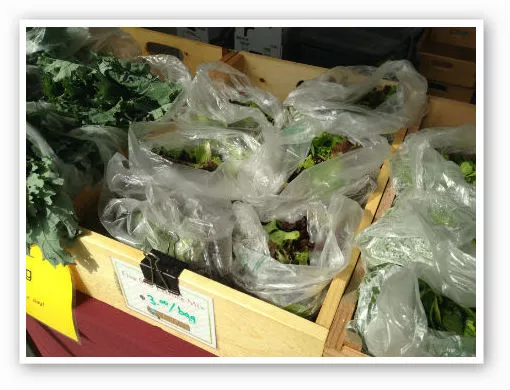 Spinach and kale, hearty and hale. | Zach Garrison
Though the Clayton Farmers' Market (8282 Forsyth Boulevard, Clayton; 314-398-9729) is a bit smaller than some of its brethren, it boasts plenty of high-quality produce worth toting home in your enviro-friendly grocery sacks. Having stopped by this past Saturday (May 18), Gut Check put together a rundown of what visitors this weekent can expect to find.
At first glance tie-dye shirts and freshly caught trout do not seem to go together. But then again, as Tie-dye Don, the man working the booth for Westover Farms, explains, these are rainbow trout. So there you go.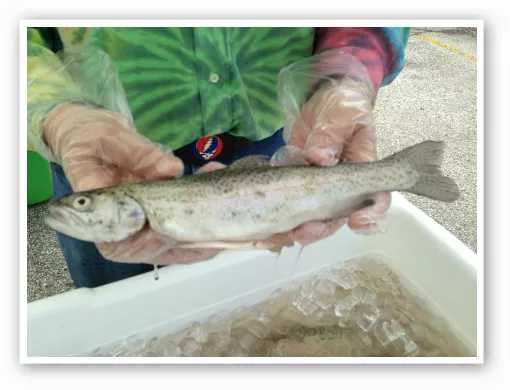 Rainbow trout from Westover Farms. (Grateful Dead belt buckle
not included.)| Zach Garrison
Beyond their polychrome appearance, these trout are the freshest of the fresh, harvested by 5 p.m. Friday from the Steelville, Missouri, hatchery, then appearing at Saturday's market. That's a little trick Gut Check likes to call "stream to table."
Next: Want some vegetables with your fish?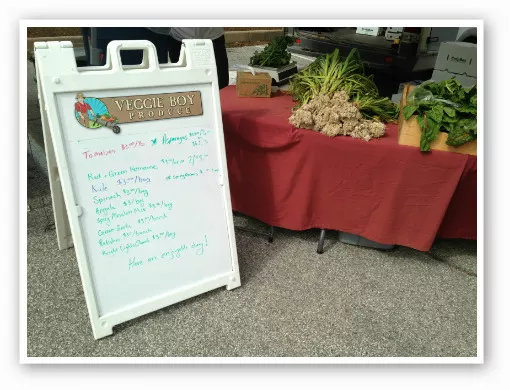 Veggie Boy Produce produce. | Zach Garrison
Of course, any decent farmers' market needs greens, and Veggie Boy Produce, a family farm located outside Mount Vernon, Illinois, offers all you could ask for at this time of year: early crops of tomatoes, kale, green garlic, and spicy onions, to name just a few of the many options available. Veggie Boy supplies several St. Louis-area restaurants, so think of buying here as cutting out the middle man and going straight to the source.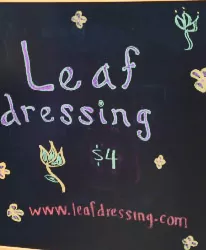 Leaf Dressing: $4 | Zach Garrison
If you require some dressing for that mixed-green salad, Leaf Dressing is, conveniently, only a few steps away. The homemade dressing has garnered a popular following and is currently branching out to area farmers' markets and grocery stores. (If you like it what you're tasting, Leaf hopes you'll ask your local grocery store to keep some on their shelves, if they haven't already). At Leaf's booth you can sample the original dressing and the spicy (we went with the spicy); they provide a bed of lettuce to create the full effect.
For those prone to farmers'-market-induced hunger pangs, a stop at Waffle-licious (you know, for waffles!) or El Chico Bakery might be in order. In need of something more substantial? Next-door neighbor Straub's (8282 Forsyth Boulevard, Clayton; 314-725-2121) has set up its barbecue stand. It's kind of odd to see a farmers' market situated alongside a local chain grocer -- but hey, community cohesion and all that. And smoked pork. Everybody wins.
The Clayton Farmers' Market is open every Saturday from 8:30 a.m. to 12:30 p.m. Most weeks will feature live music and activities for kids.