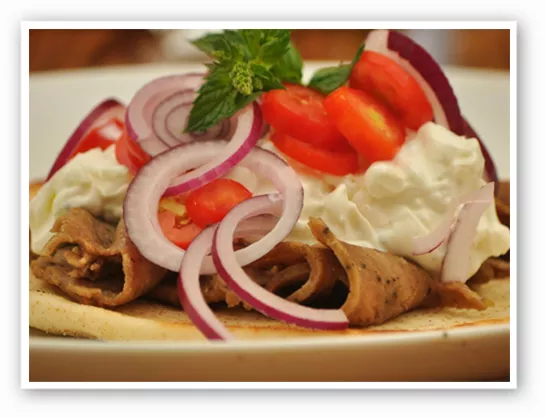 Gyros and more at the St. Louis County Greek Fest | Wikimedia Commons
Food fests, barbecue and crawfish boils abound during this holiday weekend. If the smoky scent of grilled food doesn't getcha right off of the bat, consider hitting up some alternative events for eats including the St. Louis County Greek Fest and St. Louis African Arts Festival. Many ways to get barbecue in your belly and more await after the jump.
See also: - Chef Clara Moore Exceeds Kickstarter Goal for Book Project, Hosts Party Friday, May 24 to Celebrate - Pig Out and Shop Till You Drop at Schlafly Pork Shop
Friday (May 24):
St. Louis County Greek Fest @ Assumption Greek Orthodox Church "This fete honors all things Greek with plenty of eats -- gyros, pastitsio (beef-noodle casserole), spanakopita (spinach-feta pie), galatobouriko (a must-eat custardy dessert), you name it -- along with live music, church tours, a gift shop and more. Admission to the fest is free, as is parking, but food will cost you, of course... Held from 11 a.m. to 9 p.m. Friday through Sunday and 11 a.m. to 8 p.m. Monday (May 24 to 27)."
Shop Like a Chef: A Food Lover's Guide to St. Louis Neighborhoods Kickstarter Goal Party @ Salt "According to Moore, guests attending the party on Friday evening can expect food from "fun foodie neighborhoods" such as tamales from Cherokee Street, as well as boozy punch from Cocktails Are Go!, the in-home drink tasting service owned by Sorrell." 7 to 10 p.m.
Saturday (May 25):
Pork Shop @ Schlafly Tap Room "Schlafly Tap Room hosts its annual Pork Shop: A Downtown BBQ and Garage Sale. Also, there will be beer. A roast pig, beer and a multitude of obsolete VHS tapes and grandma's costume jewelry... The event starts with the garage sale at 9 a.m. (is that too early for a morning beer?), and live music begins at 11 a.m." Admission is free, and the sale lasts 'til 5 p.m.
Fifth Annual Crawfish Boil @ Off Broadway It's crawfish season! Well, it's crawfish season somewhere we suppose, because a lot of them sure are making their way up to these parts. Off Broadway hosts its fifth-annual Crawfish Boil, pairing plenty of mudbugs and sides with live music from the Monads, Fattback and the Deadstring Brothers. Tickets cost $12. Food is served at 6:30 p.m. and the show begins at 8 p.m.
Crawfish Festival @ Broadway Oyster Bar For another opportunity to feast on freshwater crustaceans, check out BOB's monthly food fest on Friday, May 24, and Saturday, May 25. If it's anything like last month's crawfish feast, expect to see 'em boiled by the bucket as well as cooked in at least ten different ways for the weekend's menu specials.
St. Louis African Arts Festival @ World's Fair Pavillion - Forest Park "Don't miss the jerk chicken, rice and beans, and heady ginger punch sold from vendors just outside the pavilion. The activities that the African Arts Festival includes, but are not limited to: African art, dance, jewelry making, drumming, authentic hair braiding, mask-making, and an African marketplace." Admission is free. Saturday, May 25 from 10 a.m. to 8 p.m., Sunday, May 26 from 11 a.m. to 8 p.m and Monday, May 27 from 10 a.m. to 6 p.m.
Sunday (May 26):
Memorial Day Barbecue @ Mount Pleasant Estates; Augusta, MO Feast on grilled brats, hamburgers, hot dogs, pork steaks and more with a glass of wine on the patio of Mount Pleasant Estates. $10-$12. Food will be served from 12 to 3 p.m., with live music from Ralph Butler Band from 2 to 5 p.m.
Puttin' On the Ribs @ Kitchen Conservatory Get that grill fix in this hands-on class. Barbecue and smoke pork spare ribs and baby back ribs, and experiment with wet rubs, dry rubs, tomato based sauces, mustard sauces, American-style ribs and Asian-stlye ribs. Whip up sides and dessert while waiting for the final products. $60 per person - register online via the Kitchen Conservatory website. 12:30 to 3:30 p.m.
BBQ Battle Royale @ Soldiers Memorial Plaza Over three days, watch as thirty teams including home cooks, restaurants and grill masters smoke and grill their way through a whole hog competition at the St. Louis Bluesweek Festival. Admission is free. More info on the BBQ Battle Royale and live music schedule via the St. Louis Bluesweek Festival website.
Monday (May 27):
Great Pizza Bicycle Ride @ Millstadt City Park Take a scenic bike ride through country roads. Reward yourself with Breadeaux Pizza and drinks at the end. Details and registration available online. 7:30 to 9 a.m.