For Gut Check, Memorial Day will always be associated with American flag T-shirts, pork steaks and family picnics, all of which suggest the need for a great outdoor spot to enjoy the holiday. To help you out, Gut Check has assembled a list of some of the most pastoral of locations throughout the region that should make you stand up and salute.
Tower Grove Park, in all its splendor. | RFT photo
Tower Grove Park (4256 Magnolia Avenue; 314-771-2679) Back in 1868 philanthropist Henry Shaw decided the citizens of St. Louis needed a grand, open space to grill pork steaks, play kickball and drink beer from a can kept cold in a koozie, so he donated nearly 300 acres to establish Tower Grove Park. On Memorial Day picnic blankets will litter the landscape, but the park is so spacious that there's plenty space to throw around a Frisbee. The park is also home to a number of fanciful Victorian pavilions that Shaw surely envisioned sheltering family reunions, and with more than 8,000 trees and shrubs imported from around the world, it shouldn't be difficult to find a shady spot to relax.
See also: - Festival of Nations - Best Public Park (2010)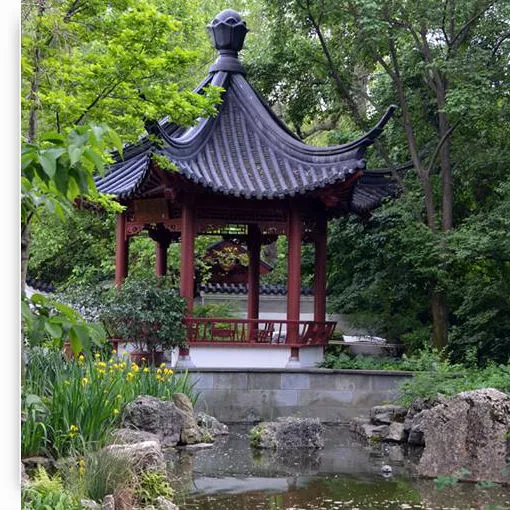 Missouri Botanical Garden
Missouri Botanical Garden | via Facebook (4344 Shaw Boulevard; 314-577-9400) It's true that these days St. Louis is not necessarily considered a trend setter, but back in the mid-19th century, our fine city built one of the first botanical institutions in the United States that set the template for all of our imitators. To stroll the grounds is a lesson in horticulture...and it's also very pretty. You can enter the futuristic Climatron, the Buckminster Fuller-designed geodesic dome conservatory; or contemplate existence along the reflecting pools. The Butterfly House is always a crowd pleaser, or, for a more peaceful interlude you can visit Seiwa-en -- the Japanese strolling garden. Sure, you won't be able to set up the grill, but your Memorial Day spent within this urban garden will transcend the typical.
See also: - MoBot Wants to Know What STL Eats - What's in Bloom
Citygarden (801 Market Street; 314-241-3337) Downtown might not seem like the most picturesque spot to spread the picnic blanket, but Citygarden is a veritable urban oasis. Located right smack dab in the center of the city's business district, the park offers plenty of green space, not to mention two dozen sculptures. Most of the time, kids are content to run around wildly with no real purpose, but what with its fountains, Citygarden offers them the opportunity to treat the place like an urban water park. If in the chaos of getting the family ready to leave you forget the food, have no fear, the park has its own restaurant -- Joe's Chili Bowl at the Terrace View -- that offers great sandwiches, salads and -- you guessed it -- chili. Be warned, alcohol in the park is verboten, so keep your eyes peeled for the Fire & Ice Cream Truck and buy yourself an ice cream cone instead.
See also: - Jenna Fischer, Murphy Lee & Joe Buck Lend Their Voices to Citygarden - Joe's Chili Bowl Opens at Citygarden
Carondelet Park (Leona Avenue & Holly Hills Boulevard) Carondelet Park is south city's go-to spot for outdoor activities since the 1870s, so there's a historical precedent here. The 180 acres of green space is looped by a 1.6-mile path for joggers and strollers; and the seven ball fields, five tennis courts and ten horseshoe pits means there's no excuse for not being active. If you're looking for a more relaxing (read: lazy) Memorial Day, drop a fishing line and see if you can catch a smallmouth bass in one of the park's two lakes.
See also: - Best Public Park (2011)
Shaw Park (South Brentwood & Forsyth boulevards, Clayton; 314-746-0426) RFT once named Shaw Park the "Best Place to Meet Single Women," after Clayton's oldest park gained a reputation for attracting female office workers to the much-celebrated "Parties in the Park." We're not making any promises, but note to single gentlemen out there: This might be your kind of place. If finding your special someone doesn't pan out, there are tennis courts, ballfields, playgrounds, and sand volleyball courts, as well as picnic facilities galore, including sixteen paved picnic areas with tables (among them five large pads with grills).
Forest Park (Highway 40 [Interstate 64] & Hampton Avenue) St. Louis' most celebrated park covers a whopping 1,371 acres (Central Park's a measly 843!) and is home to more bucolic scenery than seems possible. There's a reason the site was chosen for the 1904 World's Fair. Simply put, there's a ton of stuff to do: paddle boats, the zoo, cultural edification at the art and history museums, and, if you're the sort, golf. The list goes on and on and on, but the main point here is that a Memorial Day spent at Forest Park will not be a boring one.
See also: - A Walk in Forest Park
Des Peres Park (12325 Manchester Road, Des Peres; 314-835-6150) The trails and lake on the 42.5-acre park are favorites of locals, but for your Memorial Day gathering you'll probably get more use out of the many designated picnic spots, or maybe even the grand gazebo -- sure to make other picnickers fume with jealousy. There are a number unique features here that might pique your interest, namely the shuffleboard courts (because who can resist a shuffleboard?) and the play fountain that opens on Memorial Day: perfect timing!
The final picnic | RFT photo
Bellefontaine Cemetery (4947 West Florissant Avenue; 314-381-0750) Okay, granted, this pick comes off a bit morbid, but hear us out! Bellefontaine Cemetery bills itself as an attractive spot for lovers of history and Mother Nature, and after all, this is Memorial Day. Besides the many historic military figures buried on the grounds, famous St. Louisans in general are interred throughout. Famous graves aren't the only draw: across more than 300 acres, you can find exceptional architecture, including mausoleums, and larger monuments that demonstrate a diverse collection of Classical, Romanesque, Gothic, Egyptian and even some forms of modern architecture. There's also the arboretum, featuring 4,181 plants and 4,173 trees -- you can sit underneath a Shingle Oak that might just be the single largest tree in the state. The angle of repose is an attractive one this Memorial Day.