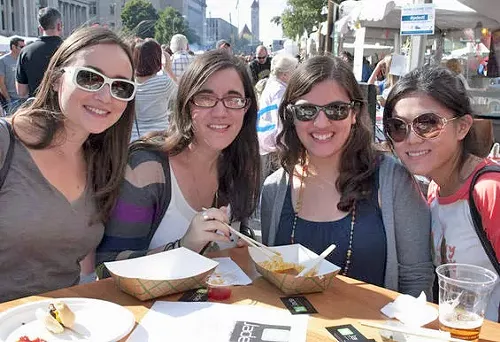 Sarah Rusnak
Taste of St. Louis: One of many food events from now through September.
Humans, allegedly, are supposed to eat to live, not live to eat, but where's the fun or danger in that? Especially in St. Louis, where each new season brings new crops of tempting food trends, festivals and seasonal favorites. Spring starts the fire with the reopening of farmers' markets. Food fests follow in the ensuing weeks, flanked by grilling season and the opening of snow-cone stands city- and countywide, and, of course, ample opportunity to drink beer in a variety of lush city parks.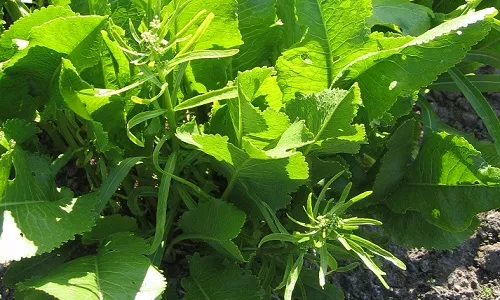 1. International Horseradish Festival. Of all the many metro area food-centric summer festivals, the International Horseradish Festival in Collinsville, Illinois, remains perhaps the oddest of 'em all -- and also one of the most charming and fun filled. Festivalgoers can watch derby cars (carved from horseradish roots, of course) zoom by, behold the Little Miss Horseradish Festival Pageant, compete in a contest for the best bloody mary or simply belly up to any of the food and drink booths serving themed dishes such as deep-fried horseradish pickles, Philly cheesesteak sandwiches with horseradish, Mongolian barbecue with horseradish and many other things -- with horseradish. This year's 26th annual event unfolds Friday, June 1, to Sunday, June 3, at Woodland Park (Vandalia Street and Pine Lake Road; Collinsville, Illinois).
See also: - 25 Reasons to Love St. Louis in the Summer - 7 Can't-Miss Summer Cocktails Available at St. Louis Bars, Restaurants - Get Your Sweat on This Summer 2. IndiHop. Just as the International Horseradish Festival is a tried-and-true tradition in Collinsville, fests across the river in St. Louis usually involve lots of beer. On Saturday, June 1, IndiHop descends on Cherokee Street and the Grove for the second consecutive year, offering tastings of more than 50 beers in a complimentary IndiHop beer mug. Four event shuttles connect the two neighborhoods for safe, efficient travel, and live music, street performers and food vendors fill the streets at both locations. Participating local craft breweries include Urban Chestnut Brewing Company, O'Fallon Brewery, 4 Hands Brewing Co. and more. IndiHop action runs from noon to 5 p.m., with shuttles operating from 11:30 a.m. to 7 p.m. Tickets cost $15 to $20.
3. Midtown Taste & Art Fair. Meanwhile, the Midtown Taste & Art Fair fills the streets between Compton Avenue east to T.E. Huntleigh Avenue on Saturday, June 1, and Sunday, June 2. In addition to live music, performances, and neighborhood food and drink vendors (including a wine garden), the festival features a food-truck challenge pitting up to six local food trucks against one another. Saturday festivities run from 10 a.m. to midnight and on Sunday from 10 a.m. to 6 p.m. 4. Taste of Clayton. The neighborhood noshing doesn't stop there. That same weekend marks the annual Taste of Clayton on Sunday, June 2, in downtown Clayton on Brentwood Boulevard between Forsyth Boulevard and Maryland Avenue. From noon to 9:30 p.m. this family-friendly festival boasts the best food and drink available in the community, with participating restaurants such as BARcelona, Cardwell's in Clayton, Oceano Bistro, Ruth's Chris Steak House, the Wheelhouse and many more. Live music accompanies tastings all day, and a fireworks show ends the festival at 9:15 p.m. Kiddos can get in on the fun, too, with Taste Junior offering activities and special food items.
5. Rhythm and Brews Festival. Perhaps nothing better captures summer in St. Louis than live outdoor blues music and beer, but if you're interested in attending the Rhythm and Brews Festival, you'll need travel west to Hermann. Hosted by Hermann's Tin Mill Brewery, this annual event brings together more than twenty Midwest microbreweries at the Hofgarten (First and Gutenburg streets) in the heart of the town near Hermannhof Winery from 1 to 5 p.m. on Saturday, June 8. While guzzling glasses of suds, sway to the bluesy sounds of the Jeremiah Johnson Band and the Sliders.
Lauren Winchester
St. Louis Brewers Heritage Festival
6. St. Louis Brewers Heritage Festival. Thirsty for more? Fret not, as just one week later the annual St. Louis Brewers Heritage Festival brings lots of beer-swigging to Forest Park. Though we're a city of many a beer fest, this one focuses on members of the St. Louis Brewers Guild, featuring the best of St. Louis' beer scene with unlimited samples of more than 80 different types of suds. The Brewers Heritage Festival takes place Friday, June 14, and Saturday, June 15. Tickets cost $35 to $45.
7. Fiesta in Florissant. Things get spicier up north at the annual Fiesta in Florissant at the Knights of Columbus Park (Lindbergh Boulevard and Washington Street; Florissant) on Saturday, June 22, and Sunday, June 23, with a celebration of Latino culture, including live music and dance performances from Venezuela, Mexico and many other countries. Enjoy authentic eats from South America, as well as folk arts and crafts and a kids' corner offering pi-atas, an exotic petting zoo with pony rides, inflatable bounce houses and more. The fiesta runs from 10 a.m. to 10 p.m. on Saturday and from 11 a.m. to 9 p.m. on Sunday.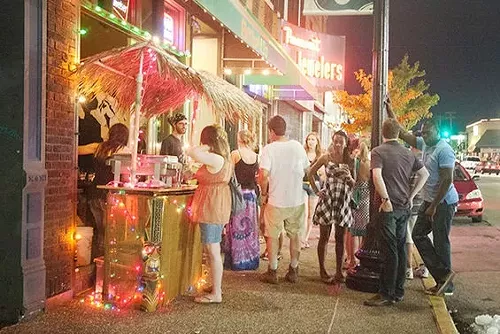 Crystal Rolfe
Maplewood's "Let Them Eat Art"
8. Let Them Eat Art. Discover the best food, drink and culture Maplewood has to offer when the neighborhood hosts Let Them Eat Art on Friday, July 12, from 6 to 11 p.m. A tribute to Bastille Day, this street fest offers a self-guided tour of the community, with food and drink vendors, live music, dream interpretation, belly dancing, dance performances, tarot-card reading, henna painting, and local artwork and art demonstrations taking over the streets. True to the legend of Marie Antoinette (and, you know, the event's theme), organizers will be doling out 1,000 cupcakes to revelers. Kid-friendly activities are also in play, with face painting, games, music, treats from an ice-cream truck and tricks from Claire the Clown.
9. Belgian Beer and Mussel Mania. It's impossible to reach your quota when it comes to drinking Schlafly Beer's brews, but summer in St. Louis presents ample opportunities to try. On Friday, July 19, and Saturday, July 20, the brewery hosts one such challenge: its signature Belgian Beer and Mussel Mania fest at the Schlafly Tap Room (2100 Locust Street) from 5 p.m. to midnight on Friday and 11 a.m. to midnight on Saturday. Each year Schlafly flies in fresh cold-water mussels from Penn Cove, Washington, and serves them in classic styles paired with its Belgian Witbier, Weissbier, Singel and Biere de Garde. If mussels aren't calling your name, scarf down a Belgian waffle instead -- though truly, this might be one of the best opportunities to enjoy mussels locally all year.
10. St. Nicholas Greek Festival. The St. Nicholas Greek Festival is the largest cultural fest of its kind in St. Louis city, and every summer over Labor Day weekend it brings rich, authentic Greek food and culture to St. Nicholas Greek Orthodox Church (4967 Forest Park Avenue) in the Central West End. This year's fest runs from Saturday, August 31, to Monday, September 2, from 11 a.m. to 9 p.m. Saturday and Sunday, and 11 a.m. to 8 p.m. on Monday. In addition to food and drink from local eateries, this Greek fest features dance demonstrations, live music and a marketplace to peruse and purchase locally made goods.
Sarah Rusnak
Taste of St. Louis
11. Taste of St. Louis. Arguably one of the biggest, most anticipated food events of the year is Taste of St. Louis. In years past more than 400,000 people have filled the streets of downtown to sample eats from 45 St. Louis restaurants (including an art and wine walk), watch a pro chef cooking competition unfold, dance in the streets to live music on the concert stage, participate in games and activities, and much more. This year Taste takes over Soldiers Memorial Plaza (14th and Chestnut streets) from Friday, September 27, to Sunday, September 29, from 4 to 11 p.m. on Friday, 11 a.m. to 11 p.m. on Saturday and 11 a.m. to 9 p.m. on Sunday.