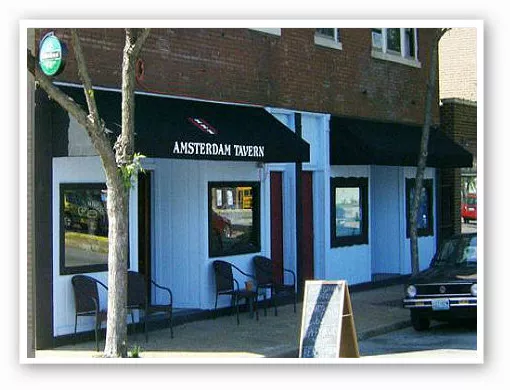 This Thursday, May 23, soccer hooligans will descend upon Busch Stadium. That's right, the world's most beautiful game will be played on a baseball diamond-turned "pitch" (that's British for "field," you noobs). The match kicks off at 7:30 p.m. and features two of the top contenders in the British Premier League, Manchester City and Chelsea. Tickets sold out almost immediately when they went on sale in early April, so in the likely event that your only chance to watch the game is via TV, Gut Check compiled a list of the best soccer bars in St. Louis. So throw on your kit (jersey), grab your supporter scarf and choose a side.
See also: - Soccer Bars and Farmers' Markets: An Updated Guide to Tower Grove - The Dam to Open Next to Amsterdam Tavern
Amsterdam Tavern (3175 Morganford Road; 314-772-8224) The Amsterdam Tavern lives and breathes soccer, with scarves and jerseys from dozens of European clubs covering the walls and every TV showing games from leagues located all over the world -- it even opens early on the weekends for fans of the British Premier League. If the weather is nice, there's a large, newly remodeled covered patio and beer garden outside with big flat-screens so you can keep up with the match. A large draft list emphasizing English and Scottish ales combines with the Dam, a restaurant that shares a walkway with the tavern and specializes in burgers and bar food, to offer everything you'll need to last the full 90.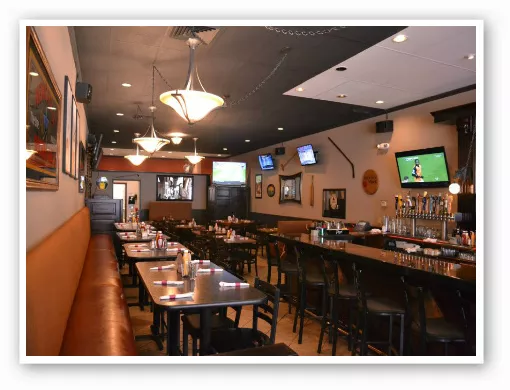 Barrister's (7923 Forsyth Boulevard, Clayton; 314-726-5007) During the 2010 World Cup final, this was the place where die-hard Dutch fans clad in bright orange gathered en masse. We trust the Dutch. But if that's not enough, Barrister's is the self-proclaimed "Best Happy Hour in Clayton," and the menu is quintessential pub fare: crab cakes, onion rings, twelve kinds of burgers, six varieties of personal pizzas and a Brie-L-T. The brand-new location, though a bit smaller, features a more open layout with plenty of angles to see the game.
The Scottish Arms (8 South Sarah Street; 314-535-0551) The owner of the this fine establishment, Alistair Nisbet, is a native Scot, so this is about as authentic of a European pub as you can get in St. Louis, which means soccer is omnipresent. Along with a strong selection of beer, the list of Scotch and whiskeys is one of the best in town; in fact, it's the largest single-malt collection in the state of Missouri. The food is topnotch as well with fanciful-sounding items like the cock-a-leekie pie and the Ptarmigan (chicken wrapped in bacon). Though the crazy fandom level might remain low, the mood is laid-back and inviting, and the bar is one of the friendliest around. This is the place if you're looking to just kick back and enjoy a pint.
Bob Dolan, bartender at the Dubliner | Kaitlin Steinberg
The Dubliner (1025 Washington Avenue; 314-421-4300) This is an Irish-themed pub on a grand scale -- a spacious box of a building, a huge bar, multiple seating areas meant to handle big crowds. The menu is traditional fare: lamb, fish and chips, and of course there's a Guinness stew. It keeps beer around for more than just stew, though; grab twenty-ounce pints of Smithwick's, Harp, Guinness and Magner's Cider, or look over its collection of Irish whiskeys -- combine the best of both worlds and have yourself an Irish car bomb. Most importantly, the Dubliner is the perfect place to watch just about any sporting event, especially rugby, but soccer takes a high priority as well. In fact, it turns out that the Dubliner is the official bar for Chelsea fans, but if you're wearing the sky blue and white of Man City, you'll still have a place at the bar.
Llywelyn's-Old Webster (17 Moody Avenue, Webster Groves; 314-962-1515) We know there are multiple locations, and all of them would work just fine, but Llywelyn's in Old Webster, we think, is your best bet. The cavernous ceilings and sprawling, two-sided bar is perfect for a crowd of spectators to gather around and move about freely. There are several leather couches and large tables if you have a big group, all surrounded by plenty of TVs. If you need something to munch on, there's a long list of Celtic-style appetizers, and the rotating tap list always has a few intriguing surprises.
See also: - The Dubliner's Bob Dolan: Featured Bartender of the Week - The 10 Best Irish Pubs in St. Louis