St. Louis' neighborhoods are gems in their own right: full of history, great people and, as far as Gut Check is concerned, fantastic food. Each week we'll take you into a specific neighborhood and point you in the direction of the best places to grab some bites.

View DeMun in a larger map
DeMun is one of St. Louis' most historic neighborhoods, designed by the famed urban planner Henry Wright, and chock-full of 1920s architecture and peaceful, tree-lined streets. From DeMun Avenue south to Clayton Road is a great collection of restaurants, shops and bars that generally cater to a more upscale clientele. That being said, whether it's modern Italian or fresh seafood, DeMun is a terrific place to treat yourself, because you deserve it.
DeMun Oyster Bar
(740 DeMun Avenue; 314-725-0322)
St. Louis is about as far away from the ocean as it gets so, conveniently, DeMun Oyster Bar brings the ocean to St. Louis, shipping in oysters from the Pacific Northwest every day. Sure, the freshness comes with a price ($2.50 to $3.50 apiece), but it's cheaper than flying to Seattle. There's also the opportunity to witness the shucker, the highly skilled, knife-wielding technician who prepares the oysters to perfection. Those craving other seafood varieties, from mussels and clams to shrimp and scallops, can find a number of dishes that fit the bill. The coup d'état is the wine list; it's heavy on whites and sparkling wines designed to enhance your enjoyment. Come. The sea is calling.
See Also: - The Five Best Seafood Restaurants in St. Louis
Jimmy's Café on the Park (706 DeMun Avenue, Clayton; 314-725-8585) Jimmy's is a place where you can grab a drink and hang out at the bar or sit down for a fancy meal. In fact, you'll have to pay attention because there are two separate menus, one for the bistro and bar, and one for the café, the latter being slightly more detrimental to your wallet. Entrées include the tenderloin Anthony (an eight-ounce cut topped with Gorgonzola, Brie and grilled shrimp) and the porcini-polenta-encrusted chicken. And of course, for dessert there's always "Death by Chocolate." Though dinner in the café is more formal, the happy hour is laid-back, featuring a long list of martinis and an amazing spinach-and-artichoke dip served with pita chips. You can even take your drink out on Jimmy's patio that overlooks Concordia Park, the perfect spot to take in some of the neighborhood's most picturesque views.
See Also: - Jimmy's on the Park Raises the Bar on Happy Hour - The Five Most Promising Menus from Clayton Restaurant Week 2013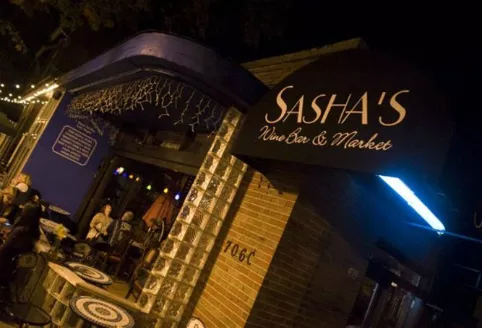 Sasha's Wine Bar & Market (706 DeMun Avenue, Clayton; 314-863-7274) Along with its sister location, Sasha's Wine Bar (4069 Shaw Avenue; 314-771-7274), this is one of the best spots for both wine connoisseurs and those who are just looking for a simple glass at the end of the day. The expansive list offers more than 60 wines, all available by the bottle, glass or 1.5-ounce taste, and the knowledgeable staff will always point you in the right direction. The food menu is light, simple and includes a selection of housemade soups, salads and sandwiches, plus cheese plates and delicious crepes. Some food, some wine -- all in all, not a bad combination.
See Also: - The Nine Best Wine Bars in St. Louis Kaldi's Coffee and Roasting Company (700 DeMun Avenue, Clayton; 314-727-9955) This is the original, where it all began for Kaldi's, one of St. Louis' favorite coffee houses. And while the building is small and can become crowded, the interior is newly remodeled, and the coffee is modern -- the DeMun location utilizes the pour-over method, which produces a surprisingly rich, flavorful cup of Joe. The food menu is more than the usual coffee-house fare of muffins and bagels; start with a housemade pastry with your morning coffee, or come back later for a "Farmers' Market Salad" and a smoothie. If your mornings seem empty without your Kaldi's fix, the solution is simple: Buy your own bag and brew it at home. Carl's Delicatessen (6401 Clayton Road, Clayton; 314-721-2393) The New York deli experience is waiting for you at the corner of DeMun Avenue and Clayton Road. Giant, meaty, overstuffed sandwiches (the pastrami!) are the foundation of any deli worth its salt, and Carl's does not disappoint. There are no frills once you're inside, and you're likely to encounter a diverse clientele from all walks of life sitting around sharing a table. If a heap of thinly sliced meat is not your forte, try the egg salad, or maybe even the Provel sandwich -- there is a vegetarian menu. That being said, it'd be difficult to go and pass on that famed pastrami. Carl's has been around for more than 60 years with no signs of slowing down, so take advantage of the opportunity to visit this staple of the St. Louis deli scene. See Also: - Best Delicatessen - 2012


















The Restaurant at the Cheshire (6300 Clayton Road; 314-647-7300) The Cheshire's recent multimillion-dollar renovation created a self-contained community of luxury, featuring Basso, a gastropub (see below); the Market at the Cheshire, a deli, bakery and gourmet grocery; along with the Fox & Hounds Tavern. But the key to it all is The Restaurant. The menu is topnotch, and your bill will reflect it. But when your plate of short ribs braised in red wine arrives, you won't quibble. The service here is impeccable, so your water glass will never come close to being empty, and managers will be around to make sure all is right in the world or simply to answer any questions. Because of limited parking, you'll be forced to valet, and it isn't free. But whatever: You can park along Clayton Avenue for nothing and put the $4 you would have spent into a nice pre-meal cocktail.
Basso (7036 Clayton Avenue; 314-932-7818) Italian for low, Basso is appropriately located in the basement of the above-mentioned Restaurant at the Cheshire. Chef Patrick Connolly, a St. Louis native, has a crafted an "Italian gastropub" menu that stands out from the kitchen directly overhead by featuring wood-fired pizzas and rustic pasta dishes. The "McDowell's Golden Arcs," with speck, delicata squash and Fontina, is a standout pizza. Among the pastas, try the mafalda, thin ribbons of pasta tossed with a beef and pork ragù, pecorino romano and breadcrumbs. Much like the terrain, the prices fall down here, but there's no drop in quality. In fact, Basso boasts dishes with a certain cutting-edge flare. See, being banished to the basement doesn't have to be a bad thing.
See also: - RFT Review, Basso
Katie's Pizzeria Café (6611 Clayton Road, Clayton; 314-727-8585) Katie's is a thin-crust pizza joint, but rather than being St. Louis-style, this pizza is straight out of Naples: thin and crisp but still full of flavor. The menu is somewhat lean, with only ten pizzas to choose from, and each in only one size (roughly twelve inches in diameter). But each offering is unique, starting with the toppings: fingerling potatoes, parsnips, pancetta and rosemary; sausage, leek and fontina; shrimp, pesto and pecorino. The tried-and-true Neapolitan pie, the margherita, is an easy choice, but we say go big and order the smoked salmon topped with capers, red onion and goat cheese.