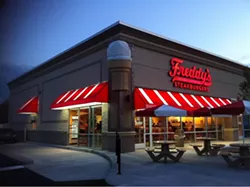 Time to cross another chain off the don't-have-yet list.
Freddy's Frozen Custard & Steakburgers, a Wichita, Kansas-based chain, will open its first area location at 1365 Jungerman Road in in St. Peters. Though Freddy's is new to St. Louis and its exurbs, the chain already boasts locations throughout Missouri, including Branson and Columbia. According to the Freddy's website, since 2002 the chain has expanded from Wichita to locations in sixteen states, with seven additional states targeted for future openings.
Gut Check is always hungry for more restaurant news. Feed us your tips.
The menu features -- surprise -- steakburgers (think Steak 'n Shake) and frozen custard as well as hot dogs, chicken tenders and, of course, fries and onion rings.
The St. Peters location will host two career fairs this week. The fairs will not occur at the future restaurant space, however. On Thursday, May 23, there will be a fair from noon to 5 p.m. at the Connections to Success Building at 1701 North Second Street in St. Charles. On Friday, May 24, there will be a fair from 9 a.m. to 3 p.m. at the Staybridge Suites at 1155 Technology Drive in O'Fallon.