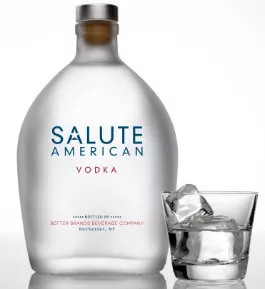 In April Gut Check talked to Emily Gifford, representative for Salute American Vodka's parent company, Better Brands BevCo., about the company's first big contest in St. Louis. Dubbed "Battle of the Bartenders," the competition kicked off its first round on Monday, April 22.
Tonight the competition enters its final round, with a showdown pitting eight local bartenders against one another at Three Sixty St. Louis (1 South Broadway Street; 314-241-8439) from 7 to 10 p.m.
Curious who the eight finalists are -- and which restaurants and bars they'll be representing?
See also: - Calling All Local Bartenders: Salute American Vodka Hosts "Battle of the Bartenders" Contest With $1,000 Cash Prize - Q&A With Pete Kelly, Founder of Salute American Vodka -- Released First in Missouri
Finalists competing in Salute's bartending challenge tonight include Elliott Mellow from BBQ ASAP, Chantel Davis from Side Pockets, Justin Sampson from Boogaloo, Brandon Love from Three Sixty St. Louis, Chris Wheeler from Bar 360, Andy Brown from Lucas Park Grille, Alli Hull from Sub Zero Vodka Bar and Tim Rabior from Salt.
When we spoke to Gifford last month, she explained the rules of the contest as such: Bartenders are tasked with creating a signature cocktail using Salute American Vodka and four other ingredients of their choosing, with a panel of judges choosing the competition winner.
Like the contest's preceding rounds, this event is free and open to the public, with samples of Salute served neat to all guests, as well as drink specials at Three Sixty.