"There was music from my neighbor's house through the summer nights. In his blue gardens men and girls came and went like moths among the whisperings and the champagne and the stars...In the main hall a bar with a real brass rail was set up, and stocked with gins and liquors and with cordials so long forgotten that most of his female guests were too young to know one from another."
F. Scott Fitzgerald, The Great Gatsby, 1925
If Chapter 3 of F. Scott Fitzgerald's classic American novel The Great Gatsby doesn't make you long for a bottle of Champagne or a gin martini, you deserve Prohibition. It throws you headlong into one of Gatsby's famous parties, complete with a seemingly endless supply of bootlegged booze. The narrator, Nick Carraway, describes "floating rounds of cocktails," and a band playing "yellow cocktail music." At one point during the party, a woman "seizes a cocktail out of the air, dumps it down for courage and, moving her hands like Frisco, dances out alone on the canvas platform."
Like the party, Prohibition was in full swing, but the wealthy and careless people of Fitzgerald's novel (and the rest of the country) cared not a whit.
Yummy cocktails after the jump!
Fortunately for those of us who enjoy a good cocktail today, Prohibition did little to deter thirsty drinkers able to get their hands on bootlegged whiskey or bathtub gin. The pervasiveness of drinking in spite of the fact that high-quality liquor was unavailable led people to get creative with their mixed drinks.
Sure, a gin martini is a thing of beauty, but not when it's made from cheap grain alcohol mixed with juniper berry juice. To mask the unpleasant flavor of homemade spirits, people began making cocktails with other ingredients that would (hopefully) overpower the "bathtub gin." Of course, drinks like the whiskey-based Old Fashioned or the cognac Sidecar were still popular, thanks to bootleggers who brought the drinks from Europe to the U.S.
In honor of the recent release of Baz Luhrmann's bastardized version of Fitzgerald's novel, we thought we'd revisit some of the popular cocktails of the Prohibition era at some of our favorite local watering holes. Thankfully, these days, we can legally drink properly made liquor, so these cocktails have evolved from vessels to make bad booze go down easier into delicious drinks in their own right.
We imagine Gatsby would approve.
12-Mile Limit Sanctuaria (4198 Manchester Avenue; 314-535-9700)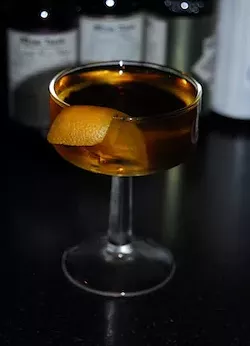 Once the eighteenth amendment was passed and people could no longer drink in the U.S., they decided the logical solution would be to venture off the coasts into international waters. Originally, three miles was the boundary between the U.S. and no-man's land, but in an effort to keep people from partying within sight of beaches and boardwalks, the government extended its jurisdiction out to twelve miles. Of course, that didn't stop the wealthier "scofflaws" from moving their operations off the coast a few more miles where they could keep the party going.
There are several different ways to make a 12-Mile Limit, but Sanctuaria keeps it simple and strong. Bartender Nate Kromat's recipe uses white rum, Calvados (a type of apple brandy) and Swedish Punsch (a malty, slightly sweet spirit). This mixture of ingredients might sound strange, but trust us. It'll have you dancing the Charleston in no time.
Bee's Knees Mission Taco Joint (6235 Delmar Boulevard; 314-932-5430)
OK, so a Mexican Restaurant may not scream Prohibition-era gin cocktail, but bartender Nicholas Crow has made many of these in his time.
The phrase "the bee's knees" was slang for "the best" during the decades surrounding Prohibition. And what was the way to make bathtub gin taste the best? With a little lemon and honey, of course! Today, a Bee's Knees is usually made with gin, fresh lemon juice and honey simple syrup, but Crow opted to add just a touch of Fernet to make the drink more complex. We allowed it, because we happen to know that F. Scott Fitzgerald liked Fernet. He even mentioned it in his novel Tender is the Night, though we recommend sipping on a Bee's Knees rather than straight Fernet.
Brandy Crusta Salt (4356 Lindell Boulevard; 314-932-5787)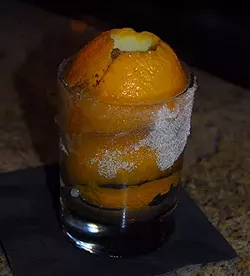 According to cocktail legend, the Brandy Crusta was invented in 1840 in New Orleans by a gentleman named Joseph Santini. At the time, it was the ultimate cocktail through which a bartender could show off his (and they were mostly men) skills. This is not the kind of drink your overage moonshiner would have been throwing together in his kitchen. This is what Gatsby would have consumed, just to show that he had the money for the bootlegged Cognac and the skilled bartender.
Tim Rabior insisted upon making this for us at Salt, partially as a challenge to himself. You see, the Brandy Crusta requires (depending on who you talk to) the peel of an entire orange or lemon. Some recipes will call for half a peel, but Rabior went all out for this drink. It's cognac-based with sweet, citrusy notes thanks to the peel that takes up a large part of the glass. The "crusta" part of the name refers to the sugar crust around the edge of the glass. It's not just a sugared rim, mind you. It is indeed a crust. And between that and the meticulously carved corkscrew peel, this drink is a work of art.
French 75 Maryland House (4659A Maryland Avenue; 314-361-9444)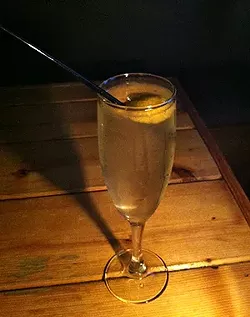 Last week we offered up Maryland House's Gin Rickey as an ode to The Great Gatsby, and this week we're back for another speakeasy-inspired libation. Bartender Arron Barrow popped a bottle of champagne just to make us a French 75, originally invented in Paris in 1915, but brought to the states shortly thereafter.
A French 75 is so named because the combination of gin, lemon juice, sugar and champagne is said to have the power of a French 75-millimeter M1897 field gun used in WWI. It's deceptively strong and quite possibly our new party mainstay. Champagne without gin? Never again!
Last Word The Royale (3132 S. Kingshighway; 314-772-3600)
The Last Word is made from equal amounts of gin, green Chartreuse, maraschino liqueur and fresh lime juice. Don't be fooled by its sweet, summery flavor though; this drink packs a punch. Robert Griffin of The Royale made us a Last Word, and indeed, it was the last thing we could drink. After downing the green cocktail, we were spent.
It was created in the early 1920s at the Detroit Athletic Club, which is more of a private social club than, you know, a gym. Many consider it one of the best cocktails to come out of Prohibition, though it was lost to the sands of time until the 1950s when Ted Saucier wrote about it in his cocktail book, Bottoms Up!
Saucier wrote: "This cocktail was introduced around here about thirty years ago by Frank Fogarty, who was very well known in vaudeville. He was called the 'Dublin Minstrel,' and was a very fine monologue artist."
We can't find anything definitive about the cocktail's name, but we imagine it's called a "Last Word" because, well, after you drink it, you're done. Consider it the singing fat lady of the cocktail world.
Sidecar The Royale
While we were at the Royale (actually, before we drank the Last Word), we had Griffin mix us up a Sidecar. This drink is thought to have been invented in Paris or London at the end of WWI, but the recipe had found its way into a few American cocktail books by 1922.
In his book, The Fine Art of Mixing Drinks, David A. Embury credits the invention of the Sidecar to an American Army captain in Paris during the first world war. Embry wrote it was "named after the motorcycle sidecar in which the good captain was driven to and from the little bistro where the drink was born and christened." How quaint.
The Sidecar is a 3-2-1 ratio mix of Cognac, Cointreau and lemon juice, perfect for a bootlegger with a nice stock of French booze.
Southside Sanctuaria
After we downed a 12-Mile Limit at Sanctuaria, we asked what else bartender Nate Kromat could mix up that might be reminiscent of Prohibition drinking. He suggested a Southside, which might be our new favorite cocktail ever. It's essentially a mojito with gin instead of rum. Minty, fresh and delish.
The Southside is said to have been invented at the 21 Club, a former speakeasy in New York, and named for the south side of either Chicago or New York. Another story places its invention in Chicago at the center of gang wars between the north city gangs and the south city gangs. The north city gangs were importing bootlegged liquor from Canada during Prohibition, but the south city guys were stuck making bathtub gin. As we mentioned earlier, it wasn't super tasty, so mint and citrus were added to make it go down a little smoother. It's said to have been the favorite drink of Al Capone and his gang, so next time you sip a Southside, put a little swagger in your step.
Ward 8 Taste (4584 Laclede Avenue; 314-361-1200)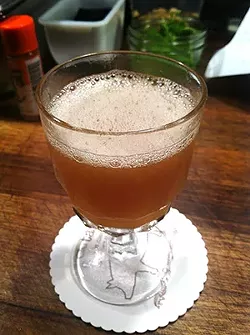 Our last two Prohibition-era cocktails come from Taste, where bartender Joel Burton mixed up a couple of masterpieces.
The Ward 8 originated in 1898 at the bar of Locke-Ober restaurant in Boston. It got its name from Bostonian politician Martin M. Lomasney, who hoped to win a seat in the state's legislature, the General Court of Massachusetts. In 1989, Ward 8 provided him with the winning margin of votes, and the drink was created in honor of this victory.
During Prohbition, the cocktail was made with rye whiskey, which would have been pretty harsh were it not for the combination of lemon juice, orange juice and grenadine, which somewhat mask the whiskey. Today, of course, it's made with good whiskey, so the flavor is only enhanced by the citrus and grenadine.
White Lady Taste
Finally, a cocktail with egg whites!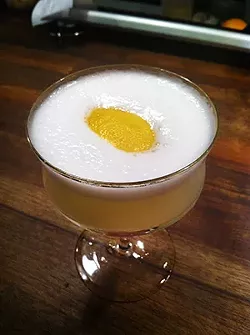 The White Lady was invented in 1919 by Harry MacElhone of Harry's New York Bar in Paris. It originally included crème de menthe, but once gin became stylish in the mid-1920s, the minty liqueur was replaced with gin and an egg white was added to the recipe. And it's a good thing too, because the gin iteration is pretty darn good. The egg white gives it a thick, frothy texture, while the Cointreau and lemon juice balance out the gin.
The use of an egg white and Cointreau makes this drink slightly more upscale than your average speakeasy cocktail, but we can imagine the beautiful women at Gatsby's parties dripping in pearls and rhinestones sipping on a White Lady or two. As the evening came to a close, they'd set down their glasses still foamy with egg whites and attempt to strut out of the party, before ultimately being carried out to the car and driven back to the real world.