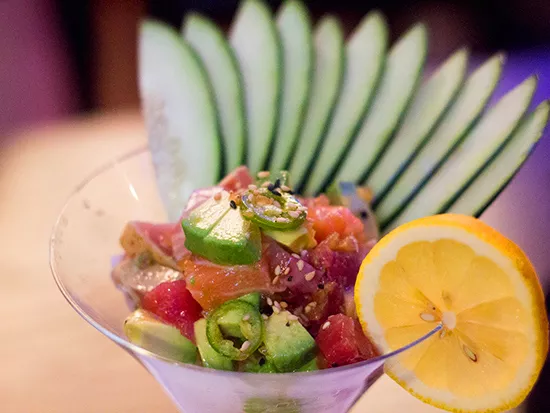 Mabel Suen
Sashimi martini ($8.95).
In late February, Kirkwood welcomed a new seafood-centric restaurant to town: Sushi Bistro (343 South Kirkwood Road, Kirkwood; 314-966-5545). The sushi bar and hibachi grill is run by owners Jimmy Li and Zhenkun Lin with chef Andy Chi, whose experience comes from rolling sushi on the East Coast for ten years.
See also: - First Look: Manila Bistro's Filipino Cuisine in Kirkwood - First Look: Gringo's Tacos in the Central West End - First Look: New Moon Room at the Moonrise Hotel
"We've always worked together since we opened our first restaurant in Florida. We're good friends," Li says. "Our food is all very fresh and very special."
Upon entering the restaurant, located in the same strip mall as Manila Bistro, Gut Check notes that it's a pretty natural pick for a low-key dinner or romantic date. The dimly lit dining room filled with wooden tables, and padded seats gets bathed in contrasting blue and yellow hues via lighting above the half-moon-shaped sushi bar.
Mabel Suen
Sushi Bistro business partners Andy Chi, Zhenkun Lin and Jimmy Li.
A voice coos soothingly from softly played Brazilian music over the restaurant's sound system and a couple of muted TVs in the room are set to display sports and Animal Planet. Li himself seats and serves patrons, while Lin works the grill in the kitchen and Chi prepares rolls and more behind the bar.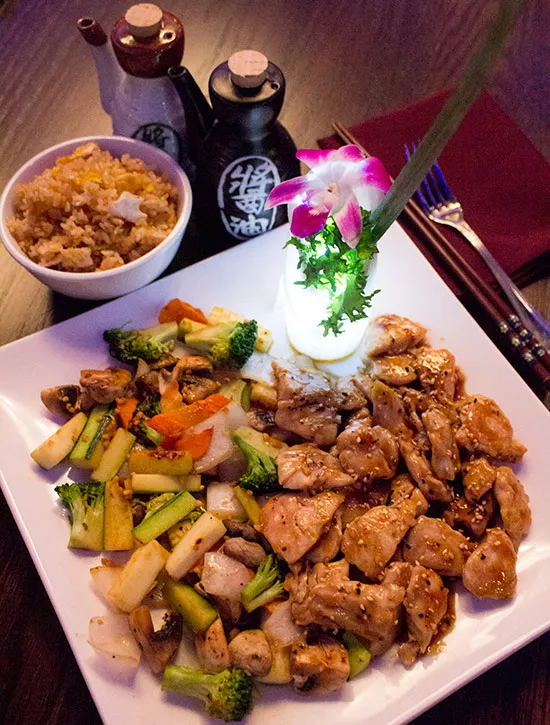 Mabel Suen
The hibachi chicken dinner ($14.95) served with a choice of side.
The restaurant's signage features a bright pink lotus flower and represents a common theme in plating. Sushi plates and entrees come decorated with faux versions of these pretty little plants along with other embellishments like LED lights in little vases (Gut Check's two dining companions for the evening were kind of under-dressed dudes. And they were very impressed). An elaborate menu comes bound in smooth snakeskin-like material.
The menu begins with a selection of red and white wines by the glass or bottle followed by a selection of Gekkeikan sake, bottled beer and beverages. The page of starters includes soups, salads, hot appetizers and cold appetizers. Following that are extensive sushi and sashimi options, hibachi entrees, noodles in soup or stir-fried form, fried rice, teriyaki, katsu, tempura and a few of the standard sushi restaurant dessert offerings like mochi.
Some of Li's biggest recommendations include tuna tataki and jalapeno yellowtail sashimi appetizers as well as sushi rolls including the "Tuna King," with spicy tuna, avocado, cucumber, fresh tuna and ponzu sauce, and the "Fancy Dragon," with shrimp tempura, cucumber, smoked salmon, eel and avocado.
Sushi Bistro is open for lunch Monday through Friday from 11 a.m. to 3 p.m. and Saturday and Sunday from noon to 3 p.m. Its dinner hours are Monday through Thursday from 5 to 10 p.m., Friday and Saturday from 5 to 11 p.m. and Sunday from 5 to 10 p.m. Check out its full menu, including lunch specials, on the Sushi Bistro website.
Click through for more photos!
Mabel Suen
The "Fancy Dragon Roll" ($11.95) with shrimp tempura, cucumber, smoked salmon and eel; the "Volcano No. 1" ($9.95) California roll with spicy tuna and crunch; and the "Kirkwood" roll ($8.00) with tuna, salmon, avocado and cucumber.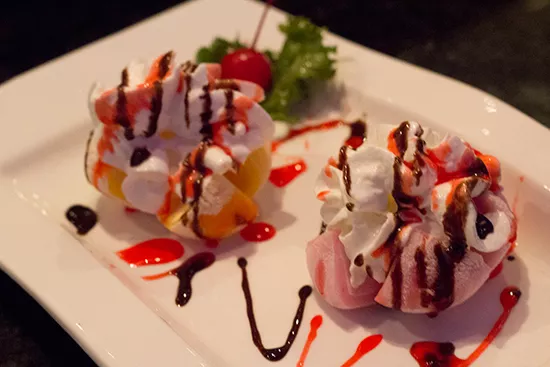 Mabel Suen
Mochi ice cream ($2.95).
Mabel Suen
Another sweet end to the meal.