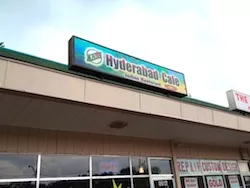 Gut Check learned back in February that an Indian restaurant would open at 8613 Olive Boulevard, the Jeffrey Plaza strip-mall address that previously housed the very-short lived Ethiopian spot Red Sea Cafe & Bar and, before that, Hooked Seafood Bar.
See Also: - Red Sea Cafe & Bar Already Closed
Gut Check is always hungry for more restaurant news. Feed us your tips.
That Indian restaurant opened this week: Anis Hyderabad Cafe. Anis Hyderabad Cafe currently operates a restaurant at 20 Crossroads Plaza off Highway K in O'Fallon. According to the restaurant's website, it also plans to open a location at 12637 Olive Boulevard in Creve Coeur next month.
More as we learn it.