St. Louis' neighborhoods are gems in their own right: full of history, great people and, as far as Gut Check is concerned, fantastic food. Each week we'll take you into a specific neighborhood and point you in the direction of the best places to grab some bites.
View Tower Grove in a larger map
Tower Grove is quickly becoming one of the most exciting neighborhoods in the city, serving as a driving force in the renaissance of south St. Louis. Bordered on the east by the highly trafficked Kingshighway and on the west by the eclectic Grand Boulevard, Tower Grove is a self-contained community, attracting coffee houses, a locally sourced grocery and the best soccer bar in the city. With easy access to Tower Grove Park and the Missouri Botanical Gardens, the neighborhood offers a vibrancy that's easy to enjoy.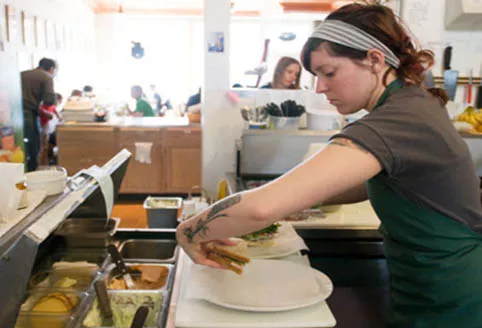 Local Harvest Grocery
(3108 Morganford Road; 314-865-5260)
With the growing clamor for all things local, this unique grocery store works hard to meet a goal to source 50 percent of its products from within a 150-mile radius of St. Louis. This emphasis is quality over quantity, which is great if you're looking for grass-fed meats or an aisle of vegan friendly treats, but otherwise the selection is limited. Still, you can find all the basics, and the little grocery store that could serves the neighborhood well. Local Harvest takes its commitment to bring the farm to the city even further when it opens the
Tower Grove Farmers' Market
in Tower Grove Park come springtime.
See also: - Local Harvest Announces Two New Locations - Tower Grove Farmers' Market: Scenes from Opening Day
Local Harvest Café & Catering (3137 Morganford Road; 314-772-8815) Building on the success of its locally sourced grocery store, Local Harvest Café takes advantage of its access to an abundance of fresh, local ingredients to create seasonal menus and unique dishes. On any given day you can find newly created plate lunch specials including house-smoked brisket, Cuban sandwiches and veggie burgers. But the brunch is what keeps pulling the customers back for more with one of the best servings of biscuits and gravy in town, a re-imagined slinger, vegan stuffed French toast or organic yogurt parfait. Eat up -- there's more where that came from right across the street.
See also: - Best Biscuits and Gravy - 2012 - 8 Great St. Louis Brunch Spots For Mother's Day
Amsterdam Tavern (3175 Morganford Road; 314-772-8224) This is, without a doubt, the best spot to watch the beautiful game, and by that we mean fútbol, and by that we mean soccer. The Amsterdam Tavern lives and breathes soccer, with scarves and jerseys from dozens of European clubs covering the walls and every TV showing games from leagues located all over the world -- it opens early on the weekends for fans of the British Premier League. There's even a large, newly remodeled beer garden outside with big flat-screens so you can keep up with the matches. Although it does offer thin-crust pizza, the real focus at Amsterdam is beer, and a recent expansion of the draft list makes this one of the better places for craft brews. The lack of food options recently disappeared with the opening of the Dam, a restaurant specializing in burgers and bar food, and shares a walkway with the Tavern. You can grab a English Ale and order a burger without ever missing a red card. See also: - The Dam to Open Next to Amsterdam Tavern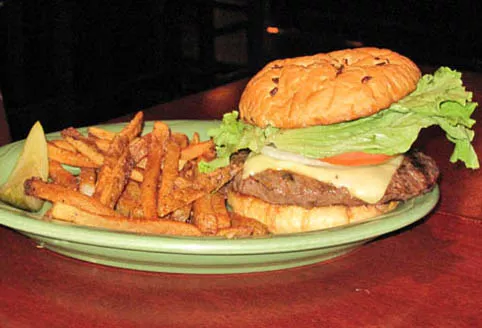 Three Monkeys (3153 Morganford Road; 314-772-9800) This corner tavern on Morganford feels like an old-timey neighborhood joint where bartenders have your drink waiting before you even show up, and everyone knows your name. It's the kind of place where you can duck into a dimly lit corner booth and actually have a conversation or just watch a ball game while listening to the regulars sit at the bar and complain and tell inside jokes. The beer list gets the job done with some unexpected higher-end craft beers, plus a number of local favorites, all priced affordably. The tavern also has a solid menu featuring pizzas, burgers and something called "Jungle Love Nachos," which seem impossible to pass up.
See also: - Happy Hour at Three Monkeys: See No, Hear No, Speak No Sobriety - Primatey Colors: Three Monkeys
Hartford Coffee Company (3974 Hartford Street; 314-771-5282) This is the definition of a neighborhood coffee shop -- it's actually an old south-city duplex on Hartford Street. The coffee is topnotch and fair trade, boasting organic blends from Bolivia, Mexico, Colombia, Guatemala, Indonesia, New Guinea, Brazil, Peru and Ethiopia. They even use a process called fluid bed air roasting...we're not exactly sure what that means, but we like the results. But Hartford Coffee Company is more than a place to grab a cup of Joe -- sit down, have a conversation, read a book. There's a whole section filled with children's books and games, and there are electrical outlets at each table so you can plug in and get some work done. On Friday evenings you can walk in for an open-mic night, while Saturdays bring stellar local acts.
See also: - Best Coffee 2006
Gustine Market (3155 Gustine Avenue; 314-932-5141) There's nothing more convenient than walking down the block to pick up that emergency gallon of milk as opposed to having to drive to, say, Walmart. And while Gustine Market is only a small corner store it does indeed carry all the staples. But what really sets this market apart is the specialty items that unexpectedly fill the shelves, like Kakao chocolate bark and Shakespeare's Pizza imported from Columbia. Even more impressive is the ever-changing and improving selection of beer: New Belgium, Delirium Tremens, Boulevard and Schlafly, not to mention the monthly wine and beer tastings. And rather than stand in the checkout line for an hour, the staff here goes out of their way to tell you about a new special or help you find whatever it is you're looking for. Soon enough, you might actually start to look forward to grocery shopping.
See also: - Best Corner Store - 2012 - Shakespeare's Pizza-Columbia


















Black Thorn Pub (3735 Wyoming Street; 314-776-0534) When it comes to pizza, St. Louis is particularly fond of thin crust and Provel, but Black Thorn Pub's deep-dish has gained a loyal and growing following. On most nights, and especially on the weekends, this place gets packed, so the best strategy is to leave yourself plenty of time, because you're going to have to wait. Just accept it. On the plus side, you can choose from a number of craft beers to help pass the time. When your pizza is ready, the staff announces it over an intercom. Patience, we've been told, is a virtue, and in the end you're rewarded with chewy and flavorful crust covered in a special spicy sauce with cheese and layers of toppings.
See also: - Best Pizza (Thick Crust - 2009)
The Civil Life Brewing Company (3714 Holt Avenue) In June 2011, Jake Hafner and Dylan Mosely opened the Civil Life Brewing Company in the southern section of Tower Grove. The location is somewhat off the beaten path, but the tasting room is always lively, and the outdoor biergarten is the perfect place to kick back and enjoy a pint -- we suggest the terrific American brown ale or traditional British bitter. Civil Life specializes in session beers (a lower alcohol by volume, but still full of flavor) and offers half pints for $2.50, which makes it easy to try out a number of different beers in one sitting. If you get hungry there's a small food menu that includes snacks and sandwiches, but the main draw here is the quality beer and laid-back atmosphere, a place where one goes to truly enjoy the more civil things in life. See also: - The Six Best Craft Beer Makers in St. Louis - Pigs and Pints Festival Brings Barbecue and Beer to Civil Life Brewing Company