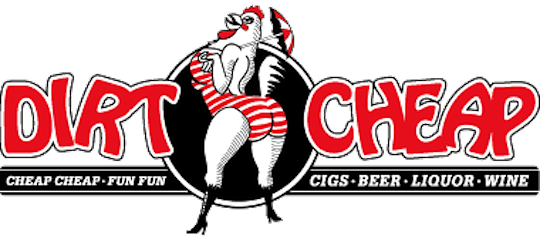 There's something to be said for a Saturday afternoon spent glued to the television as over-exhuberant moms and their thrifty pals ran willy-nilly through the aisles of a grocery store, grabbing everything they could fit in their carts in a minute and a half. The nail-biting drama of Supermarket Sweep is just missing from cable television these days.
Luckily for St. Louisans, Dirt Cheap Liquor (8455 Gravois Road, Affton; 314-351-7714) is bringing this great American pastime back at its second annual Dirt Cheap Party Sweep. Unfortunately, Gut Check missed the deadline to apply to be one of the lucky sweepers. The good news is the Party Sweep is somewhat of a spectator sport, so we don't have to miss all the action.
And did we mention there's a giant dancing chicken in a tie-dyed shirt?
We didn't? Well there is. And she's glorious.
The Party Sweep will take place on June 9 at one of Dirt Cheap's St. Louis locations that has yet to be disclosed. The raffle to participate in the event just ended, and Dirt Cheap will be announcing the lucky winners soon.
So here's how it works:
Fourteen competitors have three minutes to race through the store, shopping cart in tow, and grab specific items from a list of more than twenty liquors, wines, beers and mixers. The challenge is in the specificity of the list. It doesn't just include "Grey Goose Vodka," for example. Instead, it might read, "Grey Goose L'Orange Vodka 750 ML." If sweepers happen to grab a different size, it doesn't count.
Byron Kerman of Relish reports that last year, the winning sweeper was Amanda Noble of Arnold. Though she only acquired nine items, she beat out the other competitors who grabbed items in the wrong size or variety. Unlike the Supermarket Sweep of our childhoods, the Dirt Cheap Party Sweep is cut-throat.
To watch a video of last year's competition, head over to Dirt Cheap's website. There, you can also find images of the giant chicken in various outfits, including a one-piece swimsuit.
Booze, frantic shoppers and a chicken in a swimsuit? Be still our hearts!