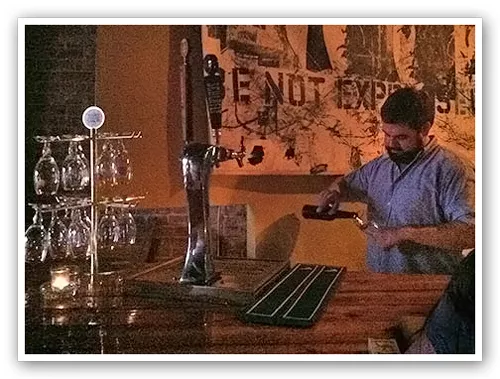 It's dark all up in here: The bar upstairs at Maryland House. | Kaitlin Steinberg
As evidenced by the multitude of cocktails consumed throughout the course of Baz Luhrmann's new spectacle, The Great Gatsby, Prohibition didn't exactly halt the consumption of alcoholic beverages. In fact, the alcohol ban inspired drinkers to get creative.
One such creative drinker was Col. Joseph Rickey of Missouri. He died in 1903, long before the cocktail he is said to have invented became fashionable among illicit drinkers during Prohibition.
According to Rickey's obituary, Rickey's drink of choice at the fashionable Washington, D.C. bar Shoomaker's was Kentucky whiskey topped with fizzy Apollinaris water. It wasn't until later that people started ordering the "Rickey drink" with half a lime. Later, during Prohibition when aged liquor like whiskey was hard to come by, many cocktails like the Rickey were reinvented with gin.
These days, we don't need lime juice and club soda to mask the flavor of "bathtub gin," but the drink has remained popular because it's a simple, refreshing cocktail. At Maryland House (4659A Maryland Avenue; 314-361-9444) you can sip a gin rickey without the fear of the feds busting in, but the speakeasy atmosphere of the place makes drinking this classic cocktail just a little more exciting.
A gin rickey at Maryland House. | Kaitlin Steinberg
The recipe for a gin rickey is simple enough: Two ounces of gin, the juice of half a lime and sparkling water. It's less harsh than a gin and tonic, and you also sound cooler ordering it. Maryland House bartender Aaron Barrow made us a gin rickey with St. George gin from California, and it was the perfect drink to sip by a window on a warm May night.
Maryland House also offers a number of other specialty cocktails on their summer cocktail menu, which was just introduced a few weeks ago. The menu includes drinks with names like "I Wanna Get Buzzed But I Don't Wanna Drink Drink," which is made with elderflower liqueur and "Don't Worry About It," a mixture of whiskey, ginger liqueur, fresh lemon juice and cherries.
So put on your fedoras and fringe dresses and sneak on over to Maryland House tonight for a Prohibition-era cocktail. Or don't sneak. 'Cause, you know, it's legal now.