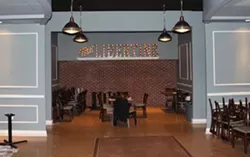 After a soft opening this past weekend -- accounts of which Gut Check espied with much envy -- today is go time for the Libertine (7927 Forsyth Boulevard, Clayton; 314-862-2999). The new restaurant from the married team of Audra and Nick Luedde, with acclaimed chef Josh Galliano leading the kitchen, opens for dinner at 5 p.m. today.
See Also: - Sneak Preview: The Libertine Aims to Reclaim Cool in Clayton - Owner Nick Luedde Discusses the Libertine
Gut Check is always hungry for more restaurant news. Feed us your tips.
What kind of food can you expect from the Libertine? Well, why don't you just go have a look at the menu, which is available on the restaurant's website -- and not in PDF form!
A header to the menu explains the origin of the various dishes. Sort of.
The dishes below came about because of our whims & desires, the farmers, what was blaring on the radio, how the ingredients spoke to us, or the latest book we found time to read.
Those dishes include ash-roasted carrots with pea cavatelli; a miso-carrot purée, hickory-pecan "soil" and pea shoots; "country-fried" foie gras; chermoula*-rubbed lamb ribs with a buttermilk-dill sauce; and crispy octopus with broccoli-stem kimchi, piquillo-pepper broth, a purée of Japanese sweet potato and charred lemon.
* - an awesome traditional North African marinade/flavoring
Excuse us while we go take a cold shower.
The Libertine's regular hours are 5-10 p.m. Tuesday through Thursday, 5 p.m.-midnight Friday and Saturday and 5-10 p.m. Sunday.