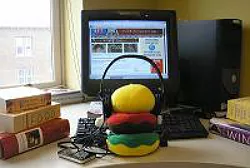 Gut Check dishes on our favorite St. Louis food blogs.
The Sweets Life: Natalie made white chocolate banana muffins.
Cupcake Project: Stef shared strawberry rhubarb cupcakes.
Family Style Food: Karen made fava bean ravioli.
Iron Stef: Stef made breakfast balls: peanut butter banana oatmeal and Nutella olive oil oatmeal.
A Periodic Table: Shannon shared blueberry cheesecake with macadamia nut crust.
A Veggie Venture: Alanna made Mark Bittman's salted chopped salad.
Rhubarb and Honey: Kimberly shared how to make quick pickles.
Bruno's Dream: Bruno began working on his garden for the year, sharing tips and tricks.
One Hot Stove: Nupur made quinoa pinto bean salad.
Sauce magazine's blog: Dee shared orange-rhubarb pancakes with strawberry-rhubarb syrup.